Everything Else
Oklahoma Democrats can't find anyone to run for Governor…
7:19 AM EST on December 1, 2016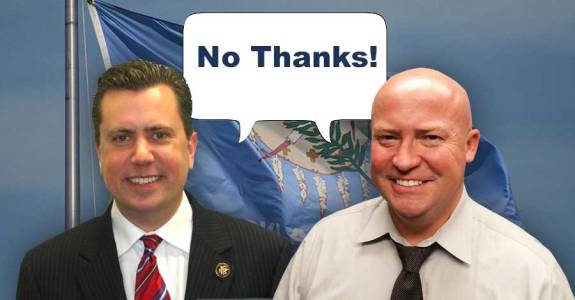 Earlier this week, former US congressman Dan Boren – the odds on favorite to be the Oklahoma Democratic nominee for Governor – did everyone in his home state a favor and announced he is not interested in getting his ass kicked in the 2018 gubernatorial election.
Via The Tulsa World:
Dan Boren, a former four-term Democratic congressman from one of Oklahoma's most well-known political families, has decided not to run for the state's open governor seat in 2018.

Boren told The Associated Press that he opted against entering the campaign after spending the past year visiting with civic and business leaders across the state about a potential run.

"At this moment, it is important for me to spend time with my kids," Boren said late Monday. "My desire for public service has not diminished and I believe someday in the future I will enter public life again."
The 43-year-old Boren said he intends to continue working on business development for the Chickasaw Nation and spend time with his two children, ages 6 and 9.
Wow! That's great news! Just like Mary Fallin, his dad, and almost every other Oklahoma politician, Dan Boren is an establishment shill who's bought and paid for by the energy industry. According to the New York Times, he was "one of the top recipients of campaign money from the industry, including from a gas company that signed mineral lease deals with his family's businesses" when he served in US Congress. As governor, he'd probably schedule many coffee meetings with state seismologists and Harold Hamm.
In addition to all that, Dan is a product of nepotism. Would he be where he is today if his name wasn't Dan Boren? According to Mike Stoops, probably not. That being said, his dad did infamously suggest he not run for governor. Who knows, maybe that's what convinced Dan not to run. If so, let's give a big "attaboy" to David Boren. It's about time he did something good for Oklahoma again.
For me, the best part about Dan Boren dropping out of the race was that it meant Joe Dorman would likely be jumping in. Sadly, Joe issued the following buzz kill announcement yesterday afternoon:
In response to speculation that he might be considering a run for governor in 2018, Joe  today reiterated his commitment to the Oklahoma Institute for Child Advocacy and children's issues in Oklahoma.

"I am passionate about the work we are doing at OICA on behalf of Oklahoma children and families, and I am focusing 100 percent of my attention on those efforts," said Dorman, who became executive director of the OICA in September. "I am flattered to have been considered a potential candidate, but I will not run for Governor of Oklahoma in 2018," the Rush Springs native announced. 
Well... that sucks. I guess Joe didn't want to get his ass kicked in 2018 either.
I know Joe, like Joe, and although we don't see eye to eye on every issue, I really wanted him to be our next governor. Sure, it would be kind of weird seeing the governor of our state selling watermelons out of a F-150 in front of the Governor's mansion on a hot summer afternoon, but at least he knows what the three branches of government are. Plus, if Joe won, maybe he could keep around Hipster Boo Boo as a platonic roommate. I'm sure she'd go for it. She really likes living in that mansion.
With Dan and Joe both announcing they won't run for Governor, the other name being tossed around is Scott Inman from Del City. He's the Minority Leader of the Oklahoma House – a thankless position that carries about as much weight and political influence as a team leader at Braum's.
I'm sure Scott's a good guy and everything, but there has to be a better candidate, right? I think what Oklahoma Democrats really need is a sarcastic, temperamental, anti-establishment, leftist libertarian businessman with a social media following and weird hair who isn't afraid to speak his mind, take on special interest and oligarchs, make politically incorrect jokes and comments, and even get in an occasional 3:00am Twitter war with Steve Lackmeyer. Someone who – dare I say – wants to "Make Oklahoma OK Again!"
Hmmn. I wonder who that would be? Stay tuned for more details.
Stay in touch
Sign up for our free newsletter