Everything Else
College Football Musings from the Train
10:58 AM EST on November 14, 2016
10) Oklahoma defeats Baylor
I wish I had more fun watching OU play football this year. I wish I had confidence the Oklahoma defense could stop someone, anyone, playing major college football. Even an unmotivated, clearly dysfunctional Baylor squad can put up the yards against OU, and keep me on a steady supply of blood pressure meds.
But alas, the best offense in the country just keeps rolling through this craptastic contest. Oklahoma beat Baylor 45-24 in the closest three touchdown cover in Oklahoma history. The Sooners were the benefit of three Baylor turnovers, including two deep in Oklahoma territory. The Sooners were also the beneficiaries of nine Baylor penalties, one seemingly more important than the next. The defense did just enough however, "holding" Baylor to 24 points and Jordan Evans, he of the black hole at middle linebacker, picked off two Seth Russell passes in leading Oklahoma to victory.
The offense just keeps on offensing. Baker was 80% passing for 300 yards and two touchdowns. He did have one ridiculous pick, but that is allowed. He is nails. And it helps to have Dede Westbrook and Joe Mixon. They combined for nine catches and 151 yards, with two idiotic scores from Westbrook. Mixon also rushed for 124 on 14 carries and a long score. Though the running games wasn't "spectacular" in the sense that many rushes were the "three yards and a cloud of dust" type. But Samaje Perine hit the century mark in this return, and Lincoln Riley flatly refused to give up on the run game.
And now, the conclusion. Oklahoma travels to Morgantown for a GD night game that no one in television wants OU fans to enjoy. It will be a barn burner. And that's before OSU travels to Norman where OU owes them for 2014.
-
9) Joe and Dede
Yes, the offense is better with Perine in the game. And yes, this offensive line has generally played very well all year, and specifically has dominated the second half of the season.
But c'mon. This is the Dede Westbrook and Joe Mixon show.
Westbrook only caught four passes. But two went for touchdowns. And both scores were incredible in their own right. Dede's first score was a catch and run where he amazingly stayed inbounds at the ten and tiptoed into the end zone with a defender trying to pull him out bounds. The second score was equally impressive, as Westbrook went up against man coverage and pulled down a defacto jump ball for the score. That dude.
And speaking of great players. On a day where Perine found it difficult to move the ball on the gourd, Mixon was the spectacular one, rushing for 124 on only 14 carries. He put the game away on an impressive 56 yard scamper on 3rd and short at a time when OU was struggling to move the ball on the ground.
Enjoy these two guys, OU fan. Because both likely have but 3 games left in their OU careers.
-
8) How does this defense keep defensing
Jordan Evans, I apologize for a week. You have been called everything from "bad" to create adjectives describing a certain lady part. But nine tackles, two picks, and two sacks later? We are good. For at least a week.
But man, this defense gives $1 and then takes away 80-cents.
Up by three scores. Back up quarterback. Deflated Baylor. Can OU stop them? Nope. Just throw a 62 yard touchdown pass on the first play. Got a guy down for no gain? Psshhh. Let him drag you and the entire linebacking corp 5 yards. Pick 6? C'mon. That's not how we roll. Jordan Thomas just flat out drops an easy score. Name me another team with as many dropped interceptions. Saturday, both Thomas boys dropped easy picks.
Look, OU won. They gave up 24 points. They forced 3 turnovers. They made Seth Russell's leg look like a pretzel. I get it. But when Ed Cunningham is giving you props for NOT TACKLING A GUY WHO RUNS FOR A TOUCHDOWN (Steven Parker, I am looking in your discretion), fans shouldn't have great expectations for this side of the ball.
-
7) OSU survives
As I mention several times down the column, OSU looked all the part of the best team in the conference at the beginning of the game. They had scored on three of four first quarter possessions and stifled the Tech offense.
And then the Cowboys would spend the next three quarters screwing around and letting Tech hang around, all the way to the last minute, when Tech missed the game-tying extra point. But not as if that would have mattered – OSU's practice squad could move the ball 50 yards against this Tech defense.
As it is, Oklahoma State survived Texas Tech, winning 45-44 Saturday afternoon. The Cowboys were led by the usual suspects - Mason Rudolph, Justice Hill, and James Washington. Rudolph was especially efficient, throwing for 395 yards and twsix scores on 20 of 28 through the air. Justice Hill was at times dominant, finishing with 126 yards on just 18 carries and a score. And finally, James Washington once again scored the game winning touchdown on a long pass at the end of the 3rd quarter. He would finish with 158 yards receiving on six grabs. Oklahoma State also got contributions from Chris Lacy, who caught four passes for 100 yards and Chris Carson, who ran the ball for 73 yards and two scores. Yes, that's how bad Tech's defense is. Chris Carson can average 7.3 yards a carry.
At the end of the day, Oklahoma State won. It wasn't pretty and it was stressful. But the Cowboys still control their own destiny heading into what could be a problem in Fort Worth.
-
6) So things were great on D, and then they weren't
The first three series, Oklahoma State had surrendered a grand total of  zero first downs. The Red Raiders would go on to score on seven of their final nine drives. Tech had 34 first downs in the about three quarters of football. There were just under 50% on third downs and perfect on 4th. The Cowboys didn't go all Oklahoma on Texas Tech by putting up zero fight on defense, but there were some bad signs for the Pokes.
It's fair to assume Texas Tech will put up crazy yards through the air. Giving up 359 via the forward pass is nothing to be concerned with. Giving up 159 on the ground ... to a team hellbent on not running the ball ... and with a defense that was pretty good against the run until a couple of weeks ago is problematic. There are questions abound going to Fort Worth this week.
-
5) Who is the best team in the conference?
Last week, I opined that Oklahoma State had the best all-around team in the conference. If that was the case, they should have hammered Texas Tech at home. West Virginia at times looks great. And at other times (e.g. Texas, Kansas State, and Oklahoma State) they look like the classic rum-dum Mountaineers of the Big XII.
Because at 7-0 and after having handily beat Baylor, I *guess* OU is the best team in the conference on November 14, 2016. The Sooners are the best offense in the best offensive (pun) conference in the land. They are good on special teams. Well, aside from one big exception. They are still moribund on defense, but are starting to switch the turnover margin.
Bottom line - OSU wins this weekend? Maybe this is who they are and maybe that is the best team in the Big XII. OU wins this weekend? The Sooners are probably the best team in the Big XII. West Virginia wins this weekend? They are probably the conference champion.
-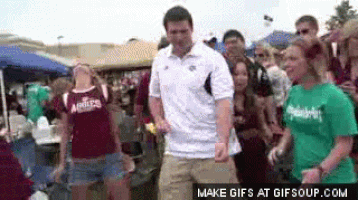 4)  Aggie went all Aggie
So about that whole "Trevor Knight is going to lead the Aggies to the promised land" crap we heard the first two months of the season ...
How about NO.
The fighting Aggies of Texas A&M lost to another bad team from Mississippi, this time pissing away a two score lead and losing at home to Ole Miss 29-28. The efense was non-existent, especially when it mattered. TAMU surrendered 23 points in the 4th quarter to a team debuting a new starting quarterback. You read that right - a quarterback who hadn't thrown a collegiate pass threw for 338 yards and two scores, and ran for another 64 yards, at vaunted Kyle Field. And against an efense that pundits believed was SEC quality. That's a no.
Texas A&M has recruited fabulously the past half decade or so. There is no reason the Aggies should be second level in their own division. They still have LSU to end the season, one with so much promise that now appears in near shambles. LOL.
-
3) BOOM
#2, 3,4, 8, and 9. All gone.
Clemson, Michigan, Washington, Texas A&M, and Auburn. All finished ... For now.
In what has thus far been a wildly boring season of football, Week 11 just blew the college football world up. Washington was exposed as the talented, but not yet ready for prime time program. Not when you can't manage 300 yards at home against a talented but average USC squad. Michigan showed that a great defense and terrible offense will get you far, almost to the top. But ultimately, you need at least a passable offense to reach the top of the mountain, or to beat a bad Iowa team in Iowa City. Auburn? See Michigan. Aggie? Tee hee.
As satisfying as those upsets were for the college football world, nothing was more satisfying than Clemson losing at home to 6-4 Pitt. The same Pitt that just a week before was boat raced by Miami. Same Pitt team that lost in Stillwater earlier this year. Deshaun Watson was brilliant in the Texas Tech sense of the word. He completed 52 passes for 580 yards and 3 scores. But as Red Raider fans know from the past 15 years, that good is most always coupled with bad. Like 3 interceptions bad. Like 50 rushing yards on 25 attempts bad. Stats like that equal 43-42 losses to mediocre teams on last second field goals.
Clemson has been playing with fire all year. Tight wins. Lucky ass plays to end games. Clemson got what was coming to them in 2016.
-
2) Final four
Alabama - Should just shorten this to Final 1
Louisville - Clemson lost. Opens the door to a good team with crazy talent
The OSU/Michigan winner - Michigan does not appear ready, but at least they lost on the road.
Oklahoma/West Virginia/OSU winner - Because cluster fucks deserve the ultimate cluster fuck.
-
1)  Predictions
Oklahoma at West Virginia
West Virginia looked all the world like the best team in the conference. Like far and away the best team in the conference. Good defense. Good (enough) offense. But things have morphed over the past few weeks. This is likely to be a pick'em game. Which means the conference will screw OU and make it a night game.
Oklahoma: 35
West Virginia: 34
-
Oklahoma state at TCU
The Pokes have screwed around with mediocre competition the past two weeks. TCU isn't Alabama, but they aren't Kansas either. OSU has played three road games into mid-November, They are 2-1, and frankly haven't played a complete game away from Stillwater. This will either be a close win for OSU or TCU rolls.
TCU: 43
OSU: 21
Stay in touch
Sign up for our free newsletter