Everything Else
College Football Musings from the Train: 11:00am Kickoff Edition
6:50 AM EDT on October 17, 2016
7) Oklahoma beats Kansas State
Caveat: This the first game in years where I haven't had an adult beverage during the game.
Oklahoma won a relatively ugly game against a team that does ugly well, the Fighting Bill Snyder's, 38-17. The Sooners were led on offense by Baker Mayfield and Dede Westbrook again. Mayfield connected on 80% of his passes for 346 yards and four scores. Three of those touchdown passes went to Westbrook, who continued his ascent into stardom with another nine catches for 184 yards. Joe Mixon had a few nice highlights, but was... ok. He ran for 88 yards on 19 carries. The offense as a whole struggled somewhat on the ground, held to a total 138 yards on 33 carries.
Anytime you give up 335 yards and 17 points in the Big 12, you can say the defense played fine. Unless it's to one of the Kansas teams, and especially to one of the Kansas teams playing with a backup quarterback. The defense gave up another wide open deep passing touchdown. They gave up a classic 2015, time consuming 18 play drive. But aside from those drives, the defense was effective against a bad offense.
OU was a 13 point favorite against a top 15 defense. They hadn't beaten the Wildcats in Norman in six years. And Bill Snyder-coached teams don't lose by three touchdowns often. It was a strange game in that it never seemed like it was out of hand or that OU could pull away, but in the end, they covered at home against a game Kansas State team.
-
6) Dede Westbrook and Joe Mixon are stars, but OU needs a healthy Perine
Westbrook is quickly becoming the best wide receiver in the conference, and perhaps the country (if he gets to play Big 12 defenses every week). His numbers the last few weeks are video game-esque. He is rendering the rest of the receiving corp moot. Though the numbers really don't tell the whole story. His route running, especially on deep routes, is like nothing I have seen in Norman. And Joe Mixon is going all Joe Mixon with a touchdown pass, run, and catch in the same game.
But it's clear that Samaje Perine is the straw that stirs the drink.
Perine went out of the game early Saturday, amassing a mere 14 yards on 3 carries. It's not that the offense looked bad without him, it just wasn't as good and struggled to get things going on the ground. Mixon can do a lot of things with the football. He is a top flight pass catcher. He's equal parts tough runner and elusive back. But Perine is the guy that can go off for 200 yards in a game. He's the guy that wears down teams in the second half. He's the guy that needs the ball 30 times on the ground.
I have clamored for more touches for Mixon. He should get the ball 5+ times in the pass game and 15 times on the ground. But this offense goes from superior to just good without Perine.
-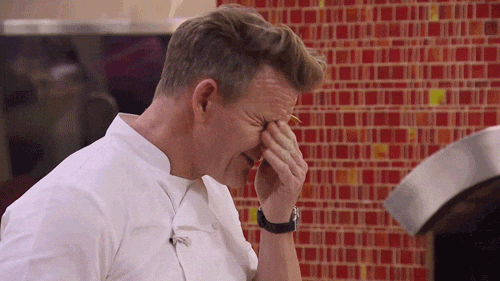 5) This defense shit just ... I don't know
Does anyone know how bad OU is in turnover margin this year?
*raises hand*
122nd in turnover margin. Oklahoma has forced 5 turnovers (121st) in 6 games, while losing 12 (92nd). This defense is the worst playmaking defense in recent Oklahoma history.
They did an OK job against Kansas State, but they continue to avoid pressure. They continue to get beat deep. They did a fabulous job of not tackling the ball carries Saturday. They gave up a 3rd and 22 when Kansas State had all but given up. They continually let the Wildcats convert out and hook routes by staying 10 yards off the receiver.
And that was against a bad offense. Texas Tech ain't trotting Graham Harrell or Michael Crabtree out there this weekend, but they will have success throwing the ball. At some point someone has to make a big play on defense - someone has to force a turnover ... I mean right?
-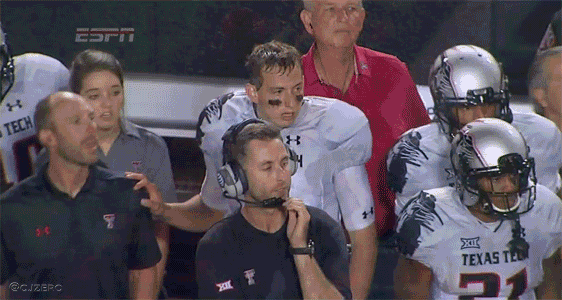 4) Speaking of Texas Tech, they were embarrassed by the best team in the Big XII
In between poor tackling and the greatness of Mayfield to Westbrook, I watched bits and pieces of West Virginia's dismantling of Texas Tech in Lubbock. The Hillbilly's hammered everyone's favorite worst fan base 48-17 Saturday afternoon. With the win, West Virginia remains undefeated overall and proves week in, week out to be the best team in the Big XII thus far.
Dana Holgorsen has built this team in exact opposite as expected - defense. The Mountaineers have given up a total of 650 plus yards of offense and 33 points in two conference games. When was the last time Tech lost a conference home game by 31? When was the last time Tech scored 17 points at home? (ed - Texas in 2014)
No, this isn't the same Tech team from the Mike Leach days. But this isn't your mother's West Virginia either. Their numbers on defense are surpassed only by the eye test. They have an offense that complements a real defense. They still must go to Stillwater in a few weeks, but they get OU, TCU, and Baylor at home. They are a darkhorse playoff contender. And are for real.
-
3) Clemson is going to lose. They have to.
Come ON!!
Clemson escaped yet again Saturday afternoon, beating a game NC State in overtime 24-17. The game was sealed on a Clemson interception on the Wolfpack's first possession in overtime.
It should have never gotten to that point.
Yes, NC State was a fortunate recipient of four Tiger turnovers, offset in part by 13 Wolfpack penalties. But it was Dabo Sweeney's deal with God that allowed Clemson to force overtime. NC State was a few yards from the game clinching touchdown, proceeded to lose 5+ yards, and finally push a 33 yard field goal, the third miss of the game, as the clock ran out in regulation.
"We know how to win" and "all you need is faith".
Horse. Shit.
Clemson is the luckiest program this side of the 2002 Ohio State Buckeyes. The kicker made the kick as Clemson tried to ice his ass! They deserve to lose. Ridiculous.
-
2) Final Four
Alabama - Still the best until proved otherwise
Ohio State - The second best by far ... kind of
Michigan - A one loss tOSU or Michigan should go ahead of conference champ from ACC and/or Pac 10
Washington - As good as any pick, but watch out for the Mountaineers.
-
1) Predictions
Oklahoma at Texas Tech
West Virginia went into Lubbock and depantsed The Red Raiders. Oklahoma has to do likewise, whether the game is at night or not. Tech isn't the same team it has been, though they will be fired up as all get out to get to Mayfield.
Oklahoma: 56
Texas Tech: 52
Oklahoma State at Kansas
Kansas isn't as bad as we thought. Well, maybe they are. But if OSU screws around in Lawrence like they did two weeks ago in Stillwater ... watch out. OSU pulls away late.
Oklahoma State: 44
Kansas: 28
Stay in touch
Sign up for our free newsletter