Everything Else
Top 10 OKC News Stories About Clowns…
9:30 AM EDT on October 6, 2016
What a time to be alive, right? We currently live in a world where every single day we are bombarded with news stories about clown sightings. Seriously, what's going on with that? Why are clowns a thing now?
In case you've been living under a rock, you know that the OKC media coverage of clowns has been crazy. Hell, we even talked a little about it earlier this week. But now there are so many stories out there about clowns that we thought it was time to grade the media on how they have covered these stories. That's right! We're rating the clowns who cover the clowns. And since I'm the resident clown expert at TLO, I'm uniquely qualified to do this.
(Note: To become a clown expert, you have to live next door to juggaloes and you have to have made out with someone who later went to clown college.)
We developed a unique system to rank these stories that encompasses a lot of factors. Plausibility of clown sighting, how many nightmares the story induces, as well as how likely we are to hear the circus theme music in our heads once we gaze upon the clown. After conducting a few calculations, we are then able to place the story on a scale of one to five red noses, with one being, "hey, cool, that tiny car was full of clowns" and five being John Wayne Gacy.
Anyway, with that, here's the local media clown stories ranked. Are you down to clown?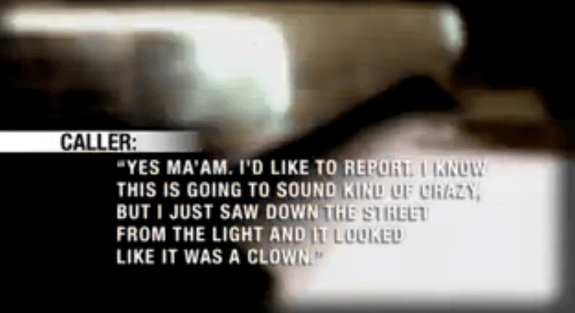 "He was just staring at me," Chickasha man allegedly spots creepy clown
Source: KFOR Channel 4
Rating: 2 red noses
Look, I'm sure it would be pretty scary to find a clown just staring at you for no reason, but that's where the terror ends here. We all know that for clowns to be truly scary, they must have sharp, weird teeth, or tell you that we all float down here.
-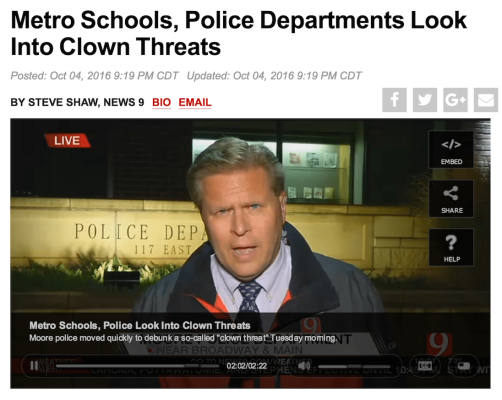 Metro Schools, Police Departments Look Into Clown Threats
Source: KWTV Channel 9
Rating: 5 red noses
Steve Shaw reporting on clown sightings? Can life get any better? You can tell Steve wants to be the hero and hunt down the clowns himself.
-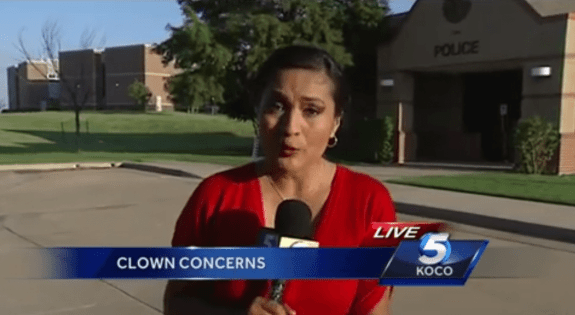 Clown scare could cause unfounded panic, unnecessary use of police resources
Source: KOCO Channel 5
Rating: 1 red nose
This story isn't very scary at all. In fact, it's kind of funny. (But not funny like a clown squirting water out of a flower clipped to his suspenders.) I like how there's a news story about how all this clown hullaballoo could cause unfounded panic. Way to throw a little more wood onto that unfounded panic fire, KOCO.
-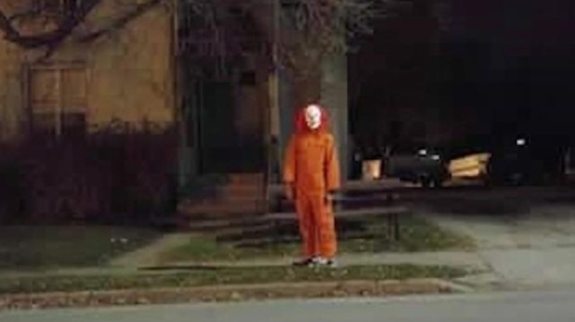 Clown threats are not credible in regard to metro school districts
Source: KOCO Channel 5
Rating: 4 red noses
When it comes to kids, we should all just assume that they are living in a really terrifying world that we know nothing about. All other news stories up to this point have tried to warn us about the weird sex acts that kids do while smoking drugs and using this weird internet slang to prevent adults from finding out about their double lives. Why would we think now that the schools don't have a credible clown threat. This is really just the build up to a really good horror movie. I just know it.
Also, the picture they used for that story is not okay.
-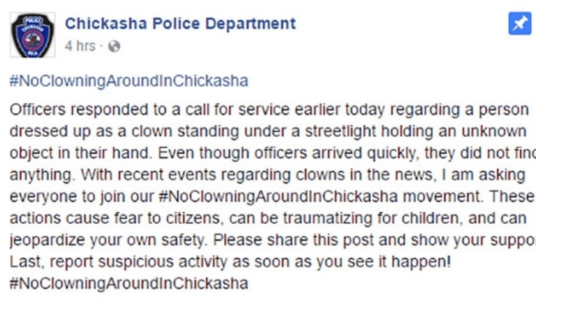 Clown call prompts 'no clowning around' movement in Chickasha
Source: KOCO Channel 5
Rating: 1 red nose
I can appreciate the effort behind the hashtag, but #NoClowningAroundInChickasha is just asking for some clowning.
-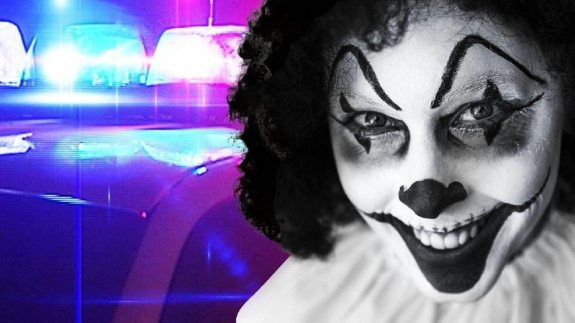 OSU students report clown sighting near the dorms
Source: KOKH Channel 25
Rating: 4.5 red noses
Firstly, this picture is terrifying and if I saw that clown near a place where I was forced to share a bathroom with a group of strangers, I'd definitely feel ill at ease. Couple that with the fact that midterms are approaching, and it's easy to see that this clown is probably some kid who took one too many Adderall during a late night study session, and nothing good can come of that.
-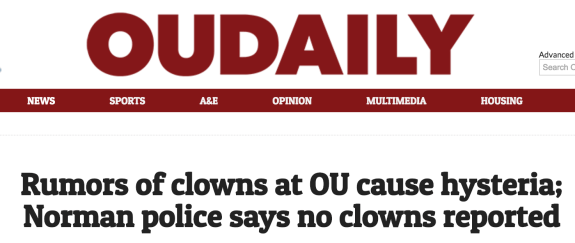 Rumors of clowns at OU cause hysteria; Norman police says no clowns reported
Source: OU Daily
Rating: 2 red noses
Hey, look at the student media trying to imitate their mentors and advisors in the get easy pageviews game. This article has more tweets than words, but luckily, these campus clowns are going to go down as just another OU urban legend. Like the ghosts in the steam tunnels under the Union or that you get free tuition if you're hit by a car on campus.
-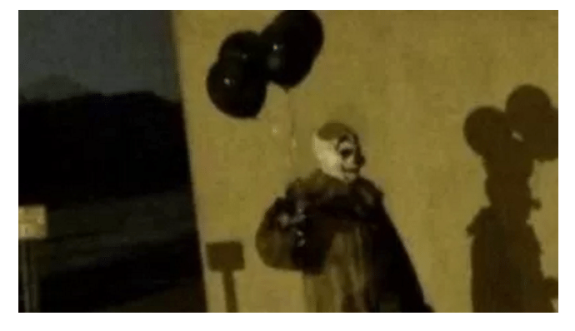 Moore Public Schools releases statement to calm fears about crazed clowns
Source: KFOR Channel 4
Rating: 3 red noses
While it's more likely that a Moore student would get lost and die in the Warren Theater parking lot after searching for the car for several hours, I'm glad that Moore Public Schools is taking a proactive approach here. Unfortunately, I'm pretty sure the clowns are waiting until Moore is lulled into a false sense of security before they make their real attack.
-
Plainview Teens Caught for Clown Hoax
Source: KWTV Channel 9
Rating: 4 red noses
Again, youths are terrifying. In my day, students just called in fake bomb threats, but now we've got middle schoolers in Ardmore posting fake information to a clown sighting website. (That's right. There are clown sighting websites.) The kids these days are super creepy.
-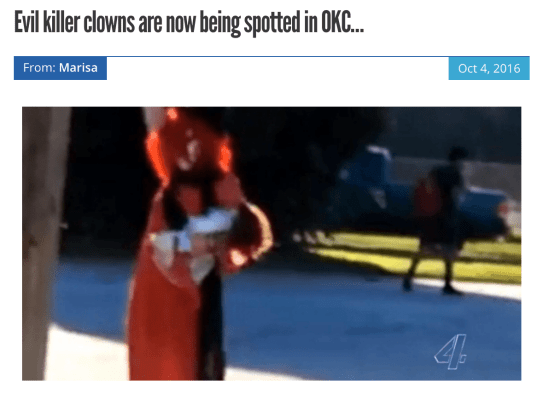 Evil killer clowns are now being spotted in OKC…
Source: The Lost Ogle
Rating: 5 red noses
Hey, we can exploit non-existent threats and build hysteria in the name of cheap ratings and page views with the best of them.
Stay in touch
Sign up for our free newsletter