Everything Else
The Oklahoman is officially being printed in Tulsa…
5:53 AM EDT on October 5, 2016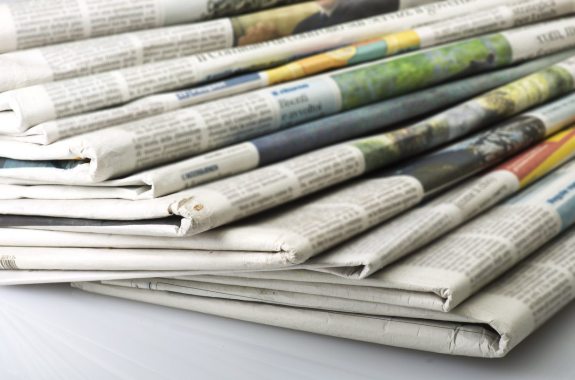 If your grandma calls to tell you that her newspaper smells kind of funny, don't worry. She's not going senile or having a stroke. There's a simple explanation. The Daily Oklahoman, as she still probably calls it, is now officially being printed in Tulsa.
Yes, the big day has finally arrived. Just four months after The Oklahoman layed off 120 plants workers and announced it was moving its print operations to Tulsa (and graphic design to Austin), the first deliveries have made their way down the turnpike and into the homes of the elderly. Let's see how Kelly Dyer Fry tries to spin this sad, desperate move that marks the continued fall of Oklahoma's once all mighty and powerful news organization.
We will always be your eyes and ears

Tomorrow's edition of your Oklahoman will be the first to have been printed in Tulsa.

I could be nostalgic and tell you I will always remember the roar of the presses, the smell of ink. I could take it a step further and tell you how I used to wait by the front door for my father to come home from his job as a newspaper editor. My little brother and I would grab him around the ankles and let him slide us across the floor. He too smelled of ink and paper.

Nostalgia is of the heart and will always be with us. Technology is of the mind and changes the present. Technology continues to transform the newspaper industry. It has changed the way we all get our news.

Social media, radio, TV broadcasts, endless sound bites, talk shows and the 24-7 vastness of the web, all inundate you with information. What we hope to do in the print edition is bring you a quiet reading experience. We dig deeper on topics that matter in our community. We bring perspective, context and accuracy. We educate and inform. We entertain you. We sit in countless meetings with our elected officials and hold them accountable when they are spending your tax dollars.
Digging deeper. Perspective, context and accuracy. Educate and inform. Holding elected officials accountable. That's nice and everything, but I still have to ask – why is she describing the Tulsa World? Was this a mix up? I'm confused.
Here's more:
We will continue to bring insight and analysis, vetted, solid journalism and we will always be your eyes and ears. As the habits of news consumers change, we must change with them. Printing presses and production processes have merged into hubs across the country – and we are no exception.

While earlier deadlines will have an impact on the printed newspaper, our digital replica newspaper will have late-night scores and final election results and can be delivered to your email inbox by 5 a.m. daily. We also give you several other ways of staying up with the latest breaking news — our websites, Oklahoman.com and NewsOK.com, our apps and iPad edition, and our email newsletters and notifications.
Yes, as the habits of news consumers change, The Oklahoman must change with them... very very slowly.
Actually, I'm just joking around. I think The Oklahoman has a done a decent job changing with the times. The problem is the paper is so desperate for cash that they try to populate every available pixel with ads, auto-play videos, sponsored content and clickbait links to other websites. As a result, the user experience on the paper's flagship digital product, NewsOK.com, is extremely awful, and gives people a reason not to visit the website for local news.
On Sundays you will soon find an additional two pages of new comics, puzzles and other content. Wednesday subscribers will also get the puzzles page as well as an additional page of recipes.

We will add new gardening stories in the Saturday Real Estate section. In our business section we will supplement our strong local content with new national and international business news, including a package of briefs offering a quick summary of major happenings, a "Look Ahead" feature taking note of upcoming business news events and "Number to Know," a snapshot of a significant number in the world of business.

New features also will be added in the Life sections. The App Finder, which will be featured in Monday's Your Life, can help you navigate the digital age wherever you are from your phone. And watch for features on the family, health and baby boomers in both the Monday and Tuesday Life sections.
Wow. Wake up, Grandma! Cancel the Reader's Digest subscription! The Oklahoman will have two new pages of comics and puzzles, additional recipes and gardening stories. That's awesome. I guess Kelly was right when she wrote the paper "will continue to bring insight and analysis, vetted, solid journalism and we will always be your eyes and ears."
We take our First Amendment obligation quite seriously. We know our democracy needs a free professional press, and we know that you feel that staying informed about your community is an important part of your life.

Our commitment to you is unwavering. We will bring you the best Oklahoman we possibly can every single morning.

We, too, are proud Oklahomans. Our goal is to help make the state a better place to live, work and raise a family. We have told your stories for more than 100 years, and we will continue to do so going forward.
LOL. The Oklahoman's goal is to help makes the state a better place to live, work and raise a family? That's interesting, because when I read editorials that endorse Janet Barresi and Mary Fallin, or articles that aim to give energy companies ridiculously low tax rates, it seems like they're trying to make this state even worse. You'd have better luck convincing Oklahoman print subscribers to change their denture cream than to get me to buy any of that garbage.
Stay in touch
Sign up for our free newsletter