Everything Else
TLO Travelogues: Fiestas de las Americas
10:12 AM EDT on October 4, 2016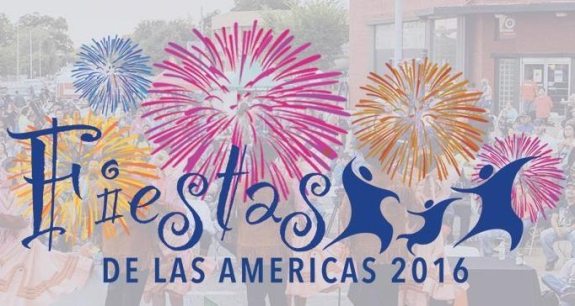 To many people who don't get out that way too often for whatever reason, the streets of Capitol Hill could probably use a little improvement. The walls could do with a little less gang graffiti and a whole lot more city-sanctioned "wall art." The storefronts could use a few more places that offer free-trade organic cold-pressed coffee. And really, what's the deal with all these minorities just walking around like they own the place?
But to the community who lives there, the rich, vibrant, mostly-Hispanic community that lives and breathes and works and strives there, those streets might as well be paved with gold. Latino-owned businesses that represent what we are told is the American dream proudly line themselves up Capitol Hill and down SW 29th. Generations of families who have fiercely stood together, doing everything in their power to stay together, in spite all adversity, regulated or otherwise. And, most beautiful of all, finding a way to keep and preserve a strong, proud culture and ethnic heritage that is either oftentimes misunderstood or roundly dismissed by threatened jingoists.
Walking the streets of Capitol Hill, walking straight, walking tall, walking proud, as a Latino myself, this past Saturday I took in the sights, sounds and tastes of this resilient neighborhood via the Fiestas de las Americas festival, a very special annual event that is specifically dedicated to celebrating that pride, that heritage and that resiliency of being a Latino in Oklahoma City.
I showed up in Capitol Hill a little after the marathon and parade had ended, but the place was still packed with locals visiting booths, kids going nuts in the special play area and literally hundreds of the most beautiful women I have ever seen in my life, many pushing strollers and eating elote as I secretly developed numerous "meet-cute" scenarios in my head.
Of course, being the son and heir of a shyness that is criminally vulgar, I gave up on any notions of romance and instead made a well-intentioned play for the elote wagon myself, immediately happening upon the whimsically monikered Yepa Yepa El Raton snack-wagon, wherein I baptized myself in the culinary aspect of the festivities with a fresh horchata ($3.00) and some elote en vaso ($3.50).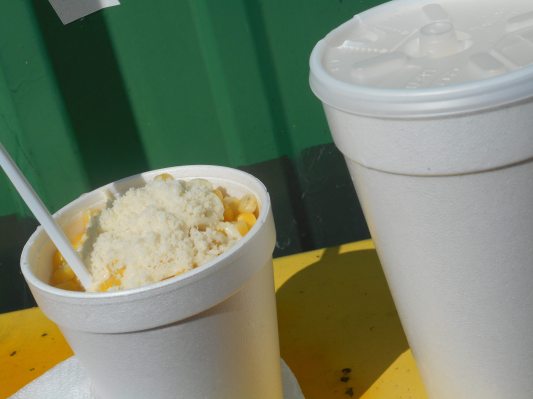 The ice-cold horchata was pure refreshment, a milky thirst quencher without all the heaviness of a dairy product, which was great, because the elote did that all by itself; the rich, hearty combo of warm corn, mayonesa, crema Mexicana, lime juice, parmesan cheese and chili powder in a cup like some sort of Bizarro-world parfait has always been a flea-market fave of mine, one that sadly grosses every white person in the room out. And here I thought you guys were supposed to love mayonnaise!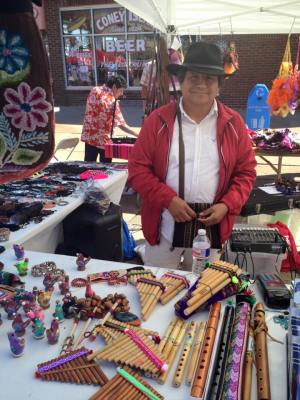 Making my way around the two or three blocks that encompassed the Fiestas, I was very happy to see so many of my people working hard to make a name for themselves in this abrasive capitalist society, from the usual Herbalife and Scentsy dreamers to the amazing artists crafting stunning quinceañera gowns and handmade Peruvian pan-flutes, one of which I purchased and have been practicing with the past few days. You better watch your ass, Zamfir!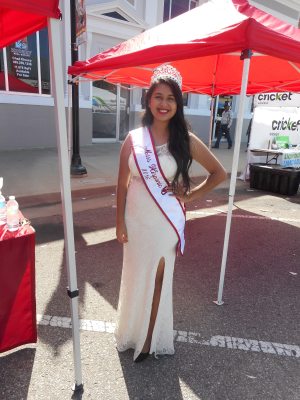 Walking from table to table, talking to everyone from Miss Hispanic OU 2016 to Miss Hispanic Oklahoma 2016 (and all the other Miss Hispanics in-between), I reached that halfway point and settled in for some live entertainment on the main-stage courtesy of the Norteño-flavorings of Conjunto Sinley and Los Aviadores. I'm sorry local music Poppe-phants, but there is no way you can tell me the best local indie band playing the Plaza District on the most sold-out of shows is truly any comparison for one high-energy banda on a festival stage at 2 p.m. in front of a crowd of about 25. If you ain't got at least one accordion and a tuba in your grupo, then you just ain't trying, guey.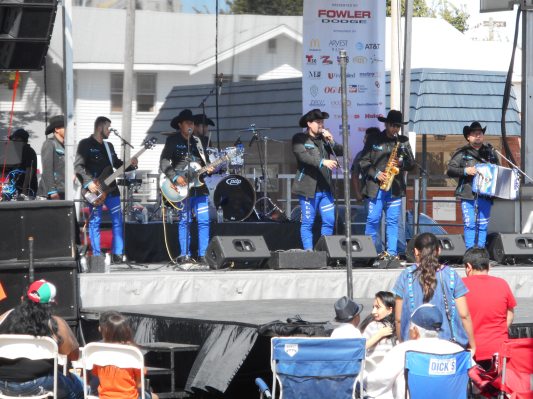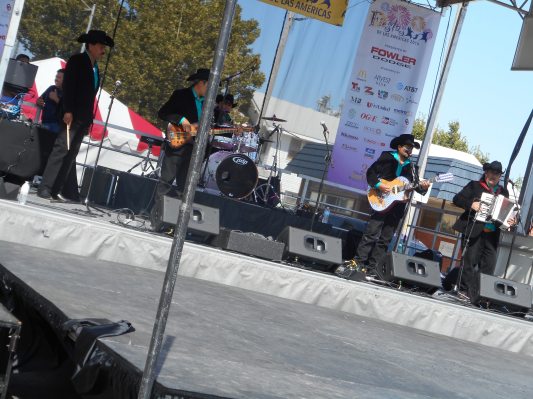 Having circled around once or twice, as I made my way back to the alleyway where we parked, I saw a food truck that I was sure I didn't notice there an hour ago, a sea-friendly blue with the words "Babalu Cuban-Latin Cuisine" emblazoned on the side, images of Havana drawing me closer as if it were the belated promise of Communism itself!
The menu was filled with promise, featuring truly unique, one-of-a-kind treasures including the Havana Vieja (BBQ pork, cheese and pickles on a Cuban baguette) and the La Bodega (roast beef, cheese, dill pickles and Cuban mustard butter), but there was no way I was going to pass up one of my absolute favorites that is absolutely hard to find done right: a good old-fashioned Cubano ($9.00, roasted pork, cheese, pickles and Cuban mustard butter hot pressed on a Cuban baguette), paired with a side freshly made chips and a perfectly palate cleansing Cuban sugar cookie.
¡Aye Dios mio! This is why events like Fiestas de las Americas are so important! This is why food trucks are so important! Bringing culture, no matter what kind, to the masses, be it through a highly complicated folkloric dance or a seemingly simple sandwich; Babalu's Cubano is una revelación absoluta, an effortless masterpiece of flavor, style and skill that begs each and every bite to be made love to, no matter how instinctually American it is to cram the whole thing in your mouth like it were a stack of McDoubles.
Seriously, these guys might just be my new favorite restaurant on wheels. If you see Babalu's in your neighborhood—run, don't walk—and order a few items. If you can't eat it all yourself, share it with some comrades toiling away in the proletariat sector. ¡Viva la revolución Cubano!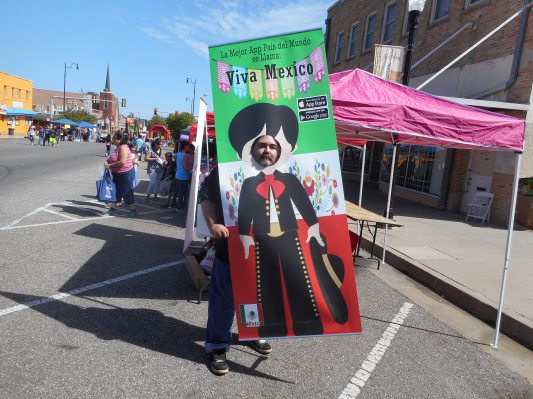 The Fiestas de las Americas is an absolute gem of an event that, while it is held up and proudly glimmers in the sun by the residents of Capitol Hill and its surrounding areas, it still feels like it's just waiting to be discovered by the rest of Oklahoma City and it its festival-loving district-obsessed pop-up shop and food truck spending money.
And while I definitely feel like it's in your best interest to make plans for next year, also keep in mind that Capitol Hill, its businesses, its culinary designs and most importantly, its people, are there all year. With its rich diversity of hard-won cultures and the wide array of denizens living out their American dreams, it really shouldn't take a festival to get the rest of the Metro down there to support them. And, you know, maybe pick up a pan flute or two, would ya?
-
If I get good enough on this here pan flute, would you start a banda with me? Follow Louis on Twitter at @LouisFowler.
Stay in touch
Sign up for our free newsletter