Everything Else
Remembering the old (dangerous, nasty, pre-gentrified) Plaza District…
6:42 AM EDT on September 20, 2016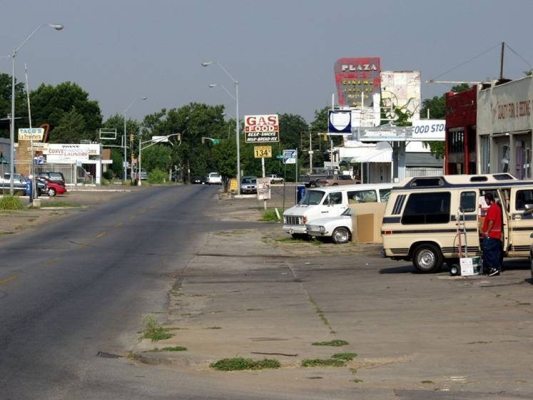 Recently, the indomitable Steve Lackmeyer was tweeting pics of the way certain districts looked before their revitalization took place; much like New York City's 42nd Street in the 70s, these areas were a taboo wonderland of crime and depravity, with the now vaunted Plaza District being an especially thrilling forbidden zone where both cops and angels feared to tread, where any kind of vice from bootleg Asian kung-fu flicks on VCD to straight-up 8-balls of cocaine were available anytime of day or night for the right price.
I was accepted in the first class of the Classen School of Advanced Studies in 1994, at the start of 10th grade. Myself, along with the rest of my class, were a district-wide experiment in education. And to be honest, those three years we were there, it was an absolute mess. No one really knew what they were doing—least of all the students—so it was easy to say we didn't really receive a standard education.
Split into two schools—the International Baccalaureate, for the smart kids, and the School of the Arts, for the talented kids—I fell somewhere in-between both worlds, doing the academic thing to make my parents happy but obsessed about the arts thing to keep myself happy. I eventually found my love of videography and would start to spend more and more school hours making short films with various like-minded compatriots who also had nothing left to lose.
As we would soon learn, that VHS video camera was our ticket off campus and into a world that my mostly-safe neighborhood of Mayfair Village in no way prepared me for. It wasn't unusual for myself and the Future Pastor and the couple of riot grrrls I had crushes on to walk down to the Plaza to film ourselves buying looseys from the Asian convenience stores or trying to break into the empty old Mexican movie theater. It wasn't unusual for me to film skater kids smashing their front teeth in on a trick gone bad or homeless gutter punks blowing snot down the front of themselves and licking it up for a GPC.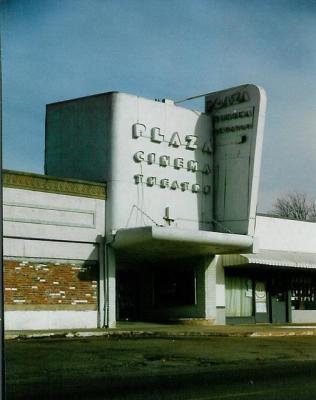 We would make friends with gang members of all colors, letting them throw up their braggadocios gang-signs to the camera for ten or twenty minutes as a 40 oh-zee of Hurricane was passed around like an inner-city peace-pipe. We shot experimental art films where we burned the American flag by the dumpster at the murder Braum's, or I would drive the cooler kids who I desperately longed to be accepted into their clique to buy weed and film the transaction. And, every now and then, just for the Hell of it, we would destroy our car suspension systems buy going off-road in the various dirt-filled vacant lots where housing projects were started but never finished and filming the donuts, jumps and burn-outs.
The Plaza District was our movie studio. Everyday I wonder where those tapes are. There were so many of them, surely someone still has to have some of them in a box somewhere…
There was one place in the old Plaza that always intrigued me, however, one place that every now and I think and wonder if I'm the only person that remembers it. It was this house down by where Chiltepes now is that had a sign in front that read "Bill's Used Rare Old Books." Does that ring a bell?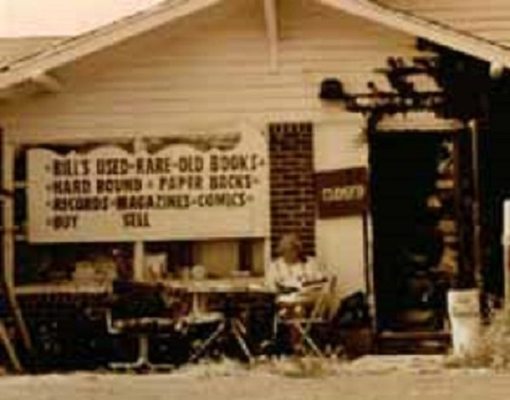 I had always heard strange rumors about the place and always wanted to go in there, but the sign always said closed. It was one afternoon, however, during my senior year after driving my then-girlfriend to her house in Gatewood that I doubled back through the Plaza to hit up one of the Mexican stores for some pan dulce when I saw the owner, whom I assumed to be named Bill, sitting out front.
Pulling in to the driveway, I asked if he was open and he said he was always open. A chubby, older man in his probably early 70s, he had long braided white hair and was wearing a dress that resembled something Dorothy in the Wizard of Oz wore. Even though I absolutely hate this cliché, it was obvious I was no longer in Kansas anymore.
Bill led me into his lair which resembled something from both the best and worst episodes of Hoarders. As the overwhelming ammonia of cat-urine filled my eyes with tears, I made my way through the narrow path of reading materials that were not even piled but literally thrown about, open faced and water-stained, covers torn and covered in crusty cat-poop, desperately trying to not go full chubby oaf and accidentally knock into any of the precariously towered stacks that resembled a low-rent Dali-esque game of Jenga, lest they crush me and my body never found.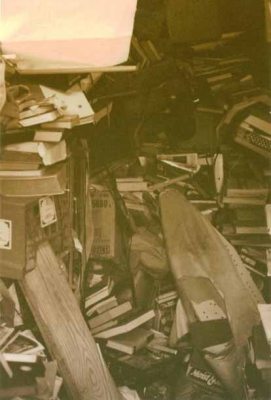 Everywhere you turned was some sort of disturbing compendium of literary material that didn't belong together, yet were married for life amongst the clutter. Used, withered pornographic mags like Black Tail and Plumpers were proudly displayed next to complete volumes of Reader's Digest Condensed Books. VHS tapes with no labels were crammed into liquor boxes with records sleeves that had no vinyl albums inside them. All for sale, or course.
But perhaps the most disturbing thing that I noticed was the amount of clothes scattered about, from women's underwear and pantyhose to children's socks and backpacks, just placed out in the open as the sound of unlucky silverfish made a crunching noise with every step I took. Not wanting to leave empty-handed—and kind of filled with underage fear that I might not leave at all—I picked up a non-fiction book about Nazis living in the planet's interior called The Hollow Earth and a disco record by a beefy group called The Boys Town Gang—both of which I still have today, surprisingly enough—and both of which he overcharged me for, citing $10 for the pair. Whatever.
As I stood there, waiting for him to find a used (wet) plastic bag to put my items in, he told me a little about himself, including how he married a Native American woman, how he considered himself a Native American through marriage and, as if the dress wasn't a giveaway, how he's a transvestite. Like, we're talking old-school, "I'm not gay but I like the way the fabric feels against my body" transvestite.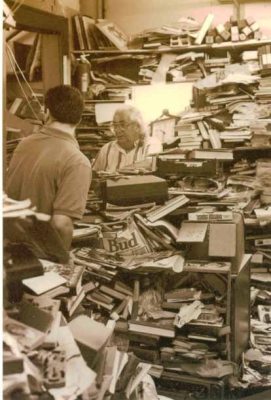 "More power to you!" I said as I left the building, throwing my filthy, free Indian Student Program gym shoes out the car window as I skedaddled to the nearest Payless Shoe Source for some new, cheap kicks, desperately gagging on the mostly-clean air.
A few months later, apparently an electrical fire sent the place up in flames and took Bill with it. At least that's what I heard, I don't know for sure. It was around that time that I also got a part-time job bouncing at an illegal Goth nigh-club located in that old Mexican movie theater, but that's another story.
It's easy to see that the Plaza's 42nd street era is long gone. Decrepit buildings, flea markets and hoarder's book stores have been replaced by green baby stores, high-end restaurants and even a non-denominational church. There are no longer needles on the street, and outside of the random jaywalk or public intox, people who visit the district obey most laws and spend their money on society-approved purchases. All that is for the better. I'm not complaining. But as we celebrate the new Plaza this weekend with the 2016 Plaza District Festival, let's not forget what the district was, where it came from, and all the special memories it created for junkies, outcast high school kids and transvestite book store owners. Bill would have liked that.
-
The Bill's Used Books pics were provided by Rod Lott who wrote about it extensively in Hitch: The Journal of Pop Culture Absurdity #14, in 1996. To read his take on the place, click here.

 Some of this article was sanitized for my mother's protection. To follow Louis on Twitter, click here.
Stay in touch
Sign up for our free newsletter