Everything Else
Futuristic Robot Klansman baby makes cover of Southern Oklahoma Living magazine…
12:56 PM EDT on August 31, 2016
Last Friday, The Daily Ardmoreite released the fall edition of Oklahoma Southern Living magazine. Featured on the front cover was a baby dressed in the hottest DIY Halloween Costume of 2016 – Futuristic Robot Klansman baby: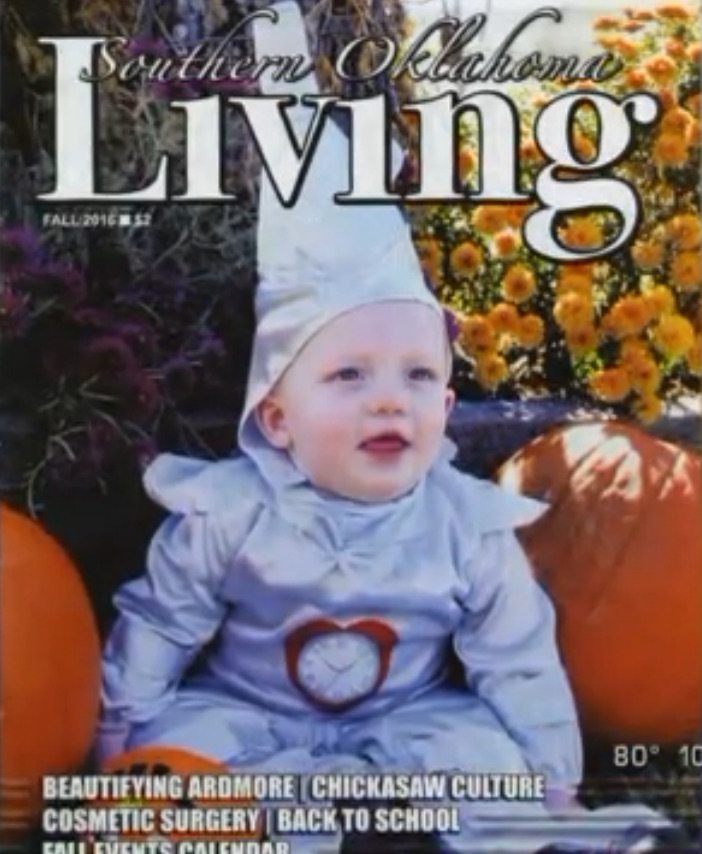 Inside the magazine you'll also find other Halloween-themed articles, like how to create a Confederate soldier uniform with thrift store items, 5 different ways to make your own homemade black face makeup, and how to carve the "Don't Tread On Me" snake into a Jack-O-Lantern.
Okay, I'm just joking around. You won't find any of those articles in Southern Oklahoma Living. At least I hope not. Also, the baby is not dressed up as a Futuristic Robot Klansman. In case it's not totally obvious, it's actually wearing a Tin Man costume. We know this thanks to KFOR Channel 4:
An Oklahoma magazine is stirring up controversy.

Inside Friday's Daily Ardmoreite edition was this season's Southern Oklahoma Living magazine.

When Gene Autry's mayor, Kyle Lawson, saw the cover his jaw nearly dropped.

"My first initial reaction was I almost spit my coffee out when I first saw it," Lawson said.

On the cover is a baby in a costume supposed to resemble the tin man.

"Just the way that the hood kind of goes up and the handle for the tin man's hat is kind of hidden behind the 'I'," Lawson said. "And just the way the flap comes down on the side it looks like one of the Klansmen baby outfits."
Is it just me, or does the Gene Autry mayor know a little too much about KKK costumes. Also, they make Klansmen baby outfits? Is that something they sell at the Ardmore Walmart, or do you have to get them at Racists"R"Us?
KFOR reached out to Kim Benedict, publisher of the Ardmoreite and Southern Oklahoma Living, to find out what the hell they were thinking. She didn't respond, but did have this to say in an editorial on Friday:
News Channel 4 stopped by to talk to the publisher.

She was not there, but we got a copy of Sunday's paper.

In it she wrote an article titled "Friday was a sad day in Ardmore."

She wrote, "Unfortunately, with the current climate in the country, even the most innocuous imagery can be misconstrued into something hateful and destructive."

The article went on to say, "I don't have a formal apology but here's what I will say, if you were offended by the photo I'm sorry you didn't see what I saw. Or what I'm sure many other people saw -- a child dressed as an iconic character from one of the most beloved films of the Twentieth Century."
Yeah, I don't think people are offended by the photo. I think they're offended that a newspaper publisher was dumb enough to put the photo on the cover of the magazine. Whoever made that decision needs to join the Scarecrow and start looking for a brain.
Stay in touch
Sign up for our free newsletter