Everything Else
TLO Travelogues: Branson! (Part Two)
5:09 AM EDT on August 26, 2016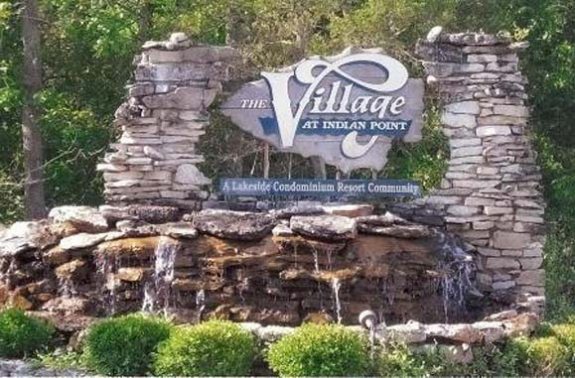 When we last left Louis, he was plum tuckered after an exhaustingly unironic day at Silver Dollar City and an exhilarating night seeing the incomparable Shoji Tabuchi in concert. Tucking himself tightly in with the highly expensive comforter on best bed he's ever slept in courtesy of the Village at Indian Point, Louis drifts off to slumberland, dreaming of fudge and cookie cutters and American pride…
Come Back to the Five and Dime, Louis Fowler, Louis Fowler
Have you ever been in a whirlpool tub?
I have and I have never felt so clean in my life. Those high-powered jets blast-washed every nook and cranny while I just sat back and relaxed, thinking this is what s must feel like to be Prince Akeem of Zamunda. I'm sure you can guess why.
Today's activities in Branson started with a morning trip to Dick's 5 & 10, 103 W. Main St., a massive take on the classic "dime store' model that feels like an over-stuffed mixture of Hobby Lobby, Spencer's and that one room in your grandma's house filled with the remnants of her secret shopping addiction shame—seriously, do you need a weather vane that says "Live, Laugh, Love"? How many ceramic pig chef cookie jars does one person need? Didn't you get your fill of cookie-cutters at Silver Dollar City yesterday?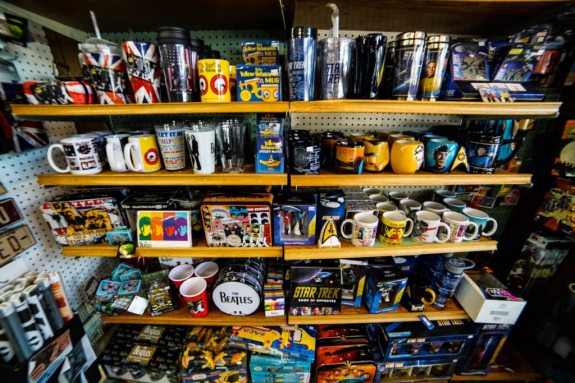 Of course, I say that and then I come upon their shelf of Beatles merch. Being an absolute Fab Four obsessive, I was tempted to splurge on Christmas ornaments (forget I never have a tree), coffee mugs (forget I don't drink coffee) and…uh oh…a 27 by 40 art print where the moptops from Liverpool are anachronistically conversing and eating pie with Elvis, Jimi Hendrix, James Dean, Dale Earnhardt and Princess Di in a 50s-style diner.
"Boy, I sure do wonder what they are talking about in this picture…" I said to myself, mentally formulating the outline for some sort of fanfic piece, as I handed the Dick's clerk my credit card.
Duck and Run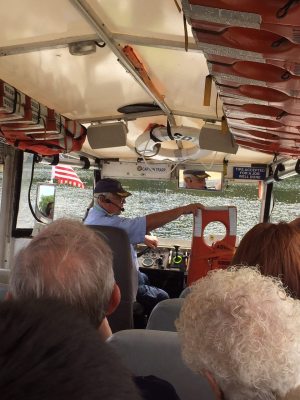 From the 5 & 10 we were immediately shuffled to Branson Landing, their new multi-million (billion?) dollar waterfront shopping area complete with a terrifying zip-line, a "steampunk balloon", a Hot Topic and a fountain that spurts water in time with the Doobie Brothers tune "Listen to the Music," which, admittedly was very cool and made me proud I was wearing my official Jeff "Skunk" Baxter beret at the time.
The entire party boarded a creaky sturdy amphibious vehicle called a Duck. Now I don't know if you've ever been in a Duck, but forget Ferrari, forget Lamborghini, forget all of that—my ultimate dream car is a vehicle that allows me to proudly dominate the land while easily converting to a boat the travels the length of a lake—in this case the majestic Lake Taneycomo—lush greenery on one side and on the other….hey, is that a Garfield's? There's a Garfield's here?
Either way, my next car is going to a Frog.
Having been on the run consistently since 8 a.m., lunch couldn't have come sooner and I was looking for a quiet, meditative meal, a few moments to collect my dithers. But, as with all things in Branson, you're going to be entertained at all times and you are going to like it, dammit, or so goes the motto at the classic Mel's Hard Luck Diner, 2800 W. 76 Country Blvd. in the Grand Village, best known as the local joint where the waitstaff sings the greatest hits of all time to you, right at your table. But these just ain't no geeks off the street—we're talking American Idols, one-hit wonders and more failed OCU drama department graduates than you can shake a Mr. Microphone at.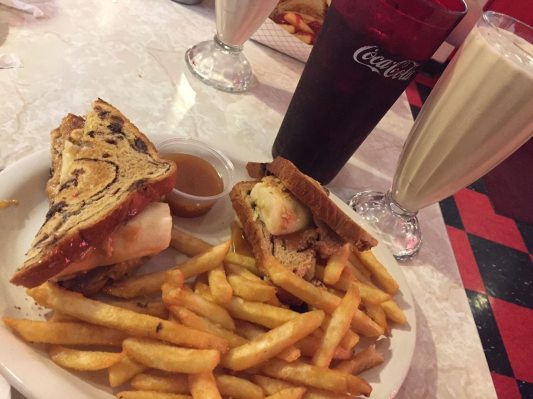 The menu is delightfully kitschy in a very rock and roll way, so I felt compelled to go with what I'm sure Elvis would've ordered if he was sitting beside me: Mel's Peanut Butter, Banana, Raisin & Caramel Concoction featuring chunky peanut butter on toasted raisin bread with sliced bananas, caramel syrup and a sprinkle of brown sugar and then layered again and served with fries and caramel for dipping. Paired with a chocolate Shake, Rattle and Roll malt, of course.
It was a meal fit for the King and, within three minutes, Lord Almighty, I felt my blood pressure rising, higher and higher, but what a sweet way to go. Luckily it was just a hunka hunk false alarm.
Meanwhile, while this was going on, our waitress had her arm around me, singing "Me and Bobby McGee." Mel's Hard Luck Diner is just another word for nothing left to lose! So, when in Rome, I ordered another Mel's Peanut Butter, Banana, Raisin & Caramel Concoction for the road. My self-control has left the building!
Rollin' on a River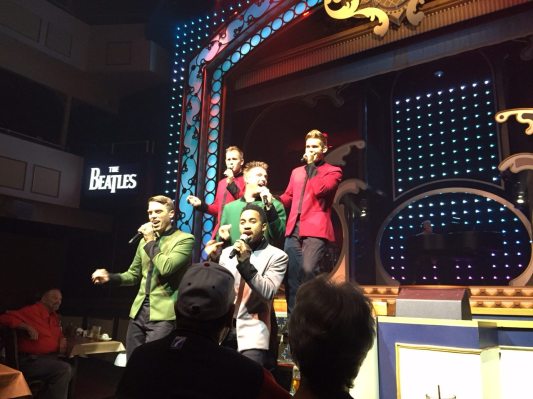 Once, when I was a kid, I saw an old western with my dad that took place of a riverboat and since then, I've always thought that it was the coolest way possible to wear a bolo and gamble and throw someone overboard when I found an ace hidden up their sleeve.
Unfortunately, the Showboat Branson Belle isn't that type of riverboat, but it did have five plucky young lads perform a rather rousing rendition of "Uptown Funk," so I'm willing to forgive. But I don't forget.
The aforementioned Belle—while it's no Duck—is still a thing of wondrous beauty, a fully restored authentic 1889s-style paddle-wheeler that has the record of being the largest ship known to be built on an American land-locked lake. I couldn't think of a better place to spend the evening enjoying hilariously clean stand-up comedy, live magic, numerous showtune medleys, that fancy Appalachian foot-dancing and various musical selections from the hit film Frozen, all the while enjoying the very studious baked chicken breast with honey dijon sauce and garlic mashed potatoes.
The only drawback was, in-between shows, standing on the deck with my significant other, the cool breeze blowing off of Table Rock Lake, the sun setting in her eyes…I didn't have a ring or else  I would've asked her to marry me. The romantic intermission is the perfect time to tell that special someone how much you need them, to confess how much you love them and how you never want to ever be with anyone else, how at this moment, you pledge to give her everything you have, heart and soul.
She eventually dumped me because I didn't want to go dancing at Groovy's.
The Unsinkable Branson, Missouri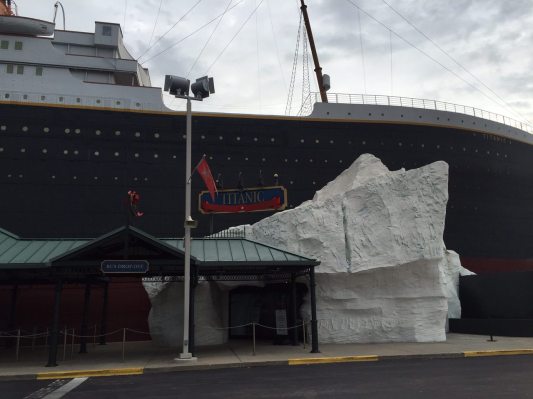 I got up early to sneak in one last hot tub and sauna, and, I must admit, I shed a tear as we drove away from the Village at Indian Point, knowing full well that I will probably never stay any place as nice as that again. (Right as I wrote that, a mouse scampered across my living room here in OKC. How apropos.)
Before leaving Branson for good, however, that cold and rainy morning, we still had one last stop and that was a private tour of the Titanic Museum, where I promised myself I would shout "I'm the King of the World!" only three times and no more. I didn't want to be obnoxious. Regardless, this joint is every single thing you could absolutely ever want to know about the Titanic, surrounded by wholly engaging tour guides that are completely in character, all the while Celine Dion's "My Heart Will Go On" playing in a continuous loop overhead. The whole experience will make anyone feel like, at the very least, king of the Titanic Museum.
From the steerage class where the impoverished immigrants danced and drank the night away to a stunning recreation of the deck of the Titanic in a sealed, temperature controlled room, the only thing that was missing was a handsome scamp who would draw me like one of those French girls. And believe me, I looked. Somehow, my heart will go on.
Saying goodbye to Branson wasn't easy, as I fell so deep in love with the place that there was actually talk about the plausibility of moving there and possibly opening up the Louis Fowler Theater and El Grande Supremo Mexican Buffet featuring the award-winning show Dreaming of You: A Tribute to the Music of Selena.
Branson is such a nice, clean wonderland of music and movement that it seems daunting to have to go back to the drudgery of the real world. But, then again, I suppose that's why they call it a vacation. I, unironically, can't wait to go back.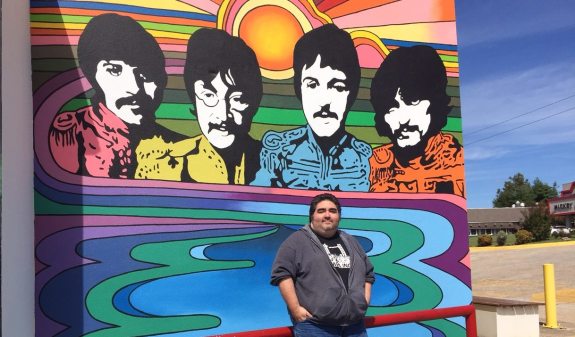 Postscript
On a tip from a friend, it was suggested that, on the way out of the Ozarks, for lunch we should stop at this place called Lambert's Café nicknamed "the Home of the Throwed Rolls," because, apparently, they thrown hot rolls at your ass. I have to admit it: the prospect of third-degree burns in the form of tasty yeast bread has always been a way I envision myself dying. The prophecy is true!
Immensely popular, after about a 45-minute wait, we were explained how the rolls and the "passarounds" worked—people walk by your table and if you want it, will pleasingly dump sorghum, fried potatoes and onions, macaroni and tomatoes, black-eyed peas and fried okra onto your plate from a big vat carried table to table. Meanwhile, some dude walks around and slings rolls at people.
Looking at the menu, filled with plenty of down-home meals, I figured that whilst in the Ozarks, I might as well pick the most down-homiest meal I could, so without hesitation I ordered their famous smoked hog jowls, sliced thick and deep-fried, piled high and served with two sides, to which I got a baked potato and turnip greens.
Like thick, chewy portions of fatty bacon, the hog jowls were good but salty—I knew I was going to be dehydrated all the way home, so I drank as much water as possible, now knowing that I was going to have to make numerous stops all the way home. It was a win-lost prospect no matter how you thick-cut you sliced it, but well worth it.
As for the whole thrown rolls bit, it's good in concept and novelty, but with a restaurant full of people both craving the taste and the spectacle, you're lucky if the roll thrower comes your way even once. There's simply too much ground to cover, so we ended up asking our waitress just to bring us some, which I guess kind of defeats the purpose, but to be fair, they were some truly tasty rolls. And, in the end, I guess that's all the really matters.
-
Special thanks to Lisa Liebl/Mega Media PR.
Blessed are the rollthrowers. Follow Louis on Twitter at @LouisFowler.
Stay in touch
Sign up for our free newsletter