Everything Else
Andrew Speno is sort of relevant again…
10:26 AM EDT on August 18, 2016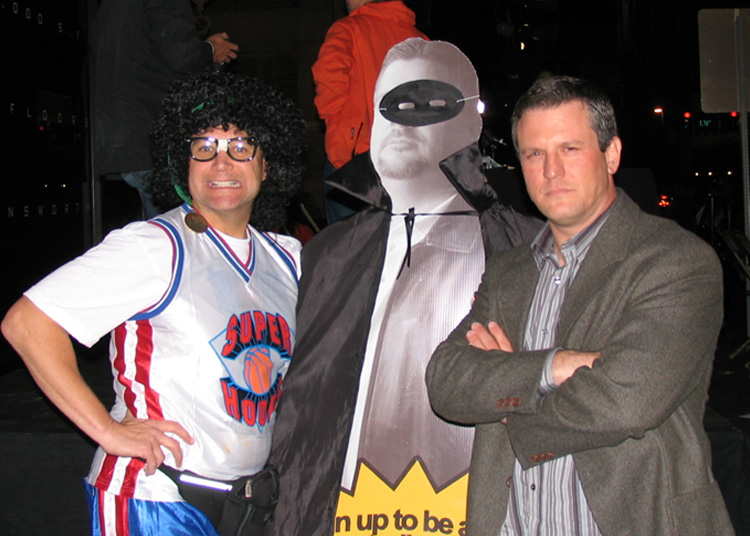 Remember the guy on the right? His name is Andrew Speno. He's standing with a guy dressed like Mark Rodgers and Cardboard Jim Traber at the Gazette's 2008 "Ghouls Gone Wild Parade," which is perhaps the most dated thing I've written on this site in a while.
Anyway, Speno is a former news anchor for KOKH Fox 25. He was with the Fox affiliate for about 10 years or so, but quit amidst some controversy in 2012 after he got caught up in some office-related HR gossip stuff and made a on-air wise crack about a recently deceased Whitney Houston's crack pipe.
Since then, Speno's been making a living the same way most former talking heads do – dabbling in freelance communications, playing the slots at Remington Park, and manning the PA at Edmond high school football games to support Sally Kern's brother from another mother, Paul Blair.
Via a Hipster Brewer article in NewsOK.com:
Edmond Public Schools issued an apology after a volunteer announcer who works for a political candidate endorsed his employer while announcing a Saturday football scrimmage.

"We need to keep this seat Republican," Andrew Speno told those in attendance at the game, according to Susan Parks-Schlepp, Edmond Public Schools spokeswoman.

Speno asked the audience to support state Senate candidate Paul Blair. Speno works as Blair's media consultant.

Blair, an Edmond minister, faces Adam Pugh, a former Air Force captain, in a Tuesday runoff election for Senate District 41.

Speno, a parent of a student at Edmond Santa Fe High School and a football booster club member, was announcing the game from the press box "when he took it upon himself to make unscheduled, impromptu remarks in support of a political candidate," according to a news release from the school district.

"After investigating, we determined that this parent was unaware Oklahoma law prohibits the use of school district resources to attempt to influence an election," Edmond Public Schools Superintendent Bret Towne wrote in the news release.

"The district takes no position on any candidate or party in the upcoming state or national elections."
You know what, maybe it's about time we allow school districts to take a position on elections? Maybe then our state would prioritize student needs, teacher salaries and education funding. Just a thought.
Back to the story...
Hipster Brewer apparently called Speno for comment. Just like his decision to leave TV news in order to work for David Slane, the former newsman claimed it was an "honest mistake." I can see that. Who doesn't slip up every now and then and endorse their crazy boss for public office over the loudspeaker at a high school football scrimmage? That being said, for a guy who fancies himself to be a PR expert, don't you think Speno could craft a better response? "Honest mistake?" Dude, at least follow your boss' example and blame gays, Obama or hold a press conference where you deny you were ever in the KKK. That will distract the media.
Anyway, it will be interesting to see what comes of all this. According to the Edmond School District "the incident has been reported to the Oklahoma County district attorney's office and the Oklahoma Ethics Commission." That's nice. I'm sure Oklahoma County DA David Prater, a man who for some reason endorsed Paul Blair a few weeks ago, will look into the situation closely and do what's right.
Stay in touch
Sign up for our free newsletter