Everything Else
TLO Restaurant Review: San Marcos Mexican Restaurant
5:00 AM EDT on August 16, 2016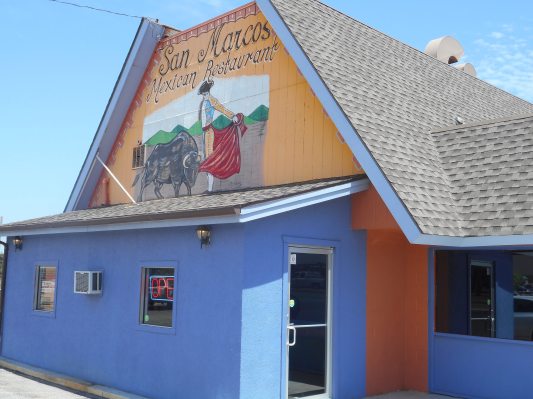 Can we all stop what we're doing for a minute and praise the culinary concept known as Tex-Mex?
I know that many of you think that it is some bastardization of "authentic" Mexican food, but the truth is it's just as "authentic" a representation of a culinary experience as any other, in this case the first Tejanos who brought their traditional foods from Mexico with them and started combining their ingredients with the eats provided by the Native Americans and Texas settlers, creating a wholly original delicacy that has evolved just as much as our people have, becoming its own "authentic" thing.
And while I love traditional regional Mexican food, I ain't gonna lie: I crave "authentic" Tex-Mex. We're so lucky that here in Oklahoma (a big tip of the Stetson to Texas, of course!) if you throw a hardshell taco randomly up in the air, you're bound to hit an honest-to-God Tex-Mex joint. Anywhere else in the country and you're pretty much outta luck. Enjoy that Taco Bell, pendejo.
In Oklahoma City, we have our big names in Tex-Mex: Ted's Café Escondido, Chelino's, Cocina de Mino…but for some reason, the one that always gets left off the list is the always reliable San Marcos Mexican Restaurant, a wonderfully purposeful Tex-Mex joint that doesn't get the respect it deserves. If Ted's is the cool flashy rich step-dad that always has sideline seats to the Thunder games, San Marcos is the quiet, hardworking dad that puts a roof over your head and food in your belly and you never once get off of your ungrateful ass to say "Gracias, jefe."
Since 1993, the Deloera Family, from Aguascalientes, Mexico, have opened five locations throughout Oklahoma City—including a top-notch taqueria on S.W. 59th—but for this review I want to focus on the very underrated location at 4024 N. May Avenue, an area across from the old Lynn Hickey/new Sam's Club that has always seemed hidden in open sight. I'm sure for many people who live in that area it's the type of non-assuming restaurant they've driven by for years and have never once stopped at.
Usually when I go, it's around lunch and the place is never really hopping, to be honest. Regardless, the friendly, plentiful staff is quick to set you up with menus, drinks and plenty of fresh tortilla chips, spicy salsas, creamy quesos and even pickled carrots and jalapenos. (By the way, the next time you're out and this complimentary set-up hits your table, take a second to thank God, because you don't get this at any Mexican restaurant outside Oklahoma or Texas. Ever. Not even free chips.)
Now when it comes to their lunch menu, their cheese enchiladas are simply the absolutely best in town, so usually when I take someone there and they ask what's good, I'll always point them in the direction of the number one, the two enchiladas special ($8.29), which is a muy fantastico primer to what San Marcos has to offer. I haven't met anyone yet who's told me I'm wrong, but prove me wrong in the comments, I guess.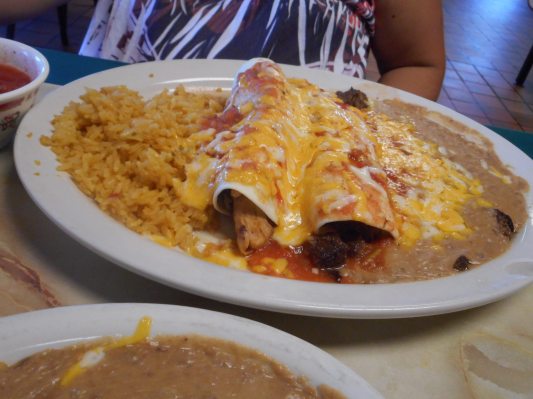 For this particular trip however, my dining companion and I noticed that there were a few new intriguing additions to the menu that were simply screaming to be sampled. After a short deliberation where we needed another round of chips, queso and salsa, she decided on the number twenty, the fajita enchiladas ($8.89) which is exactly like it sounds: fajita meat inside enchiladas and covered in ranchera sauce. Why haven't I thought of that? Why hadn't anybody?
San Marcos is on top of their enchilada game and these fajita style selections ain't no different. Seasoned beef and gooey cheeses in the first one, deliciously seared pollo and fresh crema in the second, both bedded down and drenched in that lip-smacking ranchera sauce, spicy and red and ready to pick a fight.
Normally I'll stick with their incomparable burrito specials, with past standouts including the vegetarian burrito (filled with a variation of Mexican potatoes that, if I could, I'd have with every meal) and the burrito marino (shrimp al mojo de ajo topped with an amazing "special" salsa), with the sides of rice and beans substituted with said Mexican potatoes and corn for a buck extra.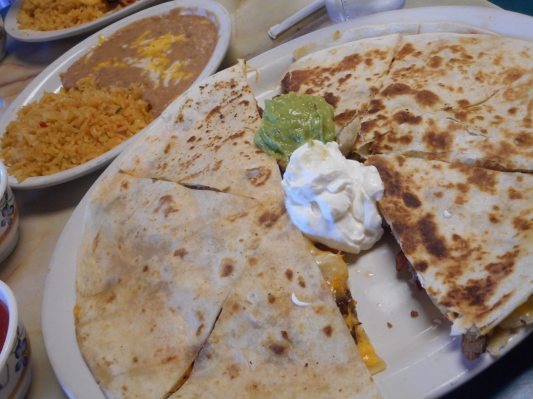 However, as I worked my way through their daunting menu—there is so much here to try and I haven't even hit the tip of the estoque de verdad—I settled on a new addition as well, the Pizzadilla de Lujo ($11.99), featuring large, double flour tortillas stuffed with cheese, beef, or chicken fajita meat, bacon, onions, green peppers and jalapenos alongside the standard rice and refried beans. I decided on the cheese and after a short wait, this massive pizza-sized…oh, ok, I get it now, pizzadilla, duh…was set down in front of my like an absolute embarrassment of Aztec riches. They weren't kidding with the "Lujo" moniker!
And of course, it was every bit as wonderful as it sounds. Dripping rich cheeses, crispy bacon, caramelized onions…aye Dios mio I could only eat two or three guacamole-topped generously-stuffed slices before I had to ask for a box—to be fair, I had sucked down a frosty horchata throughout the proceedings, but no worry, the pizzadilla made for an almost-as-good lunch the next day.
As far as Oklahoma City Tex-Mex goes, San Marcos really should be on the top of the list, every bit as familial and authentic as all those other guys that get so much of the oft-repeated local ink. But maybe it's that low-key, lesser-known factor that makes this joint just a bit cooler that those other hombres, kind of like that little old-school neighborhood eatery you'd find off the beaten path in Austin or San Antonio, of which the vibe is strong with here.
So let's all stop what we're doing for a minute and praise the culinary concept known as Tex-Mex, and perhaps tithe this evening at the closest San Marcos, because when it comes to Metro Mexican eats, it's a real diamond in the refried beans.
-
Louis Fowler would move back to Texas if it wasn't for the Oklahoma City Indian Clinic. Follow him on Twitter at @LouisFowler.
Stay in touch
Sign up for our free newsletter