Everything Else
TLO Restaurant Review: Jimmy's Egg
6:00 AM EDT on August 2, 2016

Do you know the story of Jimmy's Egg? I mean, really know the story of Jimmy's Egg?
I've eaten there only a handful of times in my life, having always thought it was just another breakfast chain like an IHOP or Denny's. But, when it was assigned to me to review, I thought it was kind of weird to write about a place like this until, doing a little research, I learned that this egg and bacon joint is actually an Oklahoma-based realization of the American dream.
Starting with one little location at NW 16th and May in 1975 by Loc Le, a Vietnamese immigrant who came to this country after the fall of South Vietnam with his wife and kids and nothing else, Jimmy's Egg over the years has exploded from a requisite breakfast diner into a true culinary staple here in the Big Town with locations in multiple states. Is this a great state or what?!
It's a story like this that not only shows the importance of eating local, but apparently eating breakfast in general, something I maybe get to do once a month, and then that's usually breakfast-for-dinner at my church community group. And that's a real shame because I absolutely love breakfast food. I mean, who amongst us doesn't enjoy a plate stacked with eggs and sausage and pancakes and grits and a 12 oz. steak and biscuits and gravy and more gravy, but with more sausage in the gravy this time, all at eight in the morning?
It's what I grew up on. It's what America grew up on. It's the culinary equivalent of the American flag waving in the breeze as a chubby first-grader says the Pledge of Allegiance with an adorable lisp. But, somewhere along the way, these ideals got lost. Breakfast ham was replaced by two shots of Five Hour Energy and bacon nothing more than a hipster meme gone awry. Have we forgotten the lessons taught to us by that anthropomorphic demonic booger Timer?
So yesterday morning, as I sat there at Jimmy's Egg, enjoying my first real, honest-to-God breakfast in months (maybe years?), I felt overwhelmed at first. Everything looks incredible on that laminated menu, loaded with hundreds of delicious variations of traditional breakfast foods.
Still, variety be damned, my personal Jimmy's Egg favorites, no questions asked, is the Biscuit Debris ($6.99, two buttermilk biscuits with creamy country sausage gravy, grilled sausage and ham, topped with melted cheddar cheese, served with your choice of home fries or hash browns) and Jimmy's Garbage Breakfast ($6.99, crispy hash-browns topped with grilled onions, bell pepper, and sausage crumbles with two eggs cracked to order and your choice of biscuits and sausage gravy, white or wheat toast, mini-stack buttermilk pancakes, homemade white or cinnamon raisin toast).
Both the Biscuit Debris and Jimmy's Garbage Breakfast, besides being the title of two of my favorite Grateful Dead songs, are the quintessential Jimmy's Egg dishes, a complete God-ordained multi-course breakfast on a single plate, both covering all the basic morning foods in one pile of greasy greatness that, in essence, is a big fat middle finger to my cardiologist, which is a shame, because she is such a nice lady and doesn't deserve such treatment.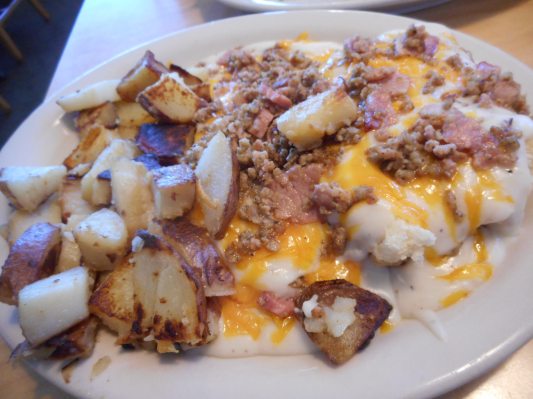 The Biscuit Debris (an apt nomenclature if there ever was one) is basically a few biscuit halves covered in that amazing peppery, creamy white gravy and then, as if that weren't enough and thank God it's not, seasoned fried potatoes and tangy cheese added to the proceedings. Throw a few random salty meats on top for good measure and here's a fully-formed complete country breakfast fit for a typically uneventful American.
But from debris to garbage…Jimmy's Breakfast Garbage, that is, here is perhaps the most popular menu item and with good reason: it manages to not only highlight everything that is good and decent and holy about breakfast while showcasing the skills of the highly-trained Jimmy's Egg cooks, but it's a beautiful infusion of diverse flavors, a melting pot of delicious that represents this country and everything that Le struggled to attain, from the zesty South of the Border sausage and peppers, to the hard working chickens of the heartland, the backbreaking potatoes of the Midwest and the sweet flapjacks and syrup of our neighbors to the North, all on one plate that might as well be the Goddamned Constitution of the United States.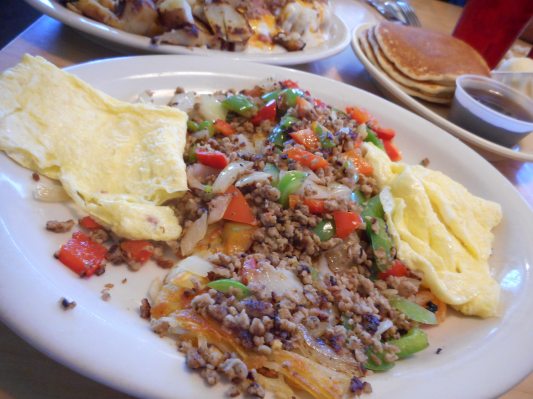 Jimmy's Egg is everything that breakfast dining is cracked up to be and then some. There's a reason why this Oklahoma City landmark has been here for over 40 years and will be here for over 40 more years. Pass the gravy and the defibrillator.
-
To paraphrase El Debarge, who's Jimmy and why does he only have one egg? Follow Louis on Twitter at @LouisFowler.
Stay in touch
Sign up for our free newsletter