Everything Else
Donald Trump wants Uncle Hammy to be his Energy Secretary…
12:06 PM EDT on July 21, 2016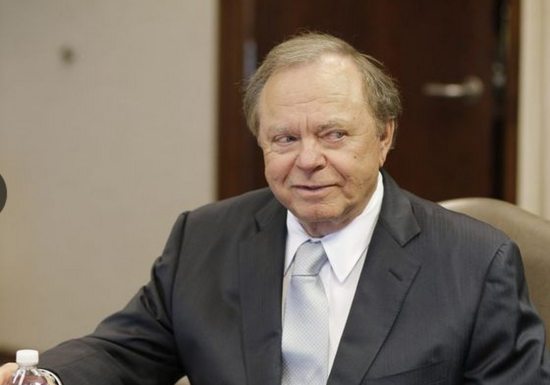 Back when Mary Fallin endorsed Donald Trump for President, I questioned "how much Larry Nichols, Harold Hamm and the rest of the Oklahoma Energy Mafia would pay to make Mary Fallin the Secretary of Energy?"
Well, I guess the answer is not very much.
According to Reuters, Donald Trump wants to cut Fallin out of the entire equation and name Harold Hamm as Energy Secretary if / when he's elected President in November. Considering both gentlemen are greedy business moguls with bad hair who have had their fair share of high-profile, costly divorces, the move makes a lot of sense.
Via Reuters:
Republican presidential candidate Donald Trump is considering nominating Oklahoma oil and gas mogul Harold Hamm as energy secretary if elected to the White House on Nov. 8, according to four sources close to Trump's campaign.

The chief executive of Continental Resources (CLR.N) would be the first U.S. energy secretary drawn directly from the oil and gas industry since the cabinet position was created in 1977, a move that would jolt environmental advocates but bolster Trump's pro-drilling energy platform.

Dan Eberhart, an oil investor and Republican financier, said he had been told by officials in Trump's campaign that Hamm, who has been an informal advisor to Trump on energy policy since at least May, was "the leading contender" for the position.

Eberhart said he had discussed the possible appointment with top donors at the Republican National Convention in Cleveland this week, where Trump was formally nominated as the party's candidate in the Nov. 8 presidential election.

Three other sources close to the Trump campaign confirmed Trump was considering Hamm for the post. One of the sources said he first heard that Hamm was a contender from Trump officials on Sunday. None of the sources was aware of who else Trump may be considering for the job.

Representatives for Trump and Hamm did not respond to a request for comment.
Say what you want about Harold Hamm, but it will be kind of cool to have a native Oklahoman serve such an important cabinet position. Sure, he may deny global warming science, not care about the environment, and spend time with David Boren trying to intimidate scientists and cover up the true cause of Oklahoma's man-made earthquakes, but hey, nobody's perfect.
That being said, I do feel a bit sorry for Mary Fallin. As a hardcore Republican governor in a red state that loves nothing more than to get on its knees to suck the energy industry's dick, she seemed like the safe, obvious pick for Energy Secretary. Considering how hardcore and loyal she is to the GOP, I guess you can say that it's a bit fitting, if not ironic, that she's being passed over by a less-qualified male candidate with no governing or executive branch experience.
Seriously, I wonder what happened? Did she not leave a good impression in their recent meetings, or was Trump so impressed with her Hotel Management degree from OSU that he now wants her to manage one of his resorts or casinos. It wouldn't surprise me. She did manage a Ramada Inn before getting into politics, so she does have the necessary experience.
Stay in touch
Sign up for our free newsletter