Everything Else
Breaking News! KFOR Channel 4 kind of caught on fire!
10:25 AM EDT on July 20, 2016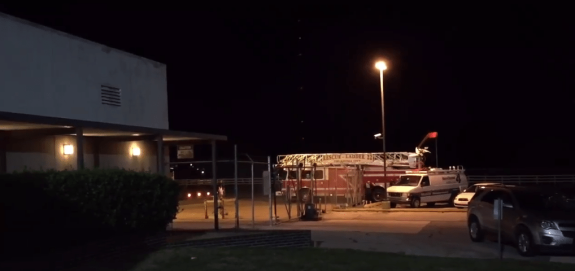 Early this morning while you were either delivering newspapers or sleeping, a small fire broke out at the KFOR studios on N. Britton Rd. There were no survivors.
Kidding! Kidding! What an awful thing to say. Everyone is safe and has cool story to share with friends over happy hour.
According to KFOR.com, things got weird at about 3:40am when power flashes occurred in the building. Generally that means someone is running the washing machine and air conditioner at the same time, but the flashes were quickly followed by billowing smoke, fire alarms and the piercing, window shattering screams of Lacey Lett. Everyone in the building, including Gaylon Culver, was quickly evacuated.
Within minutes, first responders arrived on the scene. Under the very watchful eye of Emily Sutton, fireman took off their shirts, performed sets of burpees and push ups, and then "secured" the building all while Bob Moore Chopper Four flew overhead dropping sand and water on the Doppler Radar.
Here are some more details via KFOR:
It was a hectic morning at KFOR after a fire forced everyone to evacuate the building.

Around 3:40 a.m., KFOR staff noticed power flashes throughout the building.

When the fire alarms went off, staff quickly called 911 and evacuated.

One overnight producer, Brooke Marton, noticed the smoke was coming from a central hub for the broadcast equipment.

Fire crews arrived within minutes and were able to secure the building.

Once the smoke cleared, KFOR crews were allowed back inside.
That's a relief. Fortunately, firemen were able to extinguish the blaze before it reached the secret casks of wildfire that Linda Cavanaugh buried underneath the news studio. I guess she's preparing for the day some young TV news starlet comes aboard and tries to usurp her. I hope I'm not at work when that happens.
According to this tweet from Ashley Kringen, the blaze was apparently started when a Social Media Bandit got into the UPS system and chewed up some wires:
Well, at least that's the story they want us to believe. Since the fire suspiciously occurred during sweeps, Scott Hines is conducting his own independent investigation. Awkwardly enough, my boss, Promo Joe, is considered a prime suspect. He's been acting strange ever since he announced in a recent staff meeting that he's a Dish Network subscriber.
Normally when your office catches on fire it's a good thing because it means you at least get the rest of the day off, but not here at KFOR. Because we live in a plugged in, insta-everything society, Lacey, Emily and Ashley moved outside and did the morning newscast on Facebook Live.
Fire Evacuation At Station

Posted by KFOR-TV on Wednesday, July 20, 2016
Seriously, they made people work in the parking lot while a fire raged inside the building? That's not right.
Anyway, the Red Cross has been here all morning passing out food and blankets, but things are already starting to return to normal. For more wall to wall over coverage of the inferno, go to KFOR.com. I would write more about it, but I have mandatory fire safety training that I need to get to. Plus, I need to replace the locks on the Social Media Bandit cages. The give peons like me all the grunt work.
Stay in touch
Sign up for our free newsletter