Everything Else
TLO Travelogues: 2016 Tuttle Ice Cream Festival
10:17 AM EDT on June 21, 2016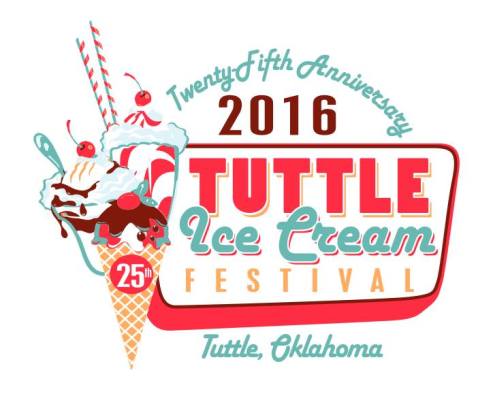 Call me crazy, but shouldn't an ice cream festival have, oh, I don't know…ice cream? Like, lots of it? Like, damn-near Wonkan-levels of an excessive overabundance of the rich, creamy dessert, enough of it to justify an event in which people gather together, en masse, to celebrate?
Tuttle Ice Cream Festival, what're you doin' to me, pal?
Sorry, but one tent offering $3 cones in the middle of a makeshift food-truck court doesn't really count as a festival. While there were a couple of other food-trucks, plenty of Scentsy booths, and at least one pig to pet, it was definitely a charming small-town get-together, possibly even a delightful old-fashioned block party, but to call the 2016 Tuttle Ice Cream Festival—in its 25th year—a "festival" is a grand misnomer of the creamiest kind, especially when sponsored by hometown heroes Braum's.
The afternoon last Saturday began promisingly enough, as my starting point was the bright yellow tent where school-age children were competing in a good old-fashioned vanilla ice cream eating contest, the cherubic tykes shoveling in sweaty sample bowlfuls of Braum's labeled treats down their developing gullets. "Wow, what a great ice cream festival!" I thought to myself as kids started grabbing their foreheads in pain and falling to the floor, ice cream headaches all around.
When it was announced they were needing volunteers for the adult contest, of course I was going to sign-up, all intent on bringing home the gold cold for TLO, as well as score as much free Braum's ice cream as I can handle in 30 seconds. As the contenders lined up in front of our stacks, I sized up the competition; to the right of me, a corn-fed high school football player and on my left, a farm-gal who was also apparently a returning champion.
Here's a photo: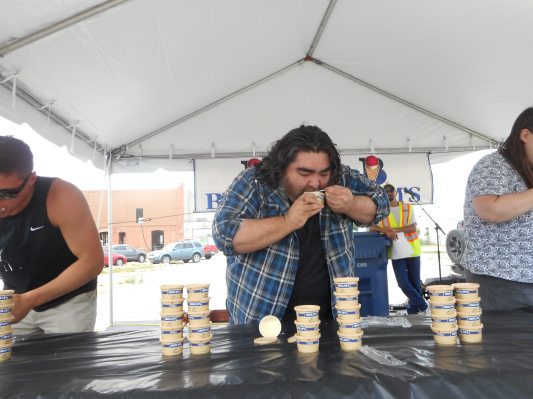 Before we get to the results, as the contestants were gathering our wits about ourselves, the Braum's shill on the microphone let us know that after a long, hard day out on the hot practice field, 99% of high school football coaches recommend that their charges down a couple of glasses of Braum's chocolate milk to replenish their important lost fluids. Having never played high school football—I went to a magnet school, thank you very much—can anyone back this statement up? Do coaches really ask this of their players? Do they also pour Braum's eggnog in the postgame ice bath to heal injuries?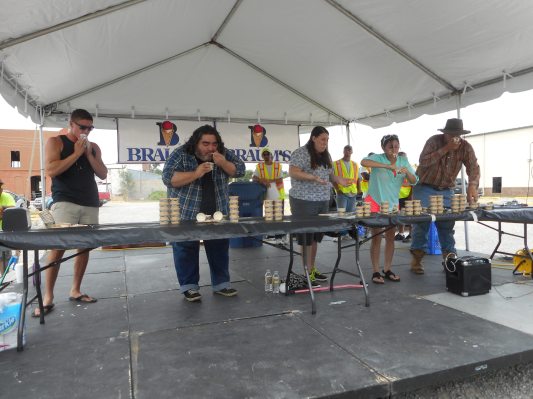 .
As soon as the countdown hit one, we were off and normally, I would have something like this in the bag. Ask me about my Plaza District Hot Dog record sometime! But, to be fair, I just couldn't keep up with these Tuttle pros, with my sideboards hitting double-digits while I was lucky to crack about six or seven cups of the vanilla dessert, which, mind you, was served at that point where each cup was a pool of warm melted cream with a frozen ice-block floating in the middle. Not that that's an excuse.
Johnny Football ended up downing about 15 or 16 cups, while returning champ Stout Farmgal was just a smidge below that, bringing in about 13 or 14. Me? I was lucky to get in at about 8.
Utterly defeated, I shuffled off the stage, was given a gift certificate for a free ice cream cone at any participating Braum's store and slowly made my way to Main street to see what was going on over there, past the rickety scant carnival rides and makeshift petting zoos where pig and goats cohabited together as people threw trash in their pen. Here's an adorable pig trying to eat a plastic bag. Where's PETA when you need them?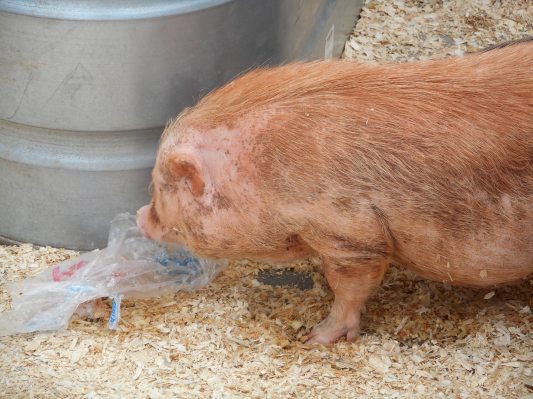 Trudging past the few homemade arts and crafts tents—none of which were ice cream themed, unless Herbalife now sells tasty desserts—I crossed the street and was informed by various grumbling visitors who were under the impression that the Braum's truck was giving away free samples was instead selling their ice cream cones for $3 this year, which if funny, because at that moment, if I were at a Braum's store, I'd hit happy hour and be able to get a soft-serve frozen yogurt cone for a buck. Still, imagine how much it sucks to learn, especially after standing in that long line in the blazing hot sun.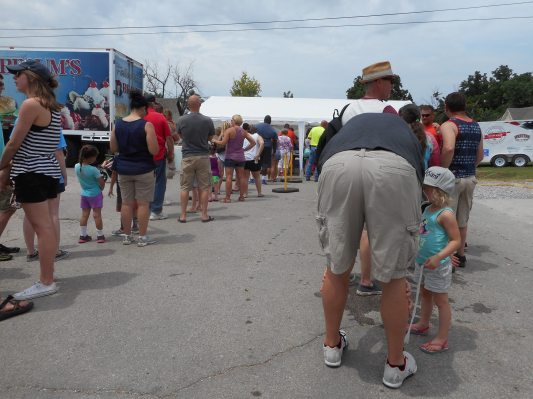 I had missed the parade and the Li'l Miss Ice Cream Princess pageant (I'm supposing that's what it was called) by about an hour, and apparently Braum's wasn't offering shuttles and tours of the facility like I was originally told they were going to, so, sadly, there was really nothing left to do except look at some 1950's dragsters with chrome engines and, sadly, that's not me.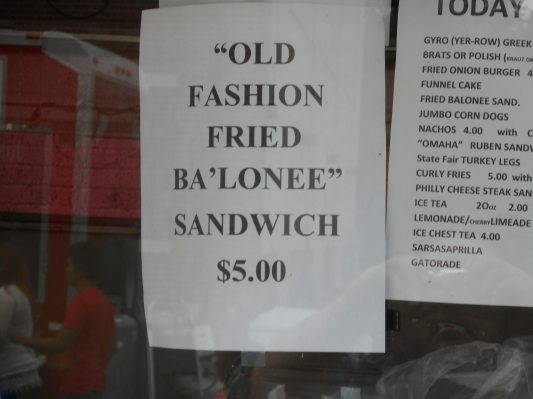 While the three or four food trucks offered everything from Indian tacos and piles of shoestring potatoes to cold brew coffee (!) and smoked turkey legs, it was a misspelled WordPerfect sign that read "Old Fashion Fried Ba'Lonee Sandwich $5.00" that stole my heart. And, after all, when in Tuttle…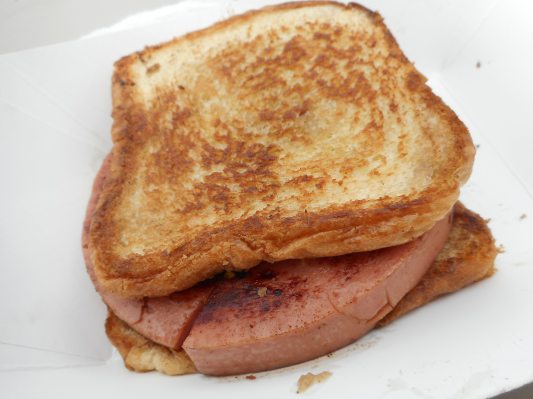 I gotta tell you, straight up, that fried "ba'lonee" sandwich, with its pan-fried buttery white bread, heavy mustard and thick cut of garlicky bologna was white trash heaven—I highly recommend it—but it was probably not a good idea to enjoy it in direct sunlight, with each heavy bite becoming more laborious than the next, my eyes slowly fading in and out, the meat-sweats soaking my black t-shirt with salt stains.
As I sat there, digesting the day's comestibles with all the efficiency of a sarlacc, I sleepily said hi to a few friends I knew from Oklahoma City, and, of course, the topic of conversation veered towards The Lost Ogle. As soon as they left, a woman next to me let me know that all of her "ultra-liberal" friends love TLO. I should've followed-up by asking her what constitutes an ultra-liberal in Tuttle, but before I knew it I was knee-deep in a ride home and the tender napping sojourns as such provides.
And with that, on the way out of town, I used my coupon for a free cone at the last Braum's before the highway, and I didn't even have to wait in line, suckers. As far as the Ice Cream Fest itself, maybe next year?
Louis Fowler is trying to convince Braum's to partner with TLO for a new flavor: tangy butternut Oglecrunch. Follow him on Twitter at @LouisFowler.
Stay in touch
Sign up for our free newsletter