Everything Else
So, there's an adult film actress locked up in the OK County Jail…
12:30 PM EDT on June 17, 2016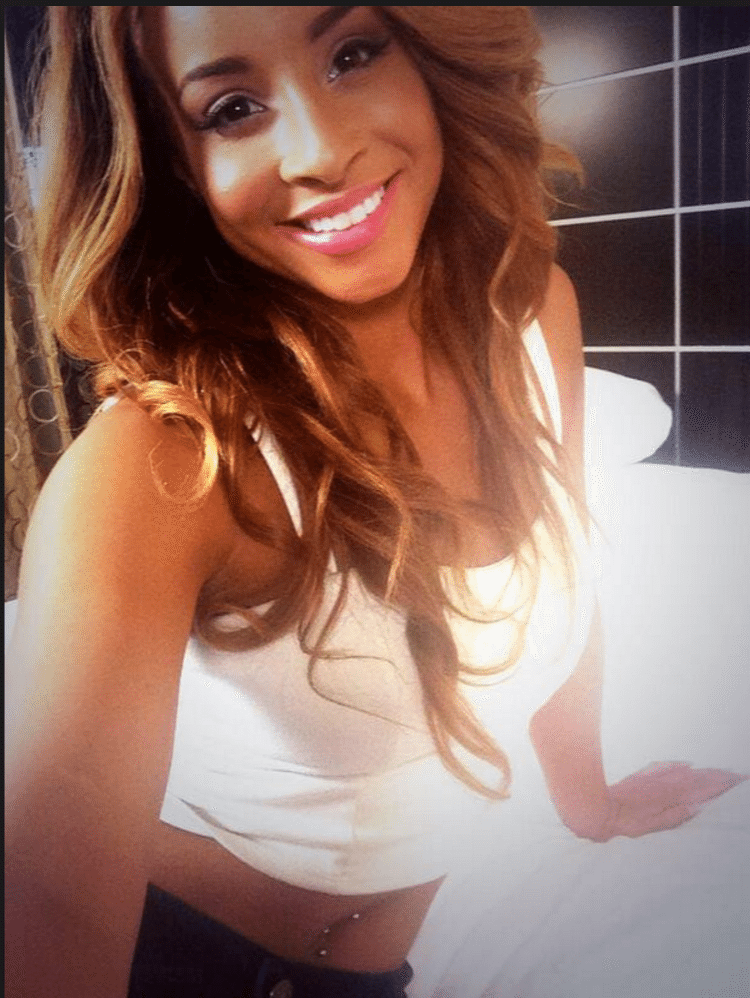 Let's give a big, friendly Oklahoma welcome to our state's newest celebrity resident!
Earlier this month, adult film star Teanna Trump (real name: Keanna Nichele Jones) was sentenced to six months in jail after she was busted with six pounds of pot during a March traffic stop, because you know, pot is deadly, dangerous substance that kills tens of thousands of people multiplied by zero each year.
The Video Vigilante, our main competitor in the "people who get paid to have sex" newsbeat, has all the snarky details:
A 20-year old pornstar from Indiana is currently a guest of the Oklahoma County Jail as she awaits formal sentencing stemming from her 2015 arrest in OKC for marijuana possession -- And we're not talking personal use amounts either.

According to court records, on March 7, 2015, at about 9 p.m., Keanna Nichele Jones, aka Teanna Trump, was pulled over by a member of the Oklahoma County Sheriff's Office on I-40 near Agnew.

Jones, whose IMBb profile lists her as an "actress" with such filmography credits as "Brown Sugar Fuck Dolls," "Jizz My Glasses" and "We Fuck Black Girls 5" -- all Academy Award contenders I'm certain -- was driving through Oklahoma with a guy by the name of Edward Earl Arnold, 30, of Hollywood.
That's nice. I like how the guy who has a YouTube page filled with videos that he's shot of street hookers giving back alley BJs to John's in southwest Oklahoma City – all Academy Award contenders I'm certain –  is making fun of Ms. Trump's porn filmography. Come on Video Vigilante! You're an amateur porn auteur! Don't be a hypocrite and mock this artist who is being unreasonable punished for simply having six pounds of a non-lethal substance that is legal to possess in half of our states.
Here are more details about the arrest and sentencing:
As luck would have it, an ever-diligent sheriff's deputy "observed a white Chevrolet ... make two unsafe lane changes by failing to signal the required 100 feet prior to making a lane change." In case you don't recognize it, that's cop-speak for "I saw this car with out-of-state plates so I needed some half-ass excuse to pull it over."

Jones, apparently driving without a license (bad idea number one), reeked of marijuana (bad idea number two), had a travel story that didn't match Arnold's (bad idea number three) and was found to be toting a suitcase with 6 pounds of marijuana, "packaged for resale", in her rented car's trunk (really, really bad idea number four)...

Just five days later, both Jones and Arnold were formally charged with felony possession of CDS with the intent to distribute -- a charge that, upon conviction, comes with mandatory prison time.
In case you don't know, CDS is an acronym for "Controlled Dangerous Substance." The stupidity of that blows my mind like some really good kush. No lie, you're going to find more dangerous substances in a McDonald's Value Meal than you will six pounds of marijuana. If you eat too much McDonald's you'll get heartburn, pimples, a stomach ache, meat sweats and diarrhea. If you smoke too much marijuana, you'll simply feel really good and want to go to sleep... or eat at McDonald's. Hmmm. Maybe our state's law enforcement community is trying to end our state's obesity crisis at its root.
Last Wednesday, Jones appeared before an Oklahoma County judge, got down on her knees and.......   well, she pleaded guilty to the misdemeanor and was given six-months of in-custody RID (think, 'making better choices' bootcamp - but you can't leave and the showers are just as scary as real jail - or, at least as scary as the set of a low budget porno).

If Jones doesn't screw-up (but, she's free to screw anything else) before her next court date (Dec. 21) then she will most likely be given a deferred sentence - meaning this wouldn't count as an actual 'conviction' and she could eventually get it expunged from her record. Not that muling marijuana is going to cause much of a speed bump in her professional pornstar career.
I'm not sure what's more ridiculous. Is it the Video's Vigilante's tacky and awkward use of snark in reporting this story, or the fact that the government is wrecking someone's life because the person had six pounds of marijuana in their car?
I'll go with the marijuana part. According to a dated 2006 study, Americans consume at least 33-million pounds of pot each year. Taking six pounds  – that equals 384 quarters – off the street, and then sending someone to jail over it, doesn't make any difference. It doesn't help protect or improve society. It's simply a cruel, archaic way to keep our overzealous, publicly funded law enforcement industry in business.
Anyway, I guess if you want more details about this sad case, go the Video Vigilante's website. If you want to watch some Teanna's movies, send him an email. I'm sure he can point you in the right direction.
Stay in touch
Sign up for our free newsletter