Everything Else
The 5 Worst Food Trucks in Oklahoma City
5:25 AM EDT on June 14, 2016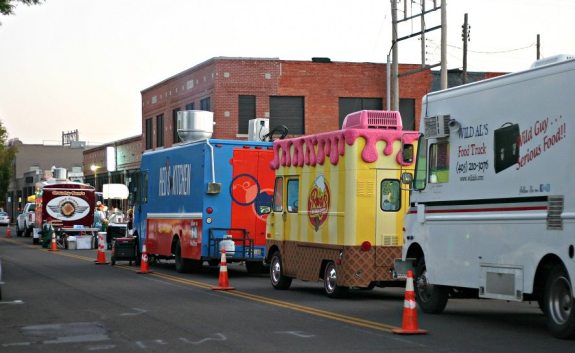 As anyone who has been to utterly overstuffed local events like H&8, Eats on 8, Live on the Plaza, Uptown 23rd Wig Fest, the 2016 Li'l Wee Ones Pre-K graduation, and Louis's Most Recent Depressive Shame-Binge will tell you, Oklahoma City is truly in a renaissance age when it comes to food trucks.
Once relegated to the poorer areas of OKC, the food truck seems to have infested every aspect of life in the Big Town, with practically every event, big or small, catered by at least one of these meals on wheels monstrosities, offering a wide variety of culinary treats from all over the world, delivering on wide levels of quality, value and, most tellingly, personality.
Over the past year, I've sampled about 50 to 60 trucks at various events and have to say that not all trucks are created equal. Honestly, some of them shouldn't have been created at all. Whittling my list down to the absolute pits, here are what I consider to be the five worst food trucks in Oklahoma City.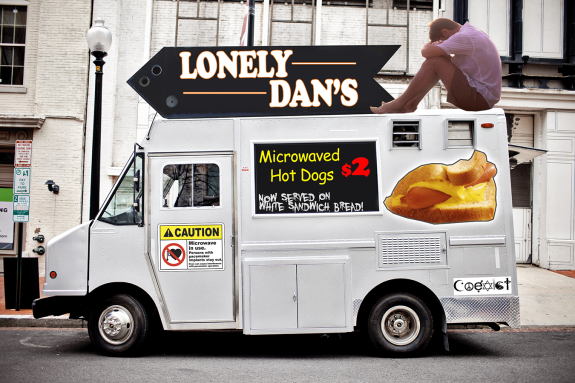 Lonely Dan's Microwaved Hot Dogs
To quote the 1979 cast of Beatlemania, "Ah, look at all the lonely people." I'm willing to bet those lonely people are probably hungry. It's a wager that local loser Dan Reynolds took shortly after his wife left him. Originally, his wife and he bought this truck to fulfill their dream of opening up a crepes stand, but after she ditched him for a local celebrity house-siding pitchperson, he instead bought a surplus of frozen Bar-S franks from the now defunct Yard Dawgz franchise, let them slowly thaw in the sink and is passing the savings on to food-truck fans by offering the most depressing food in existence, over-microwaved hot dogs with exploded regret-tips on store-brand white bread, American cheese optional, to patrons with little to no hope of emotionally making it to the end of the year.
-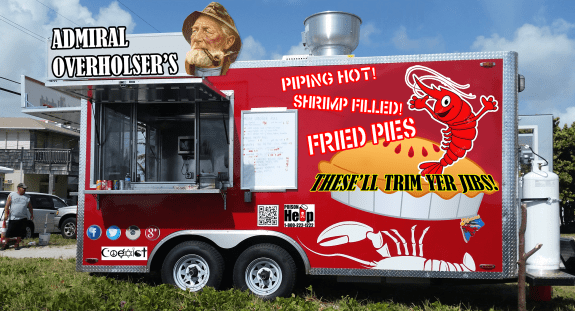 Admiral Overholser's Piping-Hot Shrimp-Filled Fried-Pies
Shrimps, ahoy! Sort-of fresh from the muddy clandestine banks of Lake Overholser, where life is cheap, secretly grown small shrimp (and shrimp-like relatives) are harvested, mostly deveined and then placed into an Oklahoma favorite, the fried pie, to bring food-truckers the best landlocked seafood experience this side of the Drake. With a buttery, tender flaky crust, from cheesy breakfast pockets to apricot bottom-feeder pie, Admiral Overholser has a shrimp-filled fried pie for every taste in the family.
-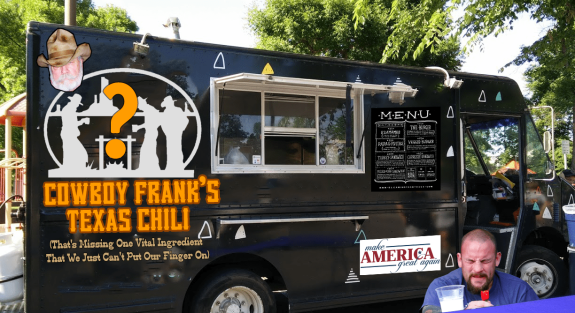 Cowboy Frank's Texas Chili (That's Missing One Vital Ingredient That We Just Can't Put Our Finger On)
Cowboy Frank has been making his hot 'n' spicy Texas Chili for over 50 years, but you've never heard of it. He's never won an award, never received any acclaim….hell, he hasn't even had the slightest pat on the back for his efforts. You see, Cowboy Frank's Texas Chili is missing this one thing, this one important additive, this one vital ingredient that he just can't put his finger on that is keeping it from being even classified as "good." Having spent years trying to crack the code, he now frustratingly asks you, food-truck nation, to help him figure it out. Over the past few H&8th, it's actually become a bit of a family tradition to purchase the six-bowl value pack and camp out on the grass, each member taking turns trying to figure out just what the hell is going on here. Maybe it's bay leaves? Ugh. So frustrating!
-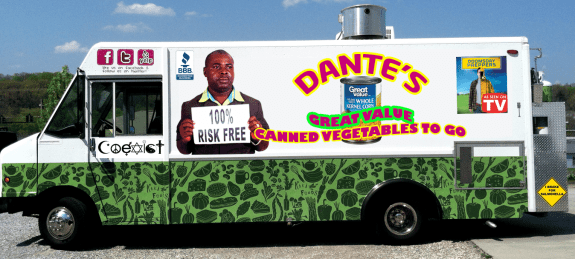 Dante's Great Value Canned Vegetables to Go
It never fails: every time you and a group of your good-natured pals 'n gals go food-truck-hopping, there's always that one sad-sack jerk that's gotta moan about the lack of vegetarian options. Why do you even invite him, for real? Well, the next time they complain in order to gain attention, point them in the direction of the city's first truly vegan offering, Dante's Great Value Canned Vegetables to Go. If you're in the mood for value-priced green beans—French-style or whole—or budget-saving cream corn—sweet or otherwise—Dante's has got you covered, my man! Enjoy below-cost lima beans, diced carrots or, to really get this party started, mixed vegetables, straight outta the slightly dented can, just like mom used to make! And even though it's a strictly BYOC (bring your own can-opener) affair, at least Dante is trying. So quit your griping and enjoy them Best Choice yams, bitch.
-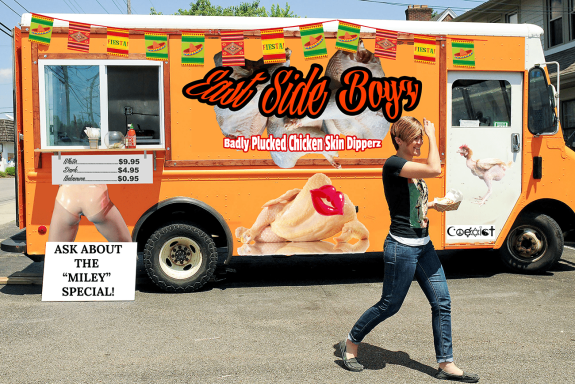 East Side Boyz Chicken Dipperz
What's the best part of fried chicken? If you said the skin, you're probably fat, but you're also right. So win/win. And no one does fried chicken skin right like the fellas behind East Side Boyz Chicken Dipperz. Using only the freshest USDA surplus canned chicken—sometimes so fresh they aren't thoroughly plucked so you end up constantly spitting out little feathers and quills—every handful of hand-pulled chicken skin is lightly battered in crushed-up saltines and then lightly deep-fried to a crispy brown-ish hue, and, finally, is served with your choice of mustard, ketchup or their house specialty, East Side Must-up Sauce. As seen on TV's Diners, Drive-Ins and Dives, this was the one joint that, after one bite, led human garbage can Guy Fieri to famously proclaim "Aw, hell no!"
-
Special thanks to BH for the artwork. We made all these up. Follow Louis on Twitter at @LouisFowler.
Stay in touch
Sign up for our free newsletter