Everything Else
Christina Fallin Is Getting Into The 100% Legitimate International In-Flight Online Tribal Casino Gaming Business…
3:06 PM EDT on May 19, 2016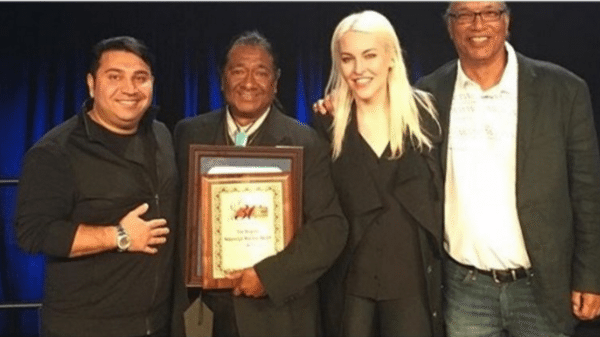 It looks like Hipster Boo Boo has recovered from her failed janitorial career!
In between her busy schedule as a private event planner, art curator, permanent makeup artist, professional traveler, band keyboardist, and "Development Associate" for the Boathouse District, Christina Fallin has found time to partner with a virtually unknown Native American tribe and a shady Orlando nightclub owner who's been accused of "deceptive business practices" to bring online Oklahoma tribal casino poker to international airline flights.
Sounds great and totally legitimate, huh?
The Oklahoman's Brianna Bailey has some of the details:
Justin Bieber, a Florida tech entrepreneur who once owned a nightclub with Paris Hilton, and Oklahoma Gov. Mary Fallin's daughter Christina Fallin are all involved in launching what could be the world's first in-flight gambling website from the Iowa Tribe of Oklahoma's headquarters near Perkins.

"I see this software to being the key for securing the future for many generations," said Chairman Bobby Walkup of the Iowa Tribe. "It is a market that is untouched."

The Iowa Tribe, which has about 800 enrolled members, has struck a deal with the Florida company Universal Entertainment Group to retain 51 percent of the revenue from Pokertribe.com, according to a regulatory filing. The Pokertribe servers will be located on tribal land.

Fred Khalilian, a Florida tech entrepreneur is the major consultant to Pokertribe.com and Universal Entertainment Group. Khalilian's past includes running a Paris Hilton-themed nightclub in Orlando that provided endless fodder for TMZ a decade ago.

Khalilian also operated two companies that were the subject of lawsuits from Federal Trade Commission for deceptive business practices. The Federal Trade Commission permanently banned Khalilian from telemarketing in 2010 over his role in an extended car warranty robocalling scheme.

Walkup is not fazed by Khalilian's past.

"This software has never committed a crime, and that's what we've found in our due diligence," he said.
Yeah, who cares that the guy behind all this has been accused of deceptive business practices and banned from telemarketing due to robocalling, the software has never committed a crime... yet.
Okay, that was mean. I've talked with former State Senator Rick Brinkley, David Stanley, Ryan Tate, the lady behind the Real Housewives of Oklahoma City and Vince from Shamwow, and all of them think this is an awesome idea that's going to make a ton of money! There's no tomfoolery here! Christina Fallin won't associate with just anyone. It's 100% legitimate. Hell, just check out the PokerTribe.com website. Its state-of-the-art design screams classy like a trailer parked in front of a mansion.
According to some totally accurate, non-sensationalized statements, the people behind the international in-flight online tribal casino racket thinks this business venture could generate $808 million in annual revenue:
World Poker Fund Holdings Inc., a California-based social gaming company that trades its stock on the over-the counter market, estimated Tuesday that Pokertribe.com could generate as much as $808 million in annual revenue. World Poker Fund announced Tuesday that it had acquired a 49 percent stake in Universal Entertainment Group, the Florida company that is launching Pokertribe.com with the Iowa Tribe.

According to regulatory filings, major shareholders in World Poker Fund include Justin Bieber, former boxer Floyd Mayweather, and the rappers Soljaboy and Tyga.

Matthew Bird, a spokesman for World Poker Fund, said the company believes Pokertribe.com will be able to offer gambling to passengers on commercial airline flights with the help of the Iowa Tribe's status as a federally recognized Indian tribe. The platform could reap millions in tax revenue for the state, Bird said.

"Ultimately, the people of Oklahoma are going to benefit from this," Bird said. "It's unprecedented. It's never been done before."
Wow. $808 million in annual revenue?! That may sound a bit ambitious, especially when you read this article about the future of tribal casinos and online poker, but oh well, you know what they say – if it sounds too good to be true, everything is probably fine and you should move forward with it.
Brianna mentioned that Khalilian was the subject of a couple of investigations for deceptive business practices. That all had to be a big misunderstanding, right? Obviously Christina Fallin would never work with someone who has a shady past:
Khalilian said he settled with the Federal Trade Commission to avoid a lengthy court battle, and said his latest venture is above board. He also points out that the Federal Trade Commission regularly files civil suits against many reputable companies, including Apple Inc. and Google Inc.

"If it was such a scam, why didn't they put me in jail? They just need to stop beating me up," Khalilian said.
Khalilian brings up a good point. If it was such a scam, why didn't they put him in jail? Of course, you could also ask if it wasn't such a scam, why was he banned from telemarketing and forced to pay a $4.25-million judgement?
In 2000, the FTC took action against Khalilian and his travel company Leisure Time Marketing Inc. According to the FTC, Leisure Time falsely represented that it would provide free round-trip airline tickets to Hawaii or Mexico to consumers who purchased a vacation package. The company advertised bargain vacation packages primarily via junk faxes it sent out to consumers. An FTC investigation found that Leisure Time misrepresented the cost of the travel packages it offered and didn't disclose requirements such as mandatory attendance for vacationers at timeshare sales presentations.

In 2010, the Federal Trade Commission shut down another company operated by Khalilian, The Dolce Group Worldwide, for alleged unfair and deceptive business practices. The company ran a robocalling operation that peddled extended car warranties. Khalilian settled the civil suit with the agency the same year, according to court documents.

As part of his agreement with the FTC, Khalilian agreed to a permanent ban from participating in telemarketing, and he and his company were ordered to pay a $4.25 million judgment.
If you're still reading this, you may be wondering what Christina Fallin has to do with everything. Outside of wearing an occasional Native American headdress at Remington Park, she doesn't really come across as an expert in the field of online tribal casino gambling.
Brianna explains:
Gov. Mary Fallin's daughter, Christina Fallin, is a spokeswoman for Universal Entertainment Group. Khalilian provided The Oklahoman with a photograph of himself with Christina Fallin and brother, Price Fallin, at an Oklahoma City Thunder basketball game in January, and said he has spent time talking with the Fallins about the Pokertribe venture.

Christina Fallin is involved in talks with air carriers and their Internet service providers for Universal Entertainment Group, Khalilian said.

"She's very business-savvy and she knows this could do very well for the state, and this could be a good product for the state," Khalilian said.
Yeah, Christina Fallin is one business savvy person! Whether she's opening an art gallery, janitorial firm or consulting with SO6IX, everything she touches turns to gold. She is in no way being voluntarily exploited or used for her last name and make-believe connections.
In a news release issued Tuesday on World Poker Fund Holdings investment in Universal Entertainment Group, Christina Fallin is identified as UEG's spokeswoman. The news release also notes that she is the daughter of Gov. Mary Fallin.

"We are proud to be working with World Poker Fund and The Iowa Tribe of Oklahoma on this project. It is an extraordinary time for the state of Oklahoma," Christina Fallin said in the news release. "The recent federal court ruling granting the Iowa Tribe the unique gaming licenses will generate significant revenue potential that will directly benefit the people of Oklahoma through tax revenues and The Iowa Tribe and its partners. It's a win-win all around."

Khalilian said he has also spoken with Gov. Fallin about the potential PokerTribe.com has to help generate new tax revenue for the state.

"She's very positive," Khalilian said. "She would like to see more tech companies being involved with the state of Oklahoma, and she would like to see additional revenue come in and to create new tax revenue.

Gov. Fallin's office declined to comment on the matter.
I don't agree with Gov. Fallin on many things, but declining to comment on this story was a smart thing to do. Now if only she can find a way to keep Christina out of the spotlight, everything will be fine.
Anyway, it will be a lot of fun to see how this totally legitimate project moves forward and plays out. Call me crazy, but I can't wait to play In-Flight Online Oklahoma Tribal Casino poker on my next international flight. My screen name will be Hipster Boo Boo.
Stay in touch
Sign up for our free newsletter