Everything Else
EMSA is now giving Kevin Durant an "Everyday Hero" medal. Seriously.
2:16 PM EDT on May 18, 2016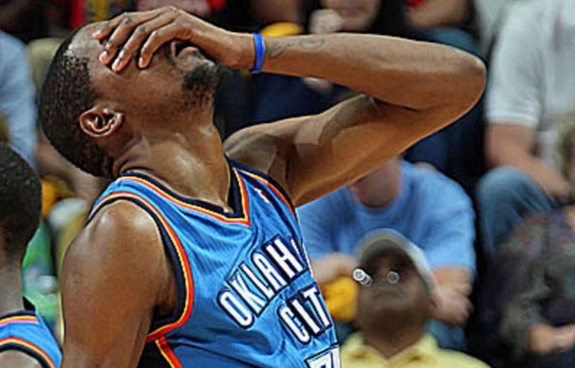 On Monday, we mentioned how the Oklahoma City media decided to label Kevin Durant as a hero because he "cleared traffic" for an ambulance by following it through a traffic jam. They did this despite Kevin Durant admitting that he wasn't a hero and was simply trying to save time and bypass traffic.
Here's what we had to say about the ridiculousness:
[Kevin Durant] can do no wrong. He could get caught reusing his plate at Golden Corral and the media would praise him for helping save the environment. Seriously, I wonder what's next? Kevin Durant being lauded for slowing down in a school zone or waving someone through a four-way stop. It wouldn't surprise me.
Well, I guess we now know "what's next." According to KFOR, EMSA is giving Kevin Durant a hero medal.
Kevin Durant being honored with 'Everyday Hero' medal for helping local paramedics

An Oklahoma City Thunder star's quick-thinking along the Broadway Extension is being honored by a group of paramedics.

Recently, EMSA paramedic Peter Radford and two coworkers were heading to a life-threatening emergency call in Edmond, but they faced one big problem- traffic along I-235.

"Traffic was just crazy, it was 5:30 p.m.; almost unable to move," Radford told NewsChannel 4. "Then I see this little silver sports car come sliding in behind us."...

Radford says it was one of the 'coolest things he's ever seen.'

Even though Durant says he didn't do anything special, EMSA officials are honoring his actions.

EMSA created an 'Everyday Hero' medal, which will be engraved with his name.
I know I'm a cynical little smartass, but even the people who read Hello Giggles and drink morning wine with Kathy Lee and Hoda have to be rolling their eyes at this one. Seriously, they're giving a "hero medal" to a grown man who tailgated an ambulance through congested traffic? That's absurd, especially when you compare it to the acts (and ages) of other recent EMSA "Everyday Hero" medal winners.
Check this out:
Piedmont boy is honored for actions in emergency

Five-year-old Taron Burton didn't panic when he found his mother lying unresponsive in the hallway of their Piedmont home earlier this week.

His mother had talked to him about what to do if she ever had a seizure, so Taron called for help. He phoned his grandmother, who dialed 911.

"I can't say how proud I am of him for being so courageous," said DeAnna Burton, Taron's mother.

Taron's bravery inspired representatives from the Emergency Medical Services Authority to honor him Friday as an EMSA Everyday Hero. Officials presented Taron with a medal that was engraved with his name.

Taron, who will start kindergarten Tuesday at Piedmont Elementary School, showed tremendous composure by calling for help, said EMSA spokeswoman Lara O'Leary.

"Had he not thought to call his grandmother and get help on the way, it might have ended tragically," O'Leary said.

Lt. Matthew Erickson, a paramedic who responded to the call, said Taron is an "exceptional young man."

"He was very calm and collected," Erickson said.

Officials said it is important for parents to talk to their children about what to do during an emergency and how to call for help.
Here's another story about some hero medal recipients:
3 Boys Honored By EMSA For Saving Dad's Life

Emergency Medical Services Authority paramedics awarded three Oklahoma brothers for their bravery after they saved their father's life in the pool.

Their dad nearly drowned on Sunday, July 26, due to a freak accident, but survived thanks to the boys' quick actions

One week later, EMSA returned to the Edmond pool where it happened to give the three sons "Everyday Hero" medals.

"I shouldn't be here at all and it's just, it's a miracle from God," Michael Buckingham said.

The 38-year-old was swimming with his kids and their friends when one of the children jumped off a ledge and accidentally hit Buckingham's neck.

"It was like a traumatic injury, so as soon as it hit me, it paralyzed my entire body," Buckingham said. "My eyes were functioning, but nothing else was working."

Buckingham was silently drowning in three feet of water.

"Crazy enough, it was peaceful, because I had no control over my body," Buckingham told News 9.

After a few gulps, he passed out and witnesses said he was under for six minutes before his sons noticed.

"The normal dead zone is five minutes," Buckingham said.

"He wouldn't just go under water and put his head on the floor," 8-year-old Braden Buckingham said. "He wouldn't try to scare us that he was dying, so I knew that he probably passed out or something."

The boys dragged him to the sunning ledge in the shallow water, propped his head up and went for help.

Buckingham was rushed to the hospital and was in a coma with water on his brain.

However, just days later, the CT scan was totally clear.

He was healed.
Call me sane and logical, but those kids who saved lives seem way more deserving of a Hero Medal than a pampered athlete who simply wanted to cut a minute or two off his drive home. Seriously, associating Kevin Durant with those real life heros would be like putting Andre Roberson in the same starting line-up as KD, Russ, Serge and Steven.
Anyway, it's pretty obvious to me that the people at EMSA are being basic jersey chasers and trying to use this whole thing as an excuse to meet Kevin Durant. As a result, KD should turn down the medal and instead ask for EMSA to provide him with an ambulance escort to home games. I'm sure they'd all be down for that.
Stay in touch
Sign up for our free newsletter