Everything Else
Steve Lackmeyer really wants to get a grocery store in Downtown…
11:57 AM EDT on May 5, 2016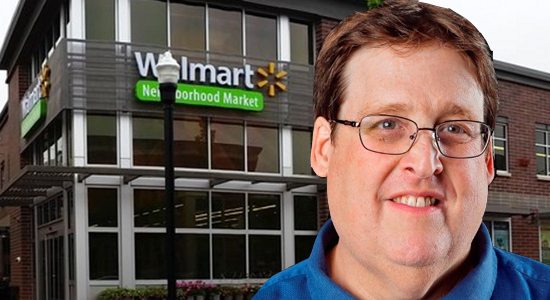 In addition to saving old decrepit buildings, preaching about morals and journalism, and sharing awful music from the 1980s on Twitter, one of Steve Lackmeyer's main passions in life is to be remembered as the man who brought a grocery store to downtown Oklahoma City. It's something he's been dangerously obsessed with for a while now. For example, check out this blog post from 2009:
A couple of years ago developers and downtown leaders hoped they could make an impression on Drew Braum and convince him to open a Braum's Dairy and Fresh Market to the corner of NE 3 and Oklahoma. Sadly, Braum couldn't be convinced that downtown had the rooftops necessary to make the investment.History makes me question whether every argument that could be made for a Braum's was made, or whether the best location was pitched. For years Braum's had a restaurant at the Agnew exit along I-40 just southwest of downtown and it depended purely on highway travel.What's at stake, of course, isn't just an ice cream and burger joint. The Braum's market includes fresh meats, produce, dairy, cereal, snacks and bakery goods – all items craved by downtowners.
Here's the deal. I know Steve from my days in a Billy Joel cover band, and he's been kind of enough to share some of his private beat poetry CDs with me over the years, so I'm going to refrain from making any inappropriate Steve Lackmeyer / Braum's jokes. That being said, I do have one question. Who's the one craving a Braum's in downtown? Oklahoman readers or Steve Lackmeyer? Based on this Twitter exchange from April, I vote Lackmeyer: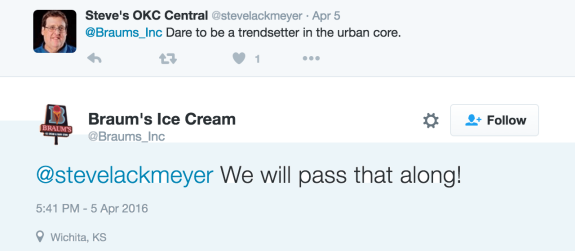 Yes, Braum's. Please dare to be a trendsetter in the urban core! Nothing screams urban life like buying milk, eggs, bread, jalapeno dip and frozen lasagna from the same place that sells greasy hamburgers, fluffy ice cream and warm biscuits. Perhaps Braum's can open up shop in Bricktown next to other urban trend setters like Domino's and IHOP.
Steve's unrelenting quest to bring something resembling a grocery store to downtown apparently caught the attention of Walmart. Always looking to junk up an area, they rolled out the red carpet and gave Steve a tour of an urban Walmart grocery store in the thriving metropolis of Bentonville. It led to this way too long article in yesterday's paper:
A national grocery retailer is kicking the tires downtown, talking to multiple developers about potential locations to open a new store.If this retailer's recent track record is an indicator of what is possible, imagine a store that provides all the household staples available in the suburbs plus an array of fresh produce, meats, bakery items, dry, refrigerated and frozen foods. It's a retailer that is backing a ballot measure to change liquor laws and almost certainly would add strong beer and wine to its offerings if it could.Based on formal surveys of downtown Oklahoma City workers and residents, such an addition would address the widely desired addition to the urban core.Reveal the retailer is Walmart, however, and the response is far less embracing. When I asked hypothetically if readers would welcome Walmart or wait another few years for a different option, more than half of those responding on Twitter said they'd prefer to wait...
Let me get this straight. The same readers who once craved a Braum's in Downtown are suddenly too good for a Walmart? That doesn't make sense. Maybe they're holding out hope that a classier, local chain will move downtown instead. You know, a place like Buy For Less, Crest or Super Warehouse Market.
During a tour of Bentonville, Ark., last week, I saw a Neighborhood Walmart that would be an ideal fit for downtown Oklahoma City.

On my NewsOK blog OKC Central, I shared my initial observations from the trip. At first I thought this was just Walmart showing off in its hometown. But then I spoke with Ed McMahon, a senior fellow with the Urban Land Institute in Washington, D.C., who has written about Walmart's entry into urban areas.

Walmart, he noted, is expanding into downtowns throughout the country. The company is opening both Supercenters and Neighborhood Markets. With the saturation of suburbia, and growing populations in urban cores, McMahon sees such growth as the "last frontier."

Walmart is a great tenant for a developer's bottom line, but I discovered some who would have ideal downtown Oklahoma City locations and future retail space for a store like Walmart share the negative perception, even after seeing stores like the one in Bentonville. And as I shared on OKC Central, I too did not have a good perception of Walmart.

But is the retailer changing? Is it time to re-evaluate what Walmart is, and what it could add to downtown?
I wonder what the Braum's family thinks about Steve's VIP treatment in Bentonville? I bet Drew Braum thought he had Steve Lackmeyer in the bag. Turns out, he was given the wrong order! Take that, Braum's. Now you know how we all feel!
Anyway, you can read the rest of Lackmeyer's article here. Out of curiosity, what type grocery store do you want in downtown? Here's an official poll. Steve, you're not allowed to vote. We don't want to put you in an uncompromising situation.
Stay in touch
Sign up for our free newsletter