It's been a busy few weeks here are TLO. Here's some news you may have a missed...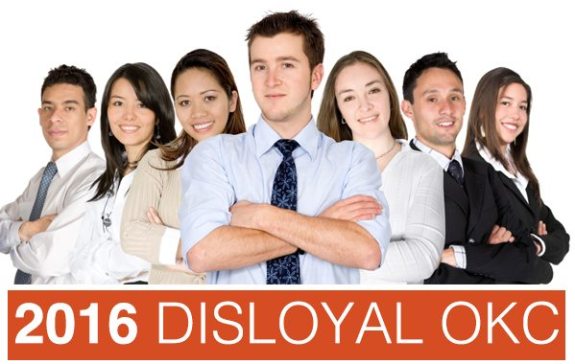 Disloyal OKC Names 2016 Leadership Class
Disloyal Oklahoma City, a local community organization that prepares young, enterprising Oklahoma City leaders for better, higher-paying careers in more economically sound cities announced its 2016 Leadership Class.
"These young, talented Oklahoma workers are going to do great things in other markets," said Roy Williams, Chairman of the Oklahoma City Chamber of Commerce. "We can only hope some of the jobs and money they create in other cities like Dallas, Denver and even Los Angeles can find a way back to Oklahoma City."
The leadership class can be viewed at DisloyalOKC.com.
"Disloyal Oklahoma City helped make me the leader I am today," said Nicole Huntington, a 2015 graduate of Disloyal OKC who now owns a successful software design firm in the Dallas metroplex. "I can't wait to see what this year's class will achieve once these leaders of tomorrow land in cities with more lucrative career opportunities."
Disloyal OKC was created in 2012 by Oklahoma ex-pats looking to help enterprising leaders from Oklahoma advance their careers in areas where they have better access to more qualified, educated workforces.
"Several of my kids and stepkids have left Oklahoma City for better paying jobs in other cities," said Oklahoma Governor Mary Fallin. "This will prepare future generations of Oklahoma leaders for better opportunities abroad."
-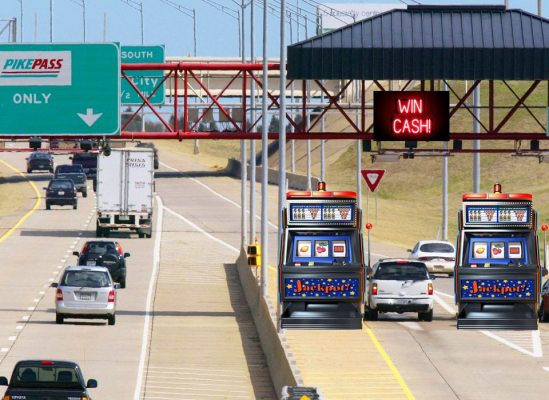 Kilpatrick Turnpike To Replace Change Baskets With Giant Nickel Slot Machines
Citing a lack of revenues due to the state budget crisis, the Oklahoma Turnpike Authority announced a they have formed a compact with the Chickasaw Nation to convert the Kilpatrick Turnpike toll booths into nickel slot machines.
"At last, Vegas style fun meets Oklahoma turnpikes," said Reggie Jones, Executive Director of the Oklahoma Turnpike Authority at a Friday press conference. "We're proud to announce our toll plazas will pay more in prizes than any other state in America."
The program will be tested at the Kilpatrick Turnpike in Oklahoma City. If successful, they could be rolled out to all Oklahoma turnpikes as soon as 2018.
As part of the new "Drive and Win" campaign, PikePass memberships will being converted to membership rewards cards.
"The more you play, the more free stuff you receive," Jones said. "For example, if you play 10 games you will receive a free box Bedré Fine Chocolate from our friends with the Chickasaw Nation."
The slots are expected to raise upwards of $200-million a year for the Turnpike Authority, which they will use to build new turnpikes where people don't necessarily want them.
-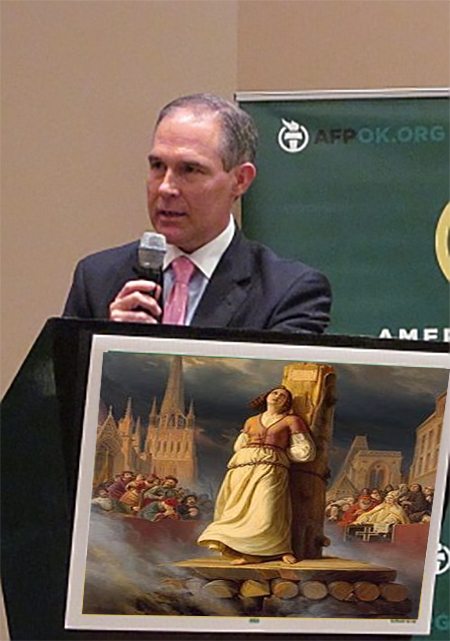 Scott Pruitt OKs Executions At Medieval Fair
In spite of opposition from courts and death penalty opponents, State Attorney General Scott Pruitt approved the executions of death row inmates at this weekend's Medieval Fair in Norman.
"We have some dangerous people behind bars who are hiding behind the Eighth Amendment," said Pruitt outside of Xander's Olde Apothecary Shoppe at the site of the Fair, "Well, there's no Eighth Amendment in 1304! Off with their heads!"
According to Pruitt, the executions will double as an educational tool, providing Oklahoma students and children with the opportunity to learn more about "mankind's rich, historical tradition of state sponsored executions."
The Fair schedule has been altered to allow for several different types of executions, including burning, beheading and the ever-popular drawing and quartering. It is unsure whether attendees who are mock arrested for such crimes as "impudence to royalty" or "witchcraft" will also be included in such events, so Fair organizers urge caution.
Additionally, Pruitt announced all shoplifters at the Fair will have their arms cut off.
"You can't eat a giant turkey leg or drink a bottle of Sarsaparilla without hands," Pruitt announced.
-
City Leaders Announce "Keep Edmond Basic" Marketing Campaign
Hoping to "preserve our regional reputation," the Edmond City Council and Edmond Chamber of Commerce have launched the "Keep Edmond Basic" initiative, which is designed to establish the North Metro suburb as "The State Capital for all things Basic."
"Edmond folks have never been trendsetters, but we have excelled at riding the waves created by those trends that shape what Basic is," said Edmond Mayor Charles Lamb during a press conference outside of an Aeropostale store. "We make the best pumpkin spice lattes, have the most children entered in overpriced sports programs, and a great diversity in new SUVs on our city streets. That's something we want to preserve for the future."
Among the measures to be enacted are a public Cardigan-sharing program, greater anti-hipster patrolling of Heard on Hurd and the establishment of economic zones for yoga studios and mediocre sushi restaurants.
The campaign is believed to be in response to a growing rivalry with Broken Arrow, another mecca of Basic life, over the location of the next Abercrombie and Fitch outlet.
-
Oklahoma Lawmaker Proposes Banning Muslims from Joining Thunder
Citing "The important and sensitive nature of the upcoming playoffs," State Rep. John Bennett (R-Sallisaw) announced his sponsorship of a bill that would ban all Muslims from playing for the Oklahoma City Thunder.
"There is no question that the Islamic faith has no love for the Thunder," said Bennett to a group of old, white racists constituents at Jean's Diner in Sallisaw. "All you have to do is look at how Enes Kanter has exposed us to offensive threats. And Dion Waiters unexplained shooting errors can only be the work of people who are trying to undermine our way of life! Plus, now they bring in Nazr Mohammed! This plot in growing, friends."
CAIR Oklahoma denounced the bill as "bigoted" while pointing out that a Thunder roster that included Hakeem Olajuwon or Rasheed Wallace int heir prime would have won a title by now.
Stay in touch
Sign up for our free newsletter