Everything Else
Is the Oklahoma City Zoo trying to gloss over Chai's death?
2:54 PM EDT on March 22, 2016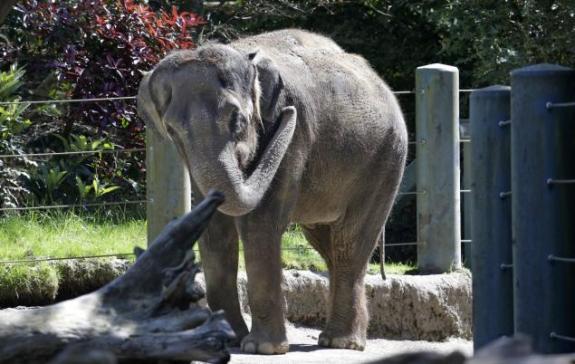 By now, you probably know the sad story about Chai the elephant. She and another elephant, Bamboo, were moved from Seattle's Woodland Park Zoo to the Oklahoma City Zoo in May 2015. The move was challenged in court by PETA, Bob Barker and other animal rights activists from across the country who claimed the trip could endanger the elephants' health and well-being. The courts didn't intervene, Chai and Bamboo made the long journey to Oklahoma City, and less than a year later, zookeepers found Chai dead in her pen despite the fact that she "seemed to be healthy."
At least that's what the zoo claimed when they issued this press release:
The staff at the Oklahoma City Zoo and Botanical Garden is sad to announce the death of female Asian elephant Chai, 37. Zookeepers discovered her in the elephant yard Saturday morning, January 30, 2016, at approximately 7:30 a.m. Chai arrived at the Zoo last May, along with 48-year-old, female Asian elephant, Bamboo, from Woodland Park Zoo in Seattle.Like all animals at the Zoo, Chai receives regular wellness checkups and routine observations from keepers and seemed to be healthy. The median life expectancy for female Asian elephant is 47 years of age. Veterinary staff will be performing a necropsy (animal autopsy) to help determine the cause of death. Initial results may not be available until early next week.
Well, the test results have came back. It looks like Chai's death was the result of a undetectable tooth abnormality which caused a bacterial infection. Via an Oklahoma City Zoo press release:
Chai's skeleton was evaluated at the Museum of Osteology in Moore, Oklahoma while being processed for life-sized display, and was examined for any additional abnormalities that might help to better determine the cause for her loss of body fat and death. Her skull showed severe tooth abnormalities that were not detectable prior to her death. Both upper molars were severely deformed and twisted with little remaining chewing surface. Because of the size and density of the elephant skull, it is not possible to x-ray the jaw and teeth to detect infection as you would in human dentistry.
Uhm, they're displaying Chai's skeleton at the Museum of Osteology? That's... interesting?  Who doesn't like to marvel at the bones of an elephant who sadly passed away in your local zoo? When the skeleton is completed, the Des Moines Register will have to add the Museum of Osteology to its list of Oklahoma City "Hot Spots."
Here's the rest of the press release:
The Oklahoma City Zoo's veterinary team consulted with leading elephant health experts and reviewed photographs of the skull. Based on all of the necropsy findings, it is most likely that Chai had a congenital abnormality of her teeth that progressively worsened throughout her life. The abnormal surfaces of her molars prevented her from chewing food properly, which led to reduced ability to extract caloric content despite an excellent appetite and intake of a normal quantity of food. Based on the severity of the dental abnormalities in this case, there was no treatment, medical or surgical, that could have corrected the condition."We are grateful to our professional colleagues who continue to work towards a better understanding of Chai's cause of death. Together, we learn more about elephant anatomy and healthcare practices that allow us to grow our standards of care for elephants in both the wild and human care," said Jennifer D'Agostino, DVM, Dipl. ACZM, director of veterinary services at the Oklahoma City Zoo.
Well, there you have it. Case closed. Chai's sudden death had nothing to do with the long journey from Seattle, or negligence by the zoo staff. It's just a coincidence. It was simply her time to go... or was it.
On Sunday, The Seattle Times's Sandi Doughton released a 1,500 word article about Chai's death. Via open records requests, interviews, and something called "reporting," she learned that Chai's health quickly deteriorated after she arrived in Oklahoma City. For example:
• Chai had lost 1,050 pounds, or nearly 13 percent of her original body weight, since leaving the Woodland Park Zoo.
• On two occasions in December 2015, Chai was unable to lift herself off the ground.
• Chai has 25 scabbed pustules — some up to 2 inches across — along the right side of her body, with "ulceration and necrosis (death or decay) extending into underlying tissues." I'm not sure what any of that means, but it sounds painful.
Grab a tissue and check it out the article after the jump:
When the elephant Chai was found dead on a cold January morning, the Oklahoma City Zoo spokeswoman said there had been no red flags about the health of the 37-year-old female, who arrived from Seattle's Woodland Park Zoo less than eight months earlier.But a review of medical documents and keeper notes obtained under Oklahoma's open-records law reveal that Chai suffered multiple injuries, weight loss, skin lesions, chewing problems and other incidents in the months before her death — including two times when she was unable to get up on her own.The Seattle zoo closed its elephant exhibit in 2015 after years of controversy and protest, and transferred Chai and her herd-mate, Bamboo.Oklahoma City Zoo officials defend their care of Chai, and say nothing indicated she was in critical condition before keepers discovered her body in the elephant yard on Jan. 30.According to the necropsy, the elephant died from a combination of severe fat loss and a systemic blood infection. Zoo officials suspect it was during the two incidents when she struggled to rise that Chai scraped the skin on the right side of her body, leading to pus-filled lesions cited as the likely source of the fatal blood infection.Based on later examination of Chai's skull, zoo officials now blame the emaciation on deformed teeth. They also say the blood infection might have originated in Chai's teeth, rather than the skin lesions."Probably her tooth was chronically infected, but I can't prove that definitively," said Oklahoma City Zoo veterinarian Dr. Jennifer D'Agostino.D'Agostino said she and her staff were concerned when Chai couldn't get upafter a routine bath Dec. 14, then was again unable to stand when keepers arrived on the morning of Dec. 18.On both occasions, keepers used a strap and overhead crane to hoist the elephant to her feet. Over the following days, they noted that Chai's hips and legs were swollen.D'Agostino X-rayed the elephant's legs, ordered extra blood tests and prescribed anti-inflammatory drugs.But nothing seemed out of the ordinary."Unfortunately, they can't tell us if they don't feel well," D'Agostino said. "We have to go on what we can detect."
Yeah, other than laying on the ground and not being able to stand without the assistance of crane, those obnoxious little elephants can't tell us if they don't feel well. If only they could think of effective ways to communicate pain and discomfort with us.
Anyway, you can read the entire article here. It's depressing. I guess Chai could have died as a result of the tooth abnormality, but obviously the cause of death isn't as clear-cut as zoo officials (a.k.a. the same people who claimed Chai "seemed to be healthy" and thought that moving old elephants 2,000 miles was a good idea) would like for us to believe. Once again, maybe it's time for our city to look into the role of our zoo and if we should really be breeding and moving elephants there. LOL. Yeah right.
Also, I'd like to thank Sandi Doughton and The Seattle Times for conducting the type investigative journalism that we never get to see in Oklahoma City. I checked The Oklahoman's coverage of Chai's death and they basically restated whatever press release the Oklahoma City Zoo sent them. They apparently didn't want to ask any questions or request any records. Considering the zoo has likely advertised in The Oklahoman, that really doesn't surprise me.
Stay in touch
Sign up for our free newsletter