Everything Else
State Senator David Holt is a big fan and supporter of the Payday Loan industry…
10:28 AM EST on February 24, 2016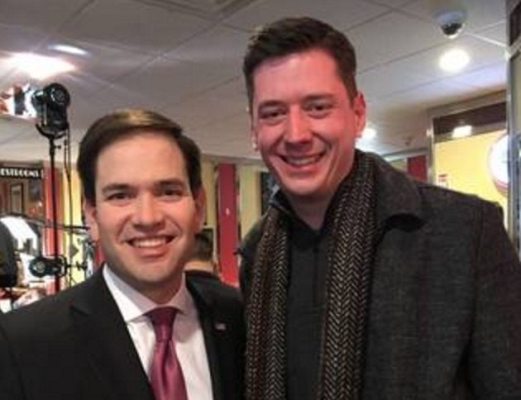 A few weeks ago, State Senator David Holt, who I'm pretty sure is related to Arrested Development's Steve Holt, traveled to New Hampshire to campaign for presidential candidate Marco Rubio. The trip got the attention of The Oklahoman (which published a fluff piece about it) and the Oklahoma Democrats (which issued an angry statement about it). Apparently, the Dems thought it was shady for Holt to be in a different state campaigning for a presidential candidate during the first few days of the Oklahoma legislative session:
In the midst of a billion dollar budget failure, discussions of a $900 million sales tax increase, teacher pay raises, and a host of other major policy agendas, Senator David Holt (R-OKC) has taken a vacation to campaign for presidential candidate Marco Rubio in New Hampshire.

"We find it really hard to believe that during this perilous time in Oklahoma, and at the start of the short four month legislative session in which the Senate has just three weeks to report the first round of bills from committee, that Senator Holt feels he has enough free time to go on the road campaigning for another candidate," said Sarah Baker, Communications Director for the Oklahoma Democratic Party.

Baker continued, "Not to mention, the candidate he's chosen continues to trail behind Donald Trump and Ted Cruz. Why does campaigning for a third-place candidate rank higher in priority than doing the business which he was elected to do and is paid for by Oklahoma? It appears that when you run unopposed in your last election that you can do whatever you want no matter the responsibilities you have at home."
Yeah, I don't see why the Democrats are so pissed about this. What did they expect? David Holt's a Rubio supporter – of course he's going to skip out on his responsibilities in the Senate!!! If Marco Rubio has taught us one thing, it's work for the job you want, not the one you have.
Also, the more our lawmakers travel during the legislative session the better. The last thing we want them to do is stick around town and introduce new laws. That never ends well. For example, check out this pro-Payday loan bill that David Holt tried to sneak through the Oklahoma senate. It would have increased the amount high-interest payday lenders could loans by 500%!
Via KFOR:
Some religious leaders in Oklahoma are working to defeat a bill they say gives payday loan companies more authority.

The federal government is set to enact stricter standards on these types of businesses.

Before that happens, their lobbyists have been contacting state legislators across the country, trying to get legislation that would allow them to offer a wider range of products.

Some say that's not good news for Oklahomans.

"We are to bring good news to the poor. Payday lending is not good news to the poor. It is the worst news possible," said Pastor Mitch Randall, with New Haven Church in Norman.

Pastor Randall is part of a group of religious leaders who have come out against SB 1314.

The bill would allow payday loan companies to loan up to $3,000 at a time, instead of just $500.

"They are making money on the backs of the poorest citizens of our state and that is immoral. It's wrong and they need to be out of business," said Randall.

"Predatory lending, it is a debt trap. It is, they seek out those who are most vulnerable," said Jill Hatcher, whose husband is a pastor at First Baptist Church in Norman.
Yep, David Holt introduced legislation so bad and awful that it pissed off the Baptists. Usually that's a good thing because it means someone is promoting freedom, equality and social progress, but I actually agree with the angry church folks on this. What a stupid idea?! Who wants to help payday loan lenders take advantage of vulnerable, low-income Oklahomans? We should be thinking of ways to limit the growth and influence; not make their job easier! Is David Holt also a fan of the Yankees, Lakers and Mr. Burns? WTF?!
Knowing that pissing off the church crowd is career suicide in this theocracy we call Oklahoma, David Holt backtracked faster than Marco Rubio did on immigration legislation. Via Oklahoma Watch:
In the wake of news coverage, an Oklahoma lawmaker is pulling a bill that created a new type of loan charging thousands of dollars in interest to Oklahoma's poorest residents. The bill was an attempt avoid pending federal regulation.

The bill, written by Sen. David Holt, R-Oklahoma City, would have allow companies to lend up to $3,000 to residents with interest capped at 20 percent per month. Interest alone could balloon to at least $6,000 during the life of the loan.

Holt announced on Twitter Tuesday he was pulling the bill because it does not have enough support to pass the Senate.

The lending program, known as a flex loan, is similar to payday loans and critics say it can lead to the same results – an endless cycle of debt...

Holt agreed the loans are a raw deal for residents, but added the government's job is not to stop people from making bad decisions.

"I guess one man's predatory lending is another man's free market," Holt said. "If it's a bad product, it will not succeed.

"I don't think people should use these products. I certainly won't use these products."
Yep, the Government's job is not to stop people from making bad decisions. This would probably be a good time to bring up David Holt's big piece of legislation from 2012. It's the one that requires poor people to pass a drug test before receiving welfare benefits.
A measure that would withhold Temporary Assistance to Needy Families from people who test positive for drugs is headed to the governor.

The state House voted Thursday 86-6 to pass House Bill 2388.

The original version of the bill would have required drug testing for everyone receiving the assistance, but the Senate changed it so that testing is not required of all applicants. The Senate last month passed the bill 46-2.

HB 2388 would withhold federal assistance from anyone who tests positive for illegal drug use.

Sen. David Holt, Senate author of the bill, said DHS now allows those who test positive to continue to receive assistance while getting drug treatment. HB 2388 would withhold assistance but still provide treatment.

"We do have drug testing in the bill, but only where there is suspicion when the person is on illegal drugs," said Holt, R-Oklahoma City. "It sends a message that this is a temporary program paid for by people's neighbors so that they can get back on their feet. It's just a common-sense idea that if you are using illegal drugs, this probably isn't the best time to be using TANF. It's probably a waste of our money and your time and you need to come back when you're clean."
Yep, if you're poor and using illegal drugs, this probably "isn't the best time" to go on welfare. Get a payday loan instead, because you know, free market motherf*ckers!
Seriously, what a hypocritical tool. If David Holt wants to save some face, he should introduce a bill that requires payday loan applicants to to pass a drug test before they can get a loan, or better yet, do us all a favor and go campaign for Rubio some more. We have plenty of people working at the Oklahoma capitol trying to advance the greed of special interest over that of what's good for the people. He won't be missed. 
Stay in touch
Sign up for our free newsletter