Everything Else
Mary Fallin penned an editorial about the earthquake crisis…
11:45 AM EST on January 29, 2016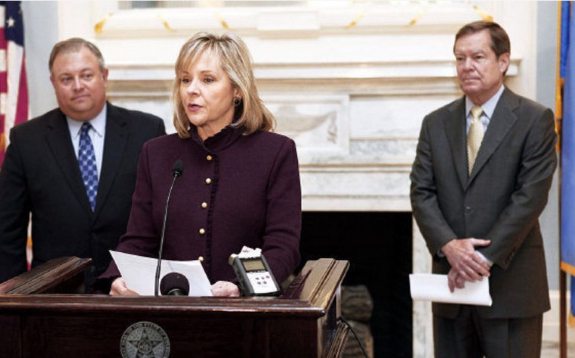 Back in July, Energy Wire's Mike Soraghan wrote a great piece that detailed the Fallin administration's slow, ridiculous, lagging response to the Oklahoma earthquake crisis.
Thanks to his reporting, we learned about gems like the amazing Devon Energy earthquake talking points, secret meetings between Harold Hamm, David Boren and the state seismologist, and Denise Northup's desire that earthquake preparedness training simply "go away."
Here's a recap in case you forgot:
EnergyWire reviewed thousands of pages of emails and other documents provided by Fallin's office under the Oklahoma Open Records Act. They show a team in the governor's office that moved slowly to address the quakes even as the earth rumbled more and more frequently.

Her top aide told staffers to "make this go away" when earthquake preparedness came up in the state Legislature after the November 2011 quake. When constituents had questions, her office used talking points borrowed from an oil company. And, with Fallin at the helm, Oklahoma has done far less than other states hit by smaller and less frequent man-made quakes.
Quick question. Why do people live here again? Just curious. I find myself asking that question more and more often.
With her approval ratings dropping and her political legacy nose diving into Bush brother territory, Mary Fallin now seems to suddenly care about Oklahoma's earthquake crisis. Just a few days after 60 Minutes was at the Oklahoma Capitol interviewing people for what I've been told is a story about earthquake-related class action lawsuits, Devon Energy... errr.... Mary Fallin wrote an editorial for today's Tulsa World that brags about what a great job she's doing to address Oklahoma's earthquake crisis.
Check it out:
Like many other Oklahoma residents, I have felt walls shake from earthquakes that have struck our state with increasing frequency over the past few years. I take the concerns seriously and I share your worries about potential damage from the quakes, which numbered more than 900 with a magnitude 3.0 or greater last year.

We are taking action, but there is not an easy solution to halting Oklahoma's unprecedented rise in seismic activity...
Actually, there is a tremendously easy solution. Shut down all waste water disposal wells until we figure out a safe way to dispose of the fluid. According to the Energy Wire article, that's what Arkansas and Ohio did:
In July 2011, Arkansas had imposed a moratorium on disposal in a broad swath of the state, ending a swarm of quakes there. A month after the damaging Oklahoma quake, Ohio officials moved to shut down several injection wells around Youngstown because of a series of much smaller earthquakes.  
Notice how Arkansas did all that in July 2011? At the same time, Mary Fallin was using those infamous Devon Energy Earthquake talking points that claimed "There is no current evidence that oil & gas operations had anything to do with the recent large earthquakes in Oklahoma." I'm just bringing that up so you'll know that Mary cares more about energy industry profits than the safety of her own people.
Researchers tell us the state's rise in earthquakes is caused by the disposal of produced saltwater deep into the Arbuckle formation beneath north central Oklahoma, not by hydraulic fracturing, but haven't provided any clear answers on how to stop the shaking.

Just as science has identified the cause of Oklahoma's increase in earthquakes, state officials must rely on science as they work to reduce and halt them.
Good news everyone. The woman who holds public prayers for rain, doesn't believe in the proven theories of evolution and global warming, and probably thinks the world is 6,000-years-old, claims we have to "rely on science as they work to reduce and halt" earthquakes. That's great. Don't be surprised when Mary's scientists conclude that God wants earthquakes to strike Oklahoma to punish us for gay marriage, and therefore we must continue pumping billions of gallons of toxic waste water deep within our earth to lubricate old dormant fault lines.
In the editorial, Mary also bragged about a fancy earthquake committee she created:
That is why I formed the Coordinating Council on Seismic Activity in September 2014. The council, headed by Secretary of Energy and Environment Michael Teague, has fostered communication among regulators, independent researchers, academics, policymakers and industry officials to drive the state's response to its rise in earthquakes.
That's nice. For some reason, Mary left out the committee meets in private and was only given $50,000 for research. To put that in perspective,
Mary spent $1,096,776.76
on her 2014 inauguration.
The Oklahoma Corporation Commission, which has constitutional authority over oil and natural gas activity in the state, has issued 14 directives in the past year to companies that operate Arbuckle formation disposal wells in areas where earthquakes have occurred.

Those directives were aimed at reviewing about 600 disposal wells in areas shaken the most by earthquakes. Ninety of those wells are shut in, while another 245 wells had their overall volume of wastewater disposal reduced by more than 450,000 barrels a day. That is nearly a 40 percent reduction in those areas.
Couple of convenient facts that Mary ignored:
• Some companies, like the soon to probably be bankrupt Sandridge Energy, refused to comply with Corporation Commission orders.
• Despite all the action taken by the Corporation Commission, which mind you, is led by publicly elected officials who accept campaign donations from the energy industry they are supposed to regulate, earthquakes have continued in Oklahoma. Just look at this screenshot I grabbed earlier this morning from earthquaketrack.com: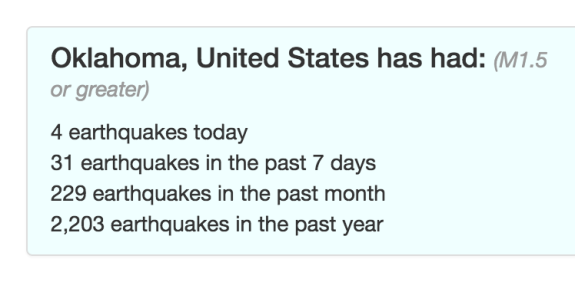 Yeah, you're doing a great Corporation Commission. Keep on regulating that industry!
In the editorial, Mary has announced she's going to raid the seat cushions at the Governor's mansions and spend more money to help the Oklahoma Geological Survey (which is under the supervision of David Boren, who is under the supervision of Harold Hamm, who is under the supervision of Continental Resources shareholders) research "induced seismicity." That's the soft, fancy, Oklahoma GOP phrase of choice for "man-made" earthquakes.
Last week, regulators and Oklahoma Geological Survey researchers said they needed more money to better analyze, gather specific data and understand the science of induced seismicity and act on those findings. I immediately made arrangements for them to receive almost $1.4 million from the state emergency fund to meet those needs.
$1.4 million dollars? I know we're facing a budget crisis and everything, but that's it? Why do I feel like Number 2 from Austin Powers:
Seriously, $1.4 million? Over the summer, Texas announced they're spending $4.5 million to pay for an earthquake study. Here are their earthquake stats: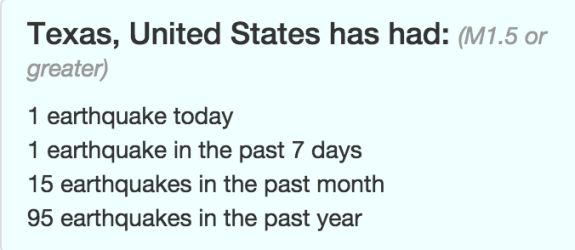 We've had 2,203 earthquakes over the past 52-weeks. Texas has had 95. They're spending $4.5 million to study quakes ($47,000 per quake). We're spending $1.4-million ($635 per quake). Why do people live here again?
Anyway, you can read the rest of the editorial here. Mary spends time talking about something called "The 2060 Produced Water Working Group," which is a fancy group she put together that will probably recommend the state give the energy industry additional tax subsidies to help research new ways to use waste water, because you know, we can't count on them to use their own profits to research that stuff. Go free market!
Shockingly, I actually agreed with the end of the editorial:
While there are certainly many issues for our state to address, earthquakes, like anything that impacts public safety, must always be one of the issues at the top of our list.

Providing the tools requested by our scientists and regulators to do their jobs better in addressing increasing seismic activity is what the people of Oklahoma expect.
Well look at that! Welcome to the party, Mary! I know the keg's already floated, the pizza's cold, and the pipe is cashed, but it's nice you could finally make it. You got here just in time to help clean up before the next earthquake hits. Have fun.
Seriously, where was this commitment to public safety in 2011... or 2012... or 2013... or 2014? Why'd it take Mary so long? The answer, in case you're new, is that she's an aloof pawn for the energy industry and is in way over her head as governor. Just like how her staff wanted to address the earthquakes, I really wish we could make her "go away." Maybe then I wouldn't have to continue asking and questioning why people live here.
Stay in touch
Sign up for our free newsletter