Everything Else
Norman PD seizes City Councilman's glass pipe and bong inventory
4:02 PM EST on December 7, 2015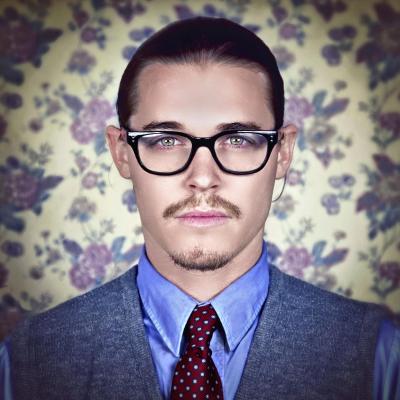 Although the water tastes funny, traffic can be a pain in the ass, and way too many people ride bikes, I could handle living in Norman. It seems like a pretty cool place. Plus it's a college town, so there's an ample supply of bars and college girls dressed in Lululemon.
Also, the town has cool elected officials. For example, the super hipster pictured above is Stephen Holman. He's a city councilman, the owner of Friendly Market and unfortunately has a man bun. At his shop he sells gifts, oddities and other "friendly" merchandise like glass pipes and bongs that you can use to smoke... tobacco.
Well, at least they did sell those items. The store was raided last week by the Norman Police, because you know, some dude selling things that people may use to smoke marijuana is a threat and danger to society.
Via NewsOK.com:
Owners of the Friendly Market believe the law is on their side for selling glass pipes, but police seem to disagree.

Tuesday, Norman police raided the store at 1100 E Constitution, seizing thousands of dollars worth of merchandise and cash, an owner and an attorney representing the store said. A search affidavit had not yet been filed in the Cleveland County District Court as of Friday afternoon, and a Norman police spokeswoman declined to comment.

General Manager Stephen Holman, who is also a city councilman, was working at the store when the raid occurred.
You know what, take back all the nice things I said about Norman being cool. I forgot the city's cops can be total assholes.
Anyway, I think I bring this up every time I write about our state's fun police (a.k.a. overzealous law enforcement), but if authorities are going to raid local businesses like Friendly Market, shouldn't they crack down on Walmart, too? At last check, the world's leading retailer still carries apples, cans of soda, aluminum foil and all the other things you can use to make a homemade marijuana pipe in a matter of minutes. Hell, they also sell spray paint and the supplies you need to make meth. It's a regular old drug emporium.
But of course, Walmart is an international corporation that provides millions of dollars in sales tax revenue (and probably pays its employees less than the Friendly Market) to the city, so they're immune from such raids.
Here's the rest of the story:
A search warrant provided by the Norman Police Department lists drug paraphernalia as the purpose of the search.

Friendly Market staff is considering restocking the inventory seized by police, confident their merchandise is within the law.

"This really is nothing more than intimidation, harassment, and law enforcement trying to push their will on other people as well as civil forfeiture," Wagner said.
Yep, good old civil asset forfeiture. Remember, that's the legal loophole that law enforcement cartels use to seize assets they "suspect" are used to fund illegal activities, such as selling devices used to smoke anything from tobacco to oregano to your favorite strain of sour diesel.
Actually, the one bright spot in this report is that it continues to give civil asset forfeiture a black eye. How can you confiscate a business' inventory and seize their assets without first proving that a crime has been committed? That's about as dumb as buying a bag of reggie.
Wagner successfully represented the owners of the Funky Munky, a novelty store in McAlester, after a 2014 raid by the Drug Enforcement Agency and other agencies. In that case, the agents obtained a search warrant for synthetic marijuana, but none was found, Wagner said.

Law enforcement seized smoking accessories from the store as well as $70,000 from the bank accounts of the owners, Wagner said. No arrests were made but Pittsburg County attempted to permanently seize the cash and merchandise through civil forfeiture, which Wagner fought in court.

In July of this year, the DEA returned all of the merchandise and most of the cash after a settlement agreement was reached, Wagner said.
Notice that? They returned most of the cash. What nice people.
Anyway, there's nothing I enjoy more than challenging authority, so I'm seriously considering opening up a TLO Tobacco Smoke Shop. I'm not sure what it will be called, but I'm thinking "The Happy Ogle." We'll sell the finest glass in town for you to smoke your... tobacco. We'll also carry apples, aluminum foil and cans of Pepsi.  It will be a legitimate first class operation until the law enforcement cartels shut us down in their effort to make Oklahoma a safer, less cool place.
(Copy Editor's Alert: The guy is the manager of the store... not the owner. Maybe we'll hire him to run The Happy Ogle.")
Stay in touch
Sign up for our free newsletter