Everything Else
The Lawton Rappers really want us to write about their new reality show…
2:53 PM EST on November 18, 2015
Over the past year or so, we've shared a couple of amazing music videos by Lawton rapper Knuckles and his hypeman, producer, noodlin' buddy Jesse Dalton (Example 1 / Example 2). In case you forgot about it and / or want to see underaged Lawton babes crawling through horse manure, here's their probably-should-be-award-winning video "Andy."
After we roasted the video, Knuckles became one of the biggest celebrities in Lawton. The manager at El Chico would comp his meals, girls at Cameron would tip him extra at the car wash, and even Cricket Wireless offered him an endorsement deal. He was living the high life!
Thanks to the "viral" success of Andy, we're now on Knuckles' and Jesse Dalton's email list. Whenever they drop a new project or rhyme, we're the first to know. For example, in September Jesse sent us a clip of a new reality show he's producing called "Dalton Gang Outdoors." Here's the email: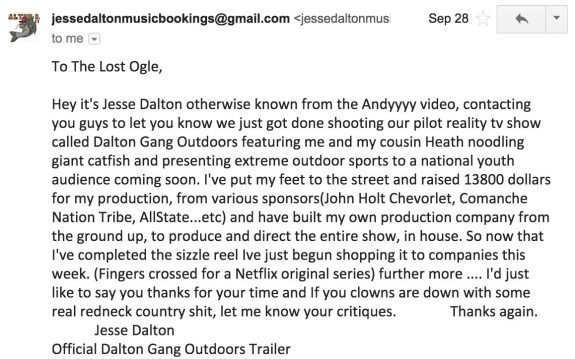 Here's the deal. I generally don't respond to most emails. I barely have time to wake up from a nap, much less engage in communication with people electronically. But since Jesse and his crew had blessed us with so much amazing Lawtoness, I thanked him for the email and told him I'd eventually write about it. He was tickled:


Guys... they read this website every day in Lawton. Does that mean we have Lawton Moles. If so, are they cancerous? Later that day, Jesse emailed again:

Whether you're a Lawton Rapper or an OU Volleyball player, you should never ever coordinate a radio interview around a TLO article. That puts way too much pressure on us.
About a week later, Jesse checked in:


I like how he assumes I've never stuck my arm in beaver den. I guess he forgot that I accompanied Louis on his trip to the Red Dog Cafe. Haha! Zing!
Anyway, I never responded to Jesse, but he, once again, checked in a few days later:


I appreciate the flattery, but is it really a compliment to say people in Lawton think we're witty? I've heard these are the same people who find Yawn Doc (a.k.a. Non Doc) to be informative and entertaining. Obviously they have no clue what they're talking about. Jesse emailed a week later to tell me what the TV networks think about his show:


Let's cut to a scene in the Spike TV headquarters:
"Hey boss, this rapper from Oklahoma won't leave me alone? What should I do?"
"Tell him we're broke as shit?"
"What if that doesn't work?"
"Ask him if he's interested in appearing on an episode of Pros vs. Joes."
Once again, I didn't reply to Jesse. It's wasn't personal. It was just a bad habit I have. I'll see an email on my phone, read it, and then think "I'll respond to it later." Then I get drunk at trivia night and smoke out with Thunder Girls and totally forget. It's a never-ending cycle. Jesse understands that. He knows we're busy: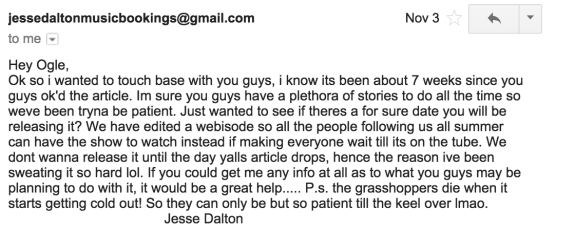 Okay, you may think it's creepy as shit that he talked about dying grasshoppers in his email, but I forgot to mention that Jesse also was sending us Facebook messages: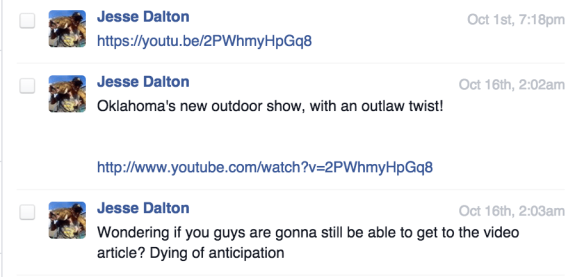 I actually replied to that one: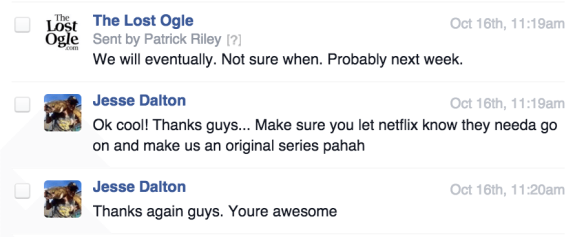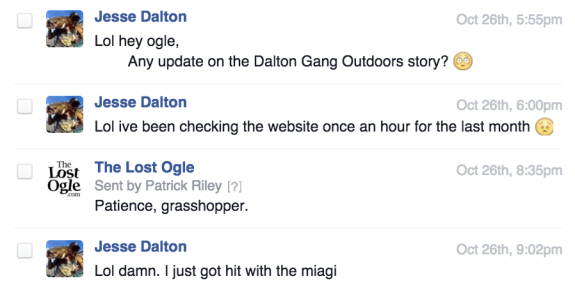 This explains two things:
1. Why he mentioned dead grasshoppers...
2. Why we get so many web hits from Lawton...
Apparently, patience is not one of Jesse's virtues. In a last-ditch effort to get us to write about his show, he sent us a pic of a bobcat: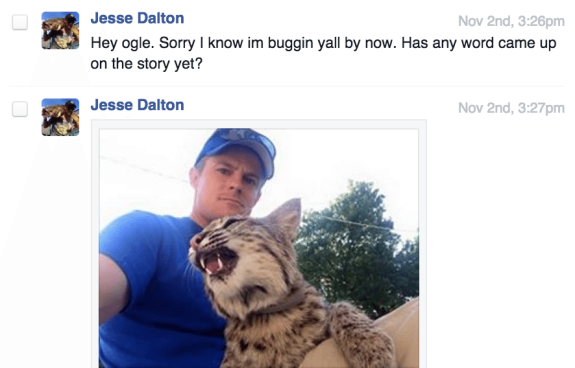 Bobcats are cool, but if Jesse really wants to impress us he'll need to send pics of a mountain lion or drunk Lawton cougar from Chit's House of Cool. About a week after he sent the pic of a bobcat, Jesse emailed us again: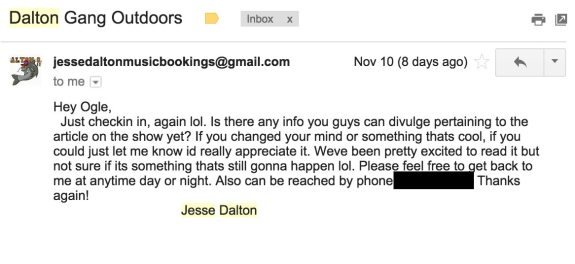 Once again, I totally forgot to reply. I swear it's nothing personal. I seriously have ADD. It's a great excuse to use for being lazy, forgetful and disorganized.
Early this morning, this popped up in the Ogle Gmail and Facebook accounts:


Thank God Jesse doesn't have Twitter. He may have overloaded the Internet.
Anyway, thanks to a combination of my guilt and Jesse's persistence, I've decided to post the trailer for his reality show. Here it is! THE TLO WORLD PREMIER OF DALTON GANG OUTDOORS!!!
My thoughts? Good job! I hope the show takes off and Jesse become a national celebrity... but don't break up the rap group quite yet.
In all seriousness, I want to give Jesse props. We've roasted him and his friends from the mall cell phone kiosk like they were a fire in a beaver den and they've always been great sports about it. He's living proof that persistence and a positive attitude pays off. If the rap or realty thing doesn't work, he should get a job in PR or sales. He'll be very successful.
Because these guys are cool – and Lawton could use some reality stars to counter Street Outlaws, Joe Exotic and Biker Fox – will you please share Jesse's video on social media or message boards? We need these guys to get famous! They're talented, they deserve it and I seriously can't handle any more emails. #Lawton4Ever
Stay in touch
Sign up for our free newsletter