Everything Else
College Football Musings from the Train: Week 7
9:53 AM EDT on October 26, 2015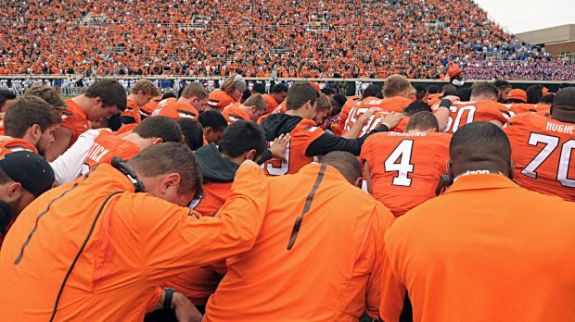 I heavily debated how to approach week eight and the horrific events that took place in Stillwater Saturday morning. I knew at least three dozen people who were at the parade. Thankfully none of them were injured. I also have two children under the age of five. I can't imagine the unbridled sadness and anger I would feel today if my child was a victim. I send my sincere thoughts and prayers to all this involved in the tragedy. In lieu of discussing the events further, this article will focus solely on the football programs and the product in the field.
-
10) Oklahoma pounds Texas Tech
Oklahoma kept rolling. They hammered a porous Red Raider defense to the tune of 63 points and 617 total yards, with over 400 on them on the ground. Frankly, it should have been much worse – like 77 points worse. The Sooners left at least 17 points on the board in the second quarter with two turnovers in Tech territory and a missed field goal. There was no time in the contest where one was Concerned Oklahoma was going to be stopped. Well, except for those times the coach info staff chose to throw the ball and not run it. 7.3 yards a carry and you call a pass play ... at least they figured it out after Baker Mayfield's interception.
Speaking of, Mayfield was pretty good for much of the day Saturday. He was 15 of 22 for 212 yards and a couple of touchdowns. He could have thrown a few more, but apparently no OU receiver over 6-foot-tall can catch a pass. Mayfield wasn't asked to do much on offense because of the aforementioned 7.3 yards a carry. But he made big throws when he had to. The line generally gave him plenty of time especially in the 2nd quarter and beyond. Again though, dude needs to hand the ball off on the quasi zone read. He needs to get rid of the ball. He needs to stop taking big hits. But dude is nails.
All in all - this was a nice win. The game wasn't in doubt in the final stanza. The defense harassed a pretty good quarterback. The offense played the exact game HCBS dreams of: 2-1 rush to pass, 7 yards a carry, decent line play.
First two post-Texas tests passed with flying colors. Now on to two presumptive wins and off Waco.
-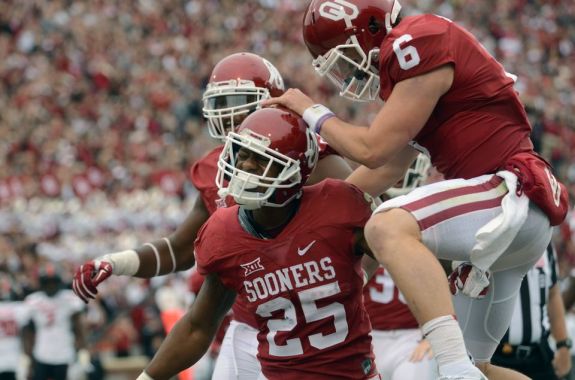 9) Mixon and Perine
That was unexpected. Not that the Red Raider defense got run all over. And not that Joe Mixon and Samaje Perine each going over 150 yards on the ground.
But this offensive line hasn't done shit for the running game all season. So for Oklahoma to run for over 400 yards against any conference foe not from Lawrence is a surprise.
It started early. Perine rattled off a 20 yards run to start the game. Oklahoma was able to asset its will *GASP* between the tackles. So much so on many run plays the line was able to get second blocks, springing Mixon and Perine for several long runs. And when hit at or near the line, both were able to push forward for positive and at times long gains.
It was nice to see them both get off the snide, which a result of better line play and a crappy run defense. But mostly the result of putting good players in position to be successful. OU won't run for 400 yards against everyone. But hopefully the last few weeks are a harbinger of November.
-
8) Which brings me to the gauntlet
Let's get serious now ...
We all know neither the Jayhawks nor the Cyclones are likely to put up much of a fight the next two weeks. Kansas is arguably the worst team in the Power 5 conferences. ISU is heads and shoulders (?) the 2nd worst team in the conference. The country won't find out anything about the Sooners "resurgence" until November 14th, when the Sooners travel to Waco for a sure-to-be night game because f--- the Big XII.
There is little question three of the top four teams in the conference are Baylor, TCU, and Oklahoma State. But how good are those teams? Baylor is probably without its starting quarterback for sometime and has looked vulnerable at times on the defensive side of the ball. Iowa State put 27 points and nearly 400 yards on the Bears. TCU has allowed 37 or more points 3 times this year - only one of those teams has a winning record. Oklahoma State has gone down to the wire in all conference games not including Kansas ... and NONE of those teams has a winning record.
A lot of talk this week and next will center on whether Oklahoma is ready to play those three teams. Can this squad handle three teams that are collectively 21-0. No team in this conference is infallible, including the top 3 teams. There is reason to believe Oklahoma could walk away 0-3 in those games. There is NO reason to believe they can't win them all as well.
-
7) Oklahoma state wins second bye week in a row
Can you really take anything away from drubbing Kansas? The same Kansas without a win? The same Kansas that hasn't scored more than 20 points in a game since early September?
Oklahoma State obliterated Kansas 58-10 and it wasn't that close. OSU had the ball a full quarter more than KU. They managed just 221 yards to OSU's 583. Kansas managed nine first downs. They turned the ball over twice and forced zero. They had as many rushers finish with negative yards on the ground (3) as they did finish with positive yards. Kansas is a joke.
Mason Rudolph was great again. 395 yards with only 6 incompletions. Even JD Walsh got in to the act, completing all five of his passes for 2 touchdowns and rushing for 3. The defense was ... again ... the best unit on the field. They held Kansas to 30 yards on the ground on 28 attempts. They forced two interceptions. Yes, this was a glorified scrimmage, but they did what they needed to do - play mistake-free ball and play it well.
BUT ... the running game. Again. It was ... it wasn't good. Sure, OSU rushed for 202 yards. But the only running back who averaged more than 5.2 yards a carry was some guy who hadn't run the ball all year. Seriously, no carries prior to Saturday. Yes, Oklahoma State ran for over 200 yards, but it took 49 attempts. Barely 4 yards a carry. I recognize that the topic below somewhat flies in the face of this: OSU isn't going to win the rest of their games solely on the arm of Mason Rudolph.
-
6) Is OSU a legit national title contender?
Alabama is damn near a shoe-in for the playoff (see below). Clemson likewise (see below). As is the winner of Michigan State and Ohio State. Then shit gets interesting.
Assuming Alabama wins out, LSU and Florida drop off. Iowa won't beat either Ohio State or Michigan State in the Big 10 championship. Notre Dame and Stanford play in defacto quarterfinal, and Notre Dame still has four away games on its schedule while Stanford has Cal and Oregon in addition to the Domers, and each of those teams has a loss.
Unbelievably, OSU in many ways controls its own destiny. Beat TCU, Baylor, and Oklahoma (all at home because f--- you Big XII), don't slip up against inferior competition, and it's very likely OSU goes to the playoff. They have a good to great defense. The Pokes have a good quarterback. Excellent receivers. Improving special teams. If the offensive line can do something against mediocre competition ... watch out. OSU, despite all it's faults and close games, must be considered a serious playoff contender right now.
Now ... after Saturday afternoon finishes up in Lubbock?
-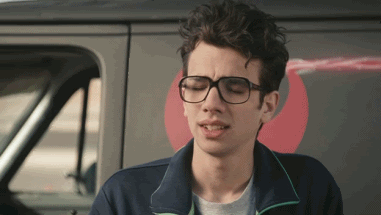 5) Obligatory "wait 'till next year" post
*fml*
My beloved Chicago Cubs failed to find both Citifield and Wrigley last week, resulting in being swept by the equally upstart New York Mets in the perfect example of good pitching beats good hitting. Matt Harvey, Noah Syndergaard, and Jake deGromm (and some other guy who would be the number two starter for the Cubs) undressed the vaunted Chicago offense, allowing a total of eight runs in four games. At no point did the Cubs hold a lead in the series. Tack on suddenly the best hitting in modern baseball Will Clark Steve Garvey Daniel Murphy, and you have a recipe for an ass kicking.
Chicago learned how to play winning baseball this year, which is a start. They need to learn how to play championship baseball, which will require moving some young offensive talent to procure a guy like David Price or Zack Grienke. Cubs need another front line starting or risk becoming the current version of the '90's Indians/Braves.
-
4) Maybe Kevin Sumlin isn't the answer (or screw Aggie)
Texas A&M was embarrassed in Oxford Saturday evening to the tune of a 23-3 loss to Ole Miss. Yes, that same Ole Miss that was shredded by Memphis the week before held the great *lol* Aggie offense to three points and 192 total yards of offense. A few weeks ago Aggie was a front-runner for the SEC title and dare I say the national title. Now they are in danger of dropping a couple more losses before the bowl game.
This is the second year in a row the Aggies have been undressed by a good SEC defense (see 0-59 at Alabama 2014). The Aggies have a major problem at quarterback - starter Kyle Allen completed 35% of his passes on Saturday and the coaching staff obviously doesn't like/trust highly touted Kyler Murray. They also can't run the ball, rushing for just over 2 yards a carry.
Kevin Sumlin is 9-11 in conference since 2013. That's not a $5 million coaching job. Couple that with a terrible offense and Aggie fan's completely baseless since of entitlement, he is in danger of being unemployed sooner than later.
-
3) Florida State introduces to the world yet another way to lose a game
This has been the year of the incredible finish. Texas times two. Michigan's dropped punt.
Now, the Tip Six:
Kicking a 56 yard field goal to win the game on the road ... Nothing bad could happen. Certainly not a return for a touchdown. Not after the Iron Bowl circa 2013.
-
2) Final Four
Alabama - the schedule plays out perfectly the rest of the season.
Michigan State - Ohio State appears to have figured some things out. But that damned Michigan game ...
Baylor - Until this team actually loses (looking more and more likely with an injured quarterback and no defense), they are a prohibitive favorite to make the playoff.
Clemson - Weak conference plus complete team equals easiest pick of the week. Only danger is annual Clemsoning.
-
1) Predictions
Oklahoma/Kansas:
This Kansas team isn't winning a game the rest of the year. Although... if it was going to happen, it's probably this week against this Oklahoma team.
Oklahoma: 56
Kansas: 14
Oklahoma State/Texas Tech
After two bye weeks, shit gets real in Lubbock this week. It's hard to figure what will happen out there but the conference is due for some crazy west Texas mayhem.
Texas Tech: 44
Oklahoma State: 42
Stay in touch
Sign up for our free newsletter