Everything Else
TLO Travelogues: 11th Annual National Indian Taco Championships in Pawhuska
12:25 PM EDT on October 6, 2015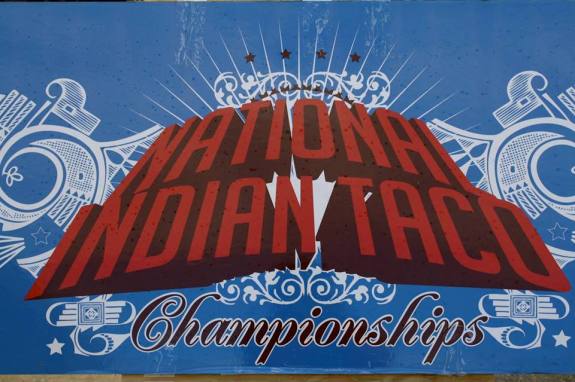 A couple of weeks ago, I surveyed the many fine Indian Tacos that the Great State Fair of Oklahoma had to offer. While I am a firm believer that any Indian Taco is better than no Indian Taco, there was still a real sense of disappointment when all was said and done. Sure, I ate my fill, but Indian Tacos are an art-form, a creation from the heart. They're not meant to be enjoyed while standing in line to ride a tilt-a-whirl as the biker gentleman behind you blows wet cotton candy-scented vape all over your eats.
That's why I grabbed my Mexican girlfriend, who apparently likes Indian Tacos more than Mexican Tacos, and hopped on I-44 this past Saturday morning to hit up the 11th Annual National Indian Taco Championships in Pawhuska.
The only problem is we should've gone up I-35, which led to some mild panic and the use of one-lane backroads, cutting through such scary Children of the Corn-esque small towns as Drumright, Oilton and Hominy. If there's one thing that's consistent about every single one of these places is that Hunt Brothers Pizza owns some sort of monopoly on the small town pizza pie industry. Every single gas station offers this brand and the dead-eyed, camo-clad residents eat it like it were a requirement. It was so popular at one Conoco I stopped at that I felt like I was walking into a Shirley Jackson short story.
Pawhuska, the capital of the federally recognized Osage Nation, is a friendly small-town, one that was happy to see people from out-of-town coming to their festival. Parking in front of a municipal building on a hill that I'm pretty sure has to double for the home of the town's richest man who hasn't been seen since his beloved wife Prunella died 30 years ago, we walked down a flight of stairs where we were immediately confronted by a swarm of wasps, hornets and bees, apparently having their own festival around all the open-air trash barrels.
Undeterred, within three minutes of being on festival grounds, I sampled my first Indian Taco from the good folks at Foxtown Concessions, who happily presented me with an absolutely loaded piece of frybread, creating a damn near Tower of Babel of deliciousness. And, note to the flunkies at the State Fair, it was only $5. And it was the best Indian Taco I ever ate. Just look at it: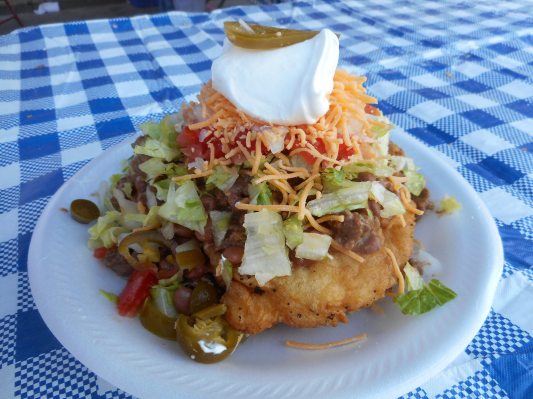 The next tent I visited had made the trek all the way from Taos, so in addition to the Indian tacos, they were offering up some authentic New Mexican Green Chili with a piece of Taos Oven Bread. I couldn't resist. Having missed green chili since moving here from Colorado, I happily inhaled a bowl of this concoction and became visibly aroused. It was a steal at $5. And it was the best New Mexican Green Chili I ever ate.
While I was eager to head to the next tent to try something off their menu, the significant other had the bright idea that maybe I pace myself and sit back and watch the Native American dance contests. Because relationships are all about compromises, I told her I would as soon as I tried something that was new and exotic to me, something that I just had to have at the moment, lest I be struck dead from the surely impending manteca-based heart-attack: Indian Hot Dogs.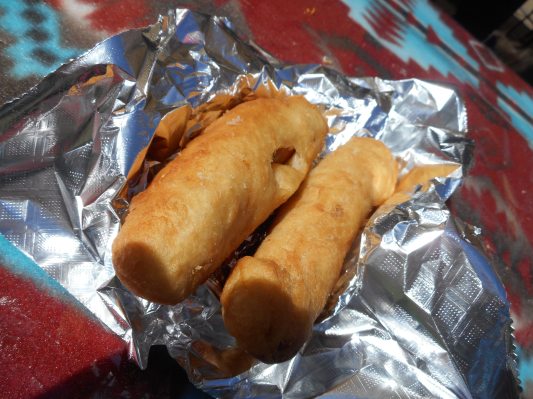 Purchased from the Many Horses NDN Food tent, Indian Hot Dogs are a delectable middle finger to the white man's frankfurters, being wieners actually cooked in a frybread jacket. Dipped in salsa and sour cream, you'll never be able to eat hot dogs the same way again. I know that if I am ever offered them any other way than Indian style from now on, I'll throw them on the ground in disgust, they were that wonderful. All for only $2 each. And they were the best hot dogs I've ever eaten.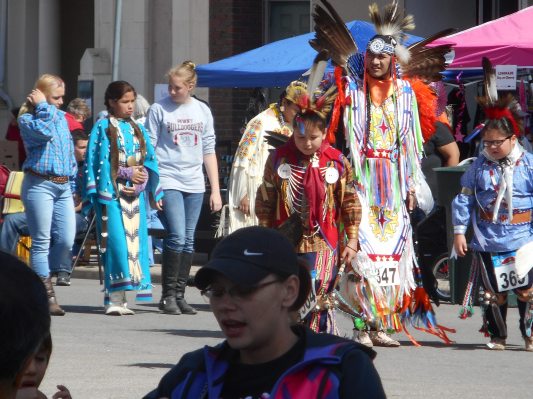 Taking a break to watch the beautiful artistry of the Native dancers, in-between the announcer's hilarious jokes about tribal differences that you'd probably have to be an informed Native to understand, there was mention of a kids' goat roping area. While few things can draw me away from Native dance contests, watching small children go up against unruly goats in a pit that's "Not Responsible for Accidents" is one of them.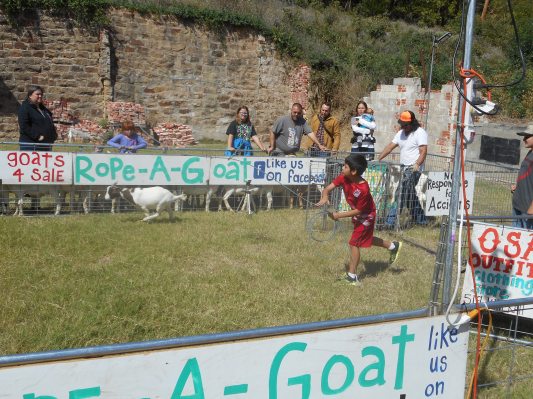 Needless to say, Rope-a-Goat is available for birthday parties. I know how I'm ringing in 38 next year. (Or is it 39?)
I really enjoyed Pawhuska. It seems like the kind of place I'd like to come back for a non-Indian Taco visit to check out their many quaint shops, museums and nearby restaurants like Bad Brad's BBQ and Buffalo Joe's Drive-In. Sure, I could've done that all now, but by the time I picked up another Indian Taco from the 100% NDN booth, I was becoming a little immobile. I ain't gonna lie: if a Rascal rental was available, I probably would've dropped the cash for two. But instead I dropped $5. And it was the best Indian Taco I ever ate.
Having spent the good part of the day in Pawhuska gorging, I purchased my commemorative T-shirt and we decided to hit the road (I-35, I kept repeating to myself), but as we headed towards a gorgeous flat-iron building that would make Steve Lackmeyer hard, I noticed a sign that read "National Indian Taco Champion Monie Horsechief."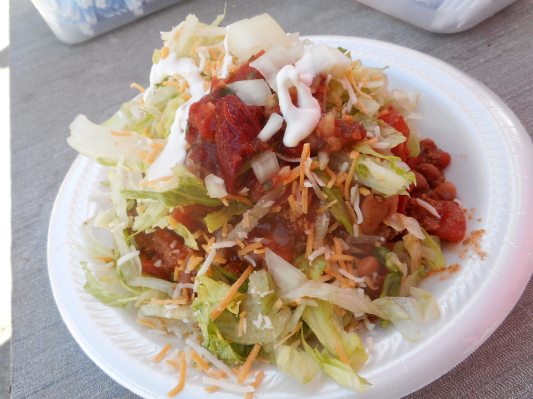 Now, I just couldn't leave the 11th Annual National Indian Taco Championships in Pawhuska, Oklahoma, without trying the Indian Taco made from the hands of the National Indian Taco Champion. so I order my last one for the day. Topped in a homemade smoky chipotle salsa—the first time I feel it's ever been used correctly, natch—this culinary masterwork was only $7. And it was the best Indian Taco I eve ate. For reals.
Driving back to Oklahoma City, full of Native American pride in the form of dangerously unhealthy traditional fried foods, I reckoned out loud that next year, I'd do well just to skip the State Fair altogether. Save those dollars you'd spend on lame rides, Rastafarian banana plushies and boring concession stand food and instead wait for the 12th Annual National Indian Taco Championships, if that's where they are indeed held. Not only are you supporting a greater cause, but there's absolutely no chance of catching carny hepatitis. Again.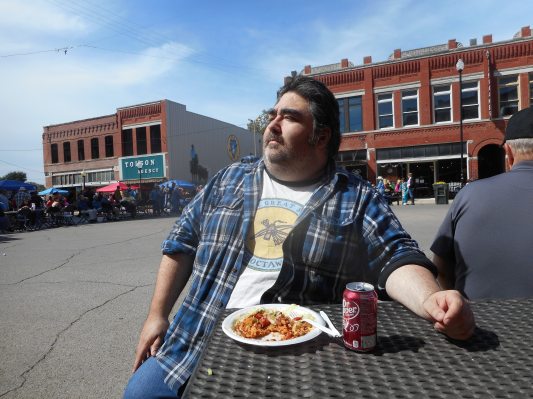 Follow the further adventures of Louis Fowler on Twitter at @LouisFowler.
Stay in touch
Sign up for our free newsletter