Everything Else
The 2015 TLO State Fair Indian Taco Guide
10:10 AM EDT on September 18, 2015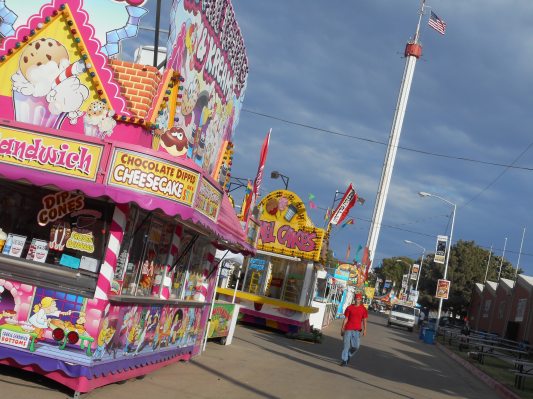 Forget all the gimmicks like deep-fried pizzas and chocolate-covered sushi—they seem like fun now, but they'll quickly be forgotten once the novelty wears off. Besides, any true Oklahoman knows that there is only one state fair food that is truly worth your hard-earned carni-dollars and that is the Indian Taco.
While many a white man would tell you that one is just as good as another, I can say from experience that different food-booths have different styles when it comes to making this sacred meal, with subtle differences that can either make or break your wallet and, conversely, your entire fair-going experience.
While doing research via the State Fair's breakthrough in technological fatness, the Food Finder, I learned that there are three main places that sell the beloved indigenous treat: Dan's Indian Taco, Manny's Indian Taco and Tad's Indian Taco. I decided to test all three to see which one awakens the hungry buffalo inside me the most, grading on three main criteria: frybread, quality/quantity of toppings and value.
And what a better time to start than at 8 a.m. on opening day, the saddest time of day to ever attend the State Fair. Especially since nothing is open until around 10 or 10:30 a.m.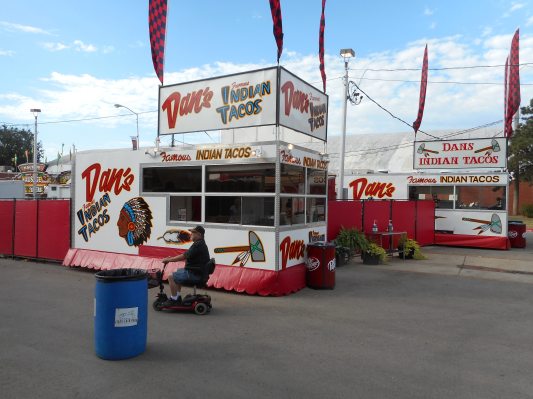 DAN'S INDIAN TACO
Now this is probably the Indian Taco trailer that most people who attend outdoor events in Oklahoma are most familiar with, popping up everywhere from Medieval Faires and Arts Festivals alike. This booming business takes up plenty of space with its mildly racist murals of stereotypical stoic chiefs along the walls of their makeshift shanty-town. This is the one eatery that you'll usually find the longest lines, but just because they're the most popular doesn't mean they're the best.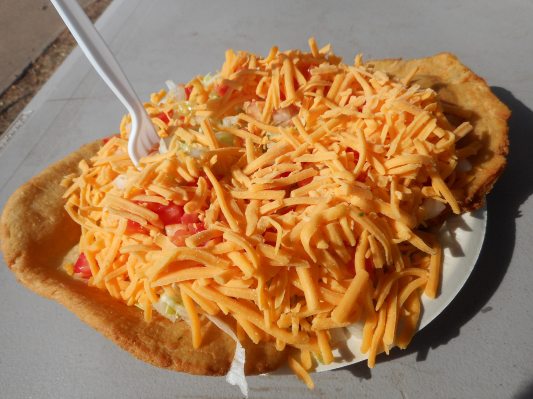 Frybread: It's hot and crispy, but it's also flatter than my 6th grade girlfriend. Even worse, as the bread cools, it starts to achieve a cracker-like texture and crunch. On the plus side, it has the circumference of a fancy dinner plate. (2.5/5)
Toppings: Dan's does a good job of loading the thing down with spicy beans, fresh lettuce, tomatoes and onions, but the sheer volume of shredded cheese dumped on top is comically too much. As a matter of fact, this whole Indian Taco is practically 75% shredded cheese. Also, jalapenos and sour cream will cost you extra. That's ain't cool, Dan. (4/5)
Value: At a wallet-busting $9.00, you should expect more care and skill with the frybread, but it's enough to feed two people, for the most part. If your kids like cheese—and if they're at the State Fair of course they do—then this'll shut 'em up for a few minutes. Charging extra for sour cream and jalapenos is ridiculous, however. (2.5/5)
Total score: (9/15)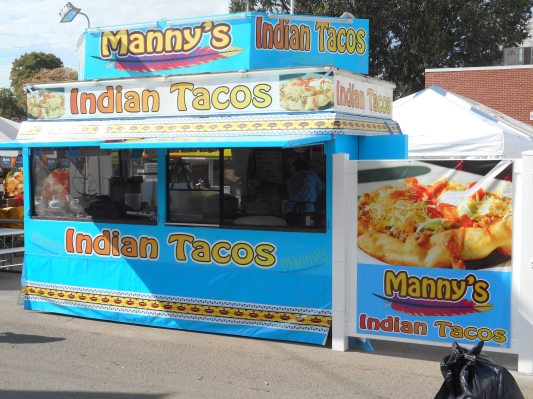 MANNY'S INDIAN TACO
Apparently owned by a dude named Manny who, behind this stand owns another one that proudly sells "tacos in a bag" to the bulging masses, the Hispanic honey working the truck knew exactly what she was doing, crafting a darn near perfect State Fair Indian Taco, practically reaching pow-wow levels of deliciousness.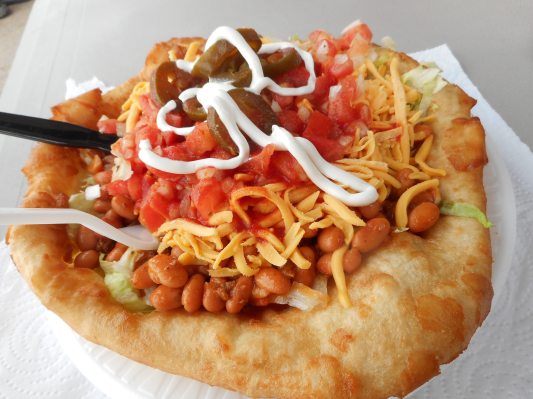 Frybread: Everytime you picture how a piece of frybread should look in your head, it probably looks like this: golden-fried, fat and fluffy and with a very subtle sweetness that at least displays some sort of attempt at culinary artistry and originality. (5/5)
Toppings: She was throwing literal handfuls of lettuce and tomatoes and onions on the bed of bread before scooping a couple of ladlefuls of their spicy chili beans on top. And the sour cream and jalapenos? Included. Just say you want "everything." (5/5)
Value: The price up on the board said $8.00, but she rang it up as $9.00. Now yes, that is still a quite astronomical price to pay, but as far as what I've had at the fair in the past, you probably won't do better than this and two to three people can comfortably share it and still be satisfied. Or just one fat guy, hovering over it, prison-style, as well. (3/5)
Total score: (13/15)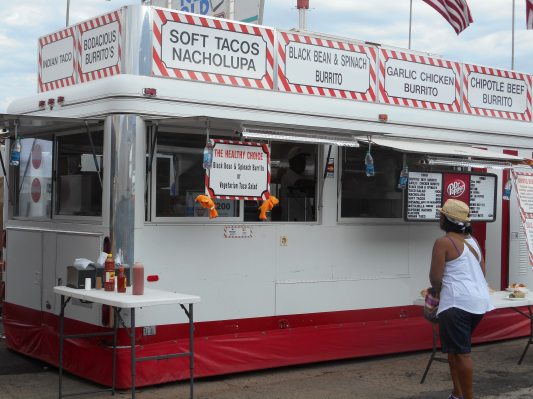 TAD'S INDIAN TACO
The full name of this place, according to the server's shirt was "Tad's Indian Tacos and Bodacious Burritos" and while you won't find the name on any sign, what you will find are their constant notable attempts at making "healthy" fair food, with rows of pre-made Mexican offerings used as examples, sitting on a table in the sun, horseflies from the livestock pavilion laying their babies in them. The Indian Taco wasn't among the samples, however, and now I know why.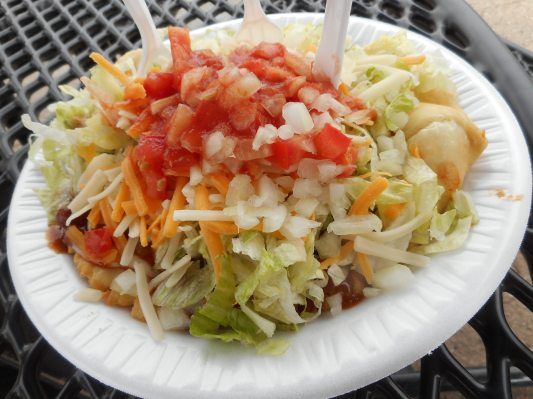 Frybread: Practically non-existent. Reminds me one of those hard crusted flatbreads that Civil War soldiers ate…I think they were called johnnycakes. Either way, that wasn't frybread, Tad. (1/5)
Toppings: The wilted lettuce was a nice compliment to the sparse cheese. The beans were spicy-ish and had a slight kick, making me wish I had one of their "healthy" taco salads or chicken burritos instead of this sad attempt at entering the vaunted Indian Taco market. (2/5)
Value: If Christina Fallin and a box of pepperoni pizza Lunchables had a baby, this would be their expensive, Belial-esque spawn. At $9 a pop, it's just insult to injury, a twist of the colonial musket right into the heart of this Indigenous consumer. (1/5)
Total score: (4/15)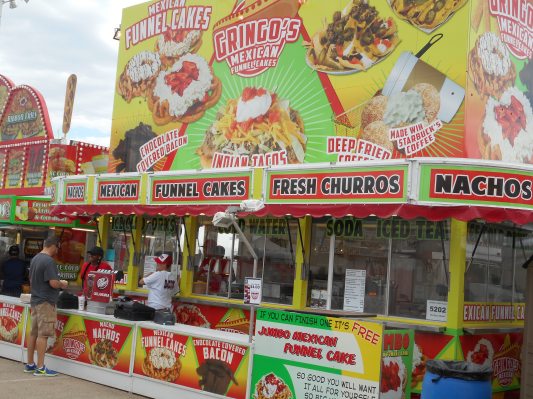 GRINGO'S
Even though the sign clearly has a picture of a delicious Indian Taco on their billboard, the chick working the counter had no idea what I was talking about and suggested that if I wanted an Indian Taco, I should go to Dan's.
That being said, I really want to try their Jumbo Mexican Funnel Cake. With the tagline "If you can finish one it's FREE!" who wouldn't?
AND THE WINNER IS…
Technically none of us, because $9.00 is just too much for an Indian Taco, especially when every second Saturday the Oklahoma Choctaw Tribal Alliance, 5320 S. Youngs Blvd., has an Indian Taco sale, complete with all the toppings and a glass of lemonade for only $6.00. Halito, indeed!
That being said, if you're craving this wonderful piece of Okieana, a delicious fried treat to shove down your gullet while vaping and trying to control that rented Rascal, the clear cut choice is Manny's, just a right-hand turn down from the Gate 3 entrance.
If I missed any other State Fair Indian Taco stand—and I don't think I did because I'm good like that—feel free to add your review to the comments, Follow Louis on Twitter at @LouisFowler.
Stay in touch
Sign up for our free newsletter