Everything Else
Tate Publishing has only received 22 Attorney General complaints this year…
11:57 AM EDT on September 15, 2015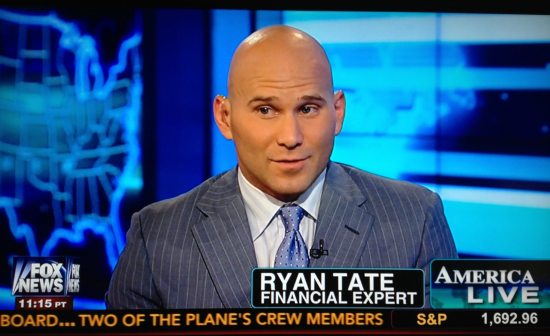 It looks like it's business as usual at Tate Publishing.
A week or so ago, The Journal Record published an article about Oklahoma companies that receive the most complaints to the Attorney General's office. Tate Publishing – the shady vanity press that's led by Fox News Business "Expert" Ryan Tate – finished in second place with only 22 complaints. Considering all the Tate Publishing horror stories told to me by former employees, I would have assumed the total was much higher.
Via The Journal Record:
Consumer complaints to the Oklahoma attorney general this year include allegations against a pair of gun part manufacturers, a book publisher and a company accused of faxing advertisements that look like bills...

Mustang-based book publisher Tate Publishing and Enterprises has received 22 consumer complaints so far this year.

The AG's office does not disclose the nature of complaints and cites an exemption from the Open Records Act that lets the office keep investigatory files confidential. The nature of the complaints, however, can be gleaned elsewhere – namely from websites that focus on consumer protection and allow reviews.
Yeah, I'm not surprised the Attorney General's office keeps information like this confidential. I doubt they even had time the time to look into the complaints, you know, with them spending so much time filing frivolous lawsuits trying to block Obamacare, stop Colorado from selling weed, and keep a religious monument on the steps of our state capitol.
Fortunately, as the Journal Record explains, that's why we have a Better Business Bureau to look into this stuff:
The Better Business Bureau of Central Oklahoma showed 91 complaints against Tate Publishing filed over the past three years. Fewer than one-third of the complaints were resolved to the customers' satisfaction, according to the BBB.

Tate maintains an A-minus rating with the bureau. Kitt Letcher, BBB president and CEO, said the ratings are based on many factors and are assigned by a formula used across the country.

Letcher said the BBB considers total number of customers, length of time in business, the companies' response to complaints and whether there is legal action against the business.

"Every single BBB is evaluating businesses on the same information," Letcher said. "We can't manipulate that information."

A note on the BBB website states that Tate Publishing "has a significant pattern of complaints concerning contractual obligations for payout of royalties, delays in book shipments and quality of printed books." The bureau said it met with Tate in June to discuss ways of eliminating the pattern.
I don't know a lot about the Better Business Bureau, but what type of formula allows a company to rack up 91 complaints over three years, ranging from not paying royalties to producing shitty products, and still earn an A- rating? Did Rick Brinkley also accept bribes to rig the algorithm? Do they issue their grades on a curve? How does something like that happen?
Richard Tate, the company's owner, founder and chairman of the board, sits on the BBB of Central Oklahoma board.
Well, I think that explains it.
Anyway, Tate Publishing is a good Christian company that values all of its customers (especially those willing to fork over money to get a book published) and their employees (especially the ones who live and work in the Philippines). There has to be a good reason they receive so many complaints regarding their shady business practices.
Vice President Mark Mindle tried to explain to the JR:
In an emailed response, Tate Publishing Vice President Mark Mingle wrote that it's hard to avoid complaints while running a large company.

"Though some choose to use the attorney general's office to register complaints, it is always in our best interests and our clients' best interest to work together for solutions personally through direct contact, which brings about true solutions more quickly," he wrote. "We are pleased that any complaint is always immediately handled and very much value the relationship we have with governing bodies like the attorney general."
Mark Mingle has some good points. Don't go to the Attorney General if you think a shady company is screwing you over. Instead, work with the company that screwed you over. I'm sure they'll take care of everything. Also, the reason they have so many complaints is that they are a large company. Obviously, that means other large companies would have even more mistakes. Let's take a look at the entire list of complaints:
Precision Arms – 25
Tate Publishing – 22
CPU Service – 12
AT&T – 11
Dish Network – 11
American Yellow Group – 10
Dollar Rental – 10
DirecTV – 9
Southwest Engines – 8
Verizon – 8
Windstream – 7
Thrifty Car Rental – 7
Ocwen Financial Corp. – 7
Cox Communications – 7
Wal-Mart – 6
Bank of America – 5
Caliber Home Loans – 5
Hertz Corp. – 5
Speed Supplies – 5
So Tate Publishing has more official complaints than Walmart, Bank of America and Cox Communications combined. But they're a large company, so complaints should be expected. Yeah right. It's amazing what some people will say and do to avoid having their job outsourced to the Philippines.
Stay in touch
Sign up for our free newsletter