Everything Else
LOL… OG&E won an award for customer service
11:53 AM EDT on July 17, 2015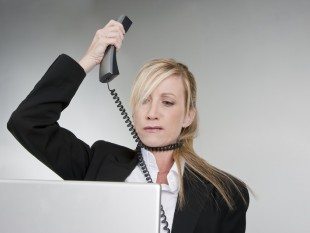 I guess there really is an award for everything.
J.D. Power recently named OG&E as the best electric utility in the south when it comes to consumer satisfaction. In other news, J.D. Power has lost all credibility.
Seriously, how can OG&E top a list for customer satisfaction? That would be like a high school dropout getting a certificate for perfect attendance, or J.D. Power naming the PT Cruiser the greatest car of all time.
Via NewsOK.com:
Oklahoma Gas and Electric Co. has taken the top regional honor for the third year in J.D. Power's survey of electric utility residential consumer satisfaction.OG&E, competing in the large utility category in the south region, received an overall score of 710 out of 1,000 points. It was followed by Alabama Power and Georgia Power, both units of Southern Co.
710 out of 1,000 equals an approval rate of 71%. That would be a C-. I honestly don't know how the score is that high. Has anyone ever have a positive experience when dealing with OG&E? I appreciate the work they do restoring power after a storm or whatever, but who enjoys waiting on hold and being told wrong information?
"Honey, what do you think of OG&E's customer service?"
"Well, our lights still turn on. Let's give them an A+."
Even though they received a C- minus, OG&E was very proud.
OG&E's score was up from 696 in the 2014 survey and 683 in 2013. This year, the utility came in third nationally in the large utility segment, and 12th among utilities of all sizes."I'm very proud of our employees who made this recognition possible," said Sean Trauschke, president and CEO of OGE Energy Corp., the utility's parent company. "This award is a testament of how we strive for consistently maintaining a customer focus in everything we do."OG&E has expanded customer service in areas such as SmartHours, energy-efficiency programs and a new website with more self-service options, said spokeswoman Kathleen O'Shea.
Kathleen O'Shea, I don't know who you are, but you are a dirty, filthy liar! The new OG&E website is dark and full of terrors! The only "self service options" the website offers is chaos, confusion and anger.
I know all this because I switched banks a few months ago, and the what should be a very simple task of updating my auto-draft information with OG&E turned into a long ordeal and customer service nightmare. Let me explain...
First of all, I had to create a new username and password to access my account on the "new and improved" OG&E website. To do this, I needed a passcode located on my bill, which of course I didn't have because I was enrolled on paperless billing.
After calling OG&E, waiting on hold, and then getting the passcode, I logged onto OGE.com to update my payment info. Apparently, the OG&E IT Department got all creative and hid the "Update Billing" page like it was an Easter egg in a video game. I couldn't find it anywhere. After spending 10 minutes navigating the site in a flat circle like Matthew McConaughey, I called customer service.
(Note: They had a section called ""Billing and Payment Options," but when you clicked on it, it simply listed the various billing and payment options. You couldn't click or update anything. That's since been fixed.)
The next 30-minutes of my life was great. I waited on hold for at least 10 to 15 minutes, and then had some old lady guide me to the secret spot on the website where the auto-pay information was located. I honestly can't remember if I had to update the information myself, or if she ended up doing it over the phone, but I marked the task as complete and moved on with my life.
Big mistake.
A month or two later, I received a notice from OGE informing me that my auto-pay didn't go through. They tried to withdraw money from the wrong account! For their inconvenience, they tacked a $10 service fee to my account
Infuriatied, I tried to log-in to OGE.com to check out what was happening, but... I couldn't remember my password. After a couple of wrong guesses, I went to the "need help" thing and was greeted by this...
I clicked the "send temporary password," and of course the email never came. So, I hopped on the phone, called customer service, waited on hold, talked to a lady, explained the situation, waited on hold, got disconnected, called back, explained the situation to a different person, was put on hold again, was then transferred to a different lady, I then explained the situation again. What a fun way to spend an afternoon.
This new customer service rep, who was kind of sassy in a Mustang soccer mom type of way, issued a new password  and checked to see why they billed the wrong account. While we were waiting because "the system was slow," I vented about the website. As a former customer service rep I knew it was a dick move. She didn't build the site. ISIS or the Taliban probably did. While I was complaining, she basically said:
"Sir, you're not the only person who's had trouble with this. Trust me. We've been receiving a lot of calls.  In all honesty, the website even frustrates me."
Anyway, yada yada yada, blah blah blah, apparently when I updated my payment info, I didn't set the new account as my "default payment" option. At least that's what OG&E claims. I'm not sure I believe them. I essentially live on the Internet. I pay all my bills online. If there was a "Make Default Payment" check box or button, I'm sure I would have clicked it. So I asked...
"How do I delete the old account so this doesn't happen again. It's closed."
"You can't. It just stays there."
Did OG&E hire Aaron Tuttle as an IT guy or something. That's stupid!
I then asked:
"Can I get the $10 fee credited back to account for the inconvenience."
"I can request it."
"Cool. Can you let me know if the request is approved?"
"I have to send the request to another department, and then it's up to them."
"Can I talk to 'them,' please?
"No, I'm sorry."
"But how will I know if the $10 is credited to my account?"
"It will be on your bill."
"But I'm enrolled on paperless billing."
"You can view your bill on the website."
"The same website that frustrates you and everyone else?"
"Yes."
Earlier today, I checked to see if the $10 was credited back to my account. At this point, it's more about principle than the money. Here are my last two bills:


Question 1: If I'm on autopay, why do I have a previous balance?
Question 2: Since the previous balance was lowered by $10, does that mean I got my $10 back? If you're part of "them," which I assume you are because only an OG&E customer service rep would still be reading at this point, can you email me and let me know. My email address is OGESucks@gmail.com. Thanks.
Stay in touch
Sign up for our free newsletter