Everything Else
Devon Energy worked with Mary Fallin to mislead Oklahomans about earthquakes…
3:25 PM EDT on July 8, 2015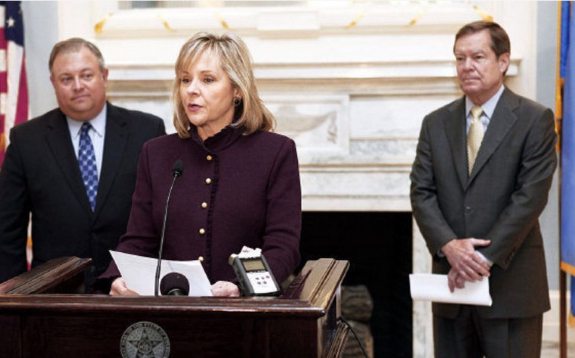 As you know, Mary Fallin serves the Oklahoma energy industry first, and her state's people second. Actually, "people" should probably be lower on the list, behind things like the National GOP party, Baptists, Travel Agents, Hot Tubs and Highway Patrolmen.
This common fact is proven by many things, ranging from the Manchurian Candidate-esque photo above, where Mary Fallin appears to be addressing a crowd like a cyborg as Devon Energy overlord Larry Nichols stoically monitors her from afar, and news articles like this where we learn more fun tidbits about the great Oklahoma earthquake cover up.
Via Energy Wire:
As she knocked on the federal government's door for aid in the wake of a damaging earthquake in 2011, Oklahoma Gov. Mary Fallin (R) avoided talking about one aspect of the earthquake -- its cause.

Too "awkward," said Fallin's communications director, Alex Weintz.

"The problem is, some people are trying to blame hydraulic fracturing (a necessary process for extracting natural gas) for causing earthquakes," Weintz wrote in an email, vetoing mention of the earthquake at an energy conference. "So you see the awkward position that puts us in. I would rather not have to have that debate."

That was two days after the magnitude-5.7 rupture toppled chimneys and injured two people east of Oklahoma City. Since then, the earthquake issue has only gotten more awkward for Fallin.
It should be pointed out that one of those people who linked earthquakes to fracking was state seismologist Austin Holland. He recently got the fuck out of Dodge and took a job in New Mexico, a place where he probably won't have to worry about cowardly politicians, greedy oilmen and shady university presidents trying to influence his work through intimidation.
EnergyWire reviewed thousands of pages of emails and other documents provided by Fallin's office under the Oklahoma Open Records Act. They show a team in the governor's office that moved slowly to address the quakes even as the earth rumbled more and more frequently.

Her top aide told staffers to "make this go away" when earthquake preparedness came up in the state Legislature after the November 2011 quake. When constituents had questions, her office used talking points borrowed from an oil company. And, with Fallin at the helm, Oklahoma has done far less than other states hit by smaller and less frequent man-made quakes.
Yeah, they used energy industry talking points to discuss earthquakes. That would be like a doctor using tobacco industry talking points to discuss lung cancer in the 1950s. And would you believe those talking points came directly from Oklahoma's own Devon Energy, the same corporation that ghostwrites letters for our Attorney General!? No conflict of interest there, right?
Check them out: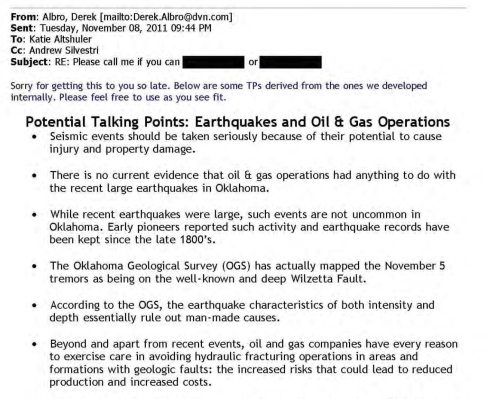 Okay, so a few of those may look more like blatant lies than talking points, but you have to remember, they were dreamed up back in November 2011, a time when the only ones who knew earthquakes were tied to oil and gas operations were people with common sense. These brilliant energy industry scientists and geologists who are so good at extracting resources had no clue that pumping billions upon billions of gallons of toxic saltwater deep into our planet's crust would cause any sort of problem.
Since the talking points are dated, and even the Oklahoma Geological Survey presented by Continental Resources now acknowledges wastewater injection wells are behind the earthquakes that have caused millions of dollars in damages (and triggered thousands of panic attacks from motorists stuck in rush hour traffic on highway overpasses), I sent Devon's Derek Albro the following email...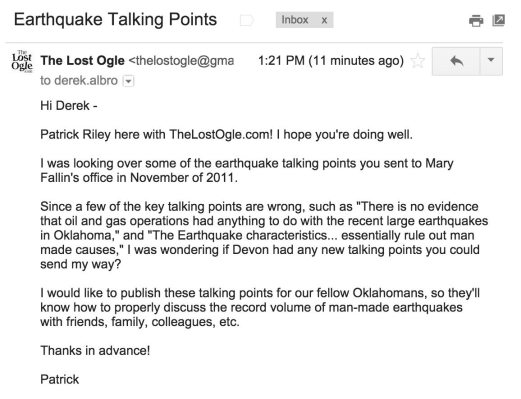 I'll let you know when Derek gets back with me. I'm sure he will. As Devon's website says, they are "committed to enhancing the quality of life in our hometown," and I can't think of anything that will enhance our quality of life more than brainwashing local citizens about the dangers of the earthquakes caused by oil and gas operations.
There are other sad and infuriating tidbits in the report. For example, when representative Mike Shelton called for earthquake safety training following the great November 2011 Earthquake that gave Kirk Herbstreit an on-air bowel movement, Mary Fallin's Chief of Staff Denise Northrup sent an email asking Alex Weintz to "Make this go away." I guess Mike forgot that the only way to get Northrup to take you seriously is to stare at her breasts.
Anyway, you can check out the entire Energy Wire report here. Once again, reporter Mike Soraghan does a great job. It's eye-opening and makes you ask a bunch of questions. Basically, it's the exact opposite of the PR propaganda you'll read in The Oklahoman, which as we know, is owned by a man who made billions of dollars through fracking.
Stay in touch
Sign up for our free newsletter