Everything Else
Harold Hamm finally talked about the earthquake cover-up meeting…
1:23 PM EDT on May 12, 2015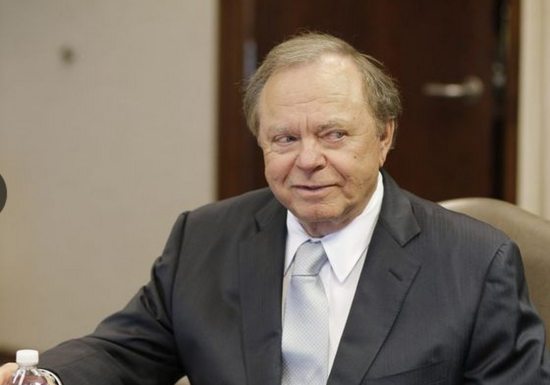 Back in March, we told you about the very strange meeting Continental Resources CEO Harold Hamm and OU President (and Continental Board Member) David Boren had with probably-in-over-his-head OGS seismologist Austin Holland.
The secret nature of the meeting, the powerful players involved, and the reluctance of OGS to officially link fracking-related activities to earthquakes, made many people apply logic and wonder if there was some strange cover-up or conspiracy at play.
As a result of that speculation, Harold Hamm granted an interview to Energy Wire, the news organization that broke the original story. He shared his thoughts on the meeting, the resulting fallback, the earthquake / fracking "debate," and how it's all Russia's fault.
Via Energy Wire:
Continental Resources Inc. founder, chairman and CEO Harold Hamm says he wasn't trying to bully Oklahoma's state seismologist when he sought a meeting in 2013, but simply trying to learn what proof the scientist had for saying hydraulic fracturing was causing earthquakes.

"We care about the industry," Hamm said. "When people disparage parts of it, I want to know why. I want to know what basis they have for doing that."

In his first in-depth interview about his dealings with state officials on the issue of man-made earthquakes, the billionaire oilman said he knows that wastewater disposal can set the ground rumbling but said the practice of fracturing shouldn't be associated with quakes.
Okay, I'm confused. Wastewater disposal can cause earthquakes, and fracking produces a whole lot of wastewater, but we're not supposed to associate fracking with earthquakes that could cause catastrophic damage and take thousands of lives? That would be like not associating cigarettes with lung cancer. Cigarettes don't cause the cancer – the tars, carcinogens and smoke do!
That's why Austin Holland, seismologist at the Oklahoma Geological Survey (OGS), was summoned to a November 2013 "coffee" with Hamm in the office of University of Oklahoma President David Boren

Holland, a university employee, had done research linking "frack jobs" -- Hamm calls them "fracture stimulations" -- to the dozens of earthquakes then shaking the state. He'd said as many as 10 percent of the quakes could be linked to fracturing.

As to the other 90 percent of the shaking, Holland and OGS had also been edging closer to placing the blame on another oil and gas activity -- injection of wastewater (EnergyWire, Oct. 25, 2013). But Hamm said that is not why he wanted to talk to Holland.

"We were in there because we are involved in fracture stimulation," Hamm said. "We're the most active horizontal driller in Oklahoma."...
Uh huh, sure. It was just a little innocent meeting. Hamm wasn't try to use his power, wealth and connections to influence the scientific findings of OGS. He just wanted to know what was going on with the whole fracking / earthquake thing. He's curious like a cat, which oddly enough, is not the reason why his friends call him whiskers.
Hamm said he was disturbed that an ill-advised report about fracking and earthquakes could be misinterpreted.

"If you make a statement like that, it's going to cause a lot of concern," Hamm said. "Perhaps you should at least think about it and make sure it's peer-reviewed before you go out with something that's pretty novel. Because people take notice."
Holland's findings linking a frack job to a series of barely felt quakes in south-central Oklahoma had been published in a peer-reviewed journal in June 2013, before the meeting.
Yes, Harold Hamm suddenly wants people to get their studies peer-reviewed... even when they are peer-reviewed. Those are some high standards. Of course, where was this demand for excellence when Hamm's fracking buddies were tossing out bizarre theories linking the earthquake swarms to fluctuating lake levels or mysterious aquifers?
Also, if he's so against people sharing ideas that are "pretty novel," why'd he let his Vice President of Geology share this novel, non-peer-reviewed opinion with a bunch of geologists last summer.
Via News 9:
At a luncheon for the Oklahoma City Geological Society, Continental Resources presented what it calls independent stats that show this sting of earthquakes is not from the oil industry.

"There's a hysteria that needs to be brought back to reality that these are light and will not cause any harm," Vice President of Geology for Continental Resources Glen Brown said.

Brown says any earthquakes below 4.0 are insignificant.

He made several points:

• There's a remote chance fracking creates seismic activity.

• A majority of wells are not located near recorded earthquakes.

• There is a nearly 10,000 ft. difference between depths of earthquakes and depths of wells.

• Seismic activity in Mexico.
You can check out the rest of the story over on Energy Wire. In addition to the stuff above, my favorite part is how Hamm blames the "demonization" of fracking on Russia... and not on earthquakes or tap water that spontaneously combusts.
Also, Energy Wire reporter Mike Soraghan has done a great job on all this news, which is good because the Oklahoma City media will never hold the energy industry accountable. As we've learned, they'll just help the industry spread false information, try to create a debate and pocket all the ad money.
Stay in touch
Sign up for our free newsletter