Food
TLO Restaurant Review: Nic's Grill
9:36 AM EDT on April 8, 2015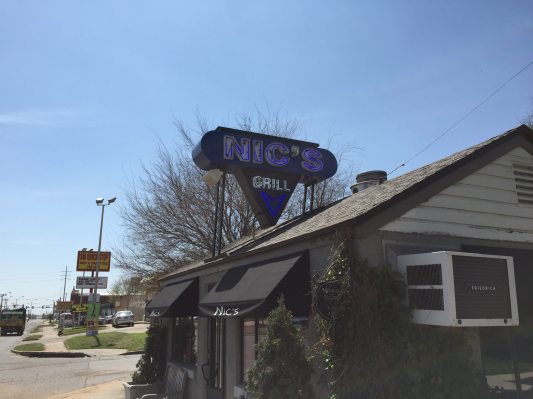 "What took you so long?"
This is what people kept asking me when I admitted that last week was the first time I ever had a cheeseburger combo from Nic's Grill.
I mean, it's not like I haven't tried to eat there before. Many times a pallie and I would stop by there for lunch, the line deep out the door and as much as we'd like to park it on the stoop and wait to place an order like the other schmoes, there was no way we'd make it back to work in time, let alone be able to actually sit back and savor these much vaunted cheeseburgers and curly fries like they truly deserve.
But I tried. God knows I tried.
A part of the OKC culinary landscape for about 20 years, Nic's is pretty much that one "cult" burger joint in town that has a healthy following, both locally and nationwide, having been touted as the "best burger ever" by everyone from Guy Fieri's Diners, Drive-Ins and Dives to actor Colin Farrell on The Tonight Show.
And now the gang at The Lost Ogle.
A few blocks from the former home of the AMC Flea Market Mall, right in the heart of the Classen Ten-Penn District sits a tiny gray shack at 1201 N. Penn with a neon sign that reads "NIC'S" and is practically bigger than the building itself. It sits about 15 people at the most. Or 13 and me.
Patrick, his Pops and I arrived at about 1:30pm, and the lunch crowd was starting to fizzle out. As we stood by the front door, waiting for a spot at the counter to open, owner and chef Justin 'Nic' Nicholas was like some kind of eight-armed god of the grill, flipping, pressing, cutting, frying, handling, serving, smiling and talking all at the same time. He took our orders as soon as we waited.
While the menu is currently cut down to basically burgers, curly fries and a few specials, be sure you know what you want when you're asked. You've had enough time to decide and this man has got a legion of hungry diners both before you and after you to serve. Without hesitation, we all went balls-deep with the cheeseburger combo with curly fries and Dr. Peppers.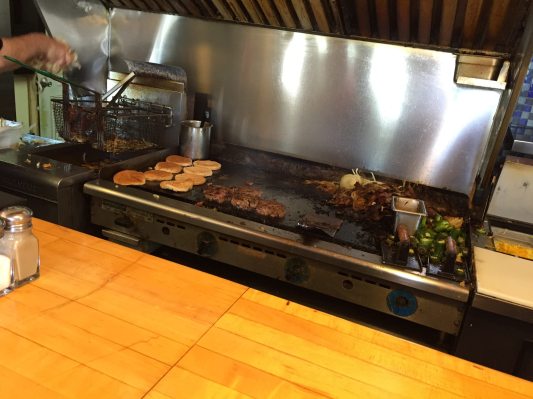 Eventually three spots opened up at the counter, and as we sat there, making small talk amongst each other, it proved a fruitless endeavor—it was impossible to pay attention to any conversation with all that meat cooking, sizzling, perfecting, right in front of you, the flavored steam of onions and the occasional jalapeno wafting about, the surrounding patrons doing their best to keep their greasy-gotten gains together as they slide this sandwich in their gullets with all the protectiveness of a cellblock-4 lifer guarding his fruit cup.
After about 15 minutes of absolute torture, baskets of burgers and fries were bandied down the bar to the three of us, each one its own abstract work of art, with each patty of thick meat and grilled onions in various states of askew as this yellow cheese flowed between ever sinewy crevice like the gooey lava flow of a dairy-based Vesuvius. The grease glistened off the top of each bun with pride, the fries spilling out the side of the basket.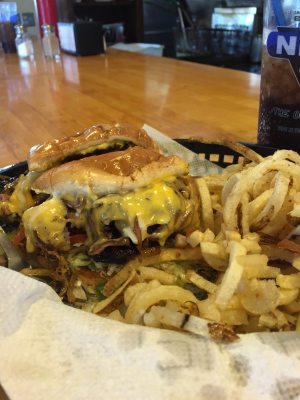 I don't know how to describe each bite of this burger without unleashing a list of superlative hyperbolics, but this is the best burger I've ever had that wasn't in a strip club. For most people, this is a fork burger. It was a test of will to keep it together, as every bite was bigger than I had space in my mouth, but the sheer genius, the audacious crafting that Nic has put into this—the temperance of the onions, the hint of real butter, the sealed-in freshness of the beef and the generous helpings of that cheese, all coming together to create a perfect, museum-quality specimen of a new twist on an Okie classic. It's truly amazing.
But really, that was only part of what made this trip to Nic's so memorable. Perhaps the real key component of why it's a veritable home away from home for just about every ham-and-egger in town is Nic himself. As we sat there, devouring his works of art, he told us how he uses the freshest ingredients, regardless of price, because it's worth it. He told us how he paid for the shack and started in the burger business with no experience by mowing lawns for a living. And he even complimented the competition, giving us tips on who else has some of the best burgers in town, the Red Dog included.
It was a shocking genuineness that I don't think any of us were expecting as a compliment to our meal.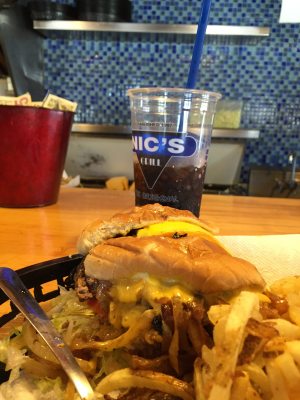 (As an added bonus, Nic's plans on opening a second location in Midtown sometime this year. It will feature the return of the breakfast menu, an expansion of the lunch menu and the addition of a dinner menu. Nic doesn't know the exact date, but he promises he's busting his ass to make it happen.)
I don't know what you're doing for lunch, but tell the boss you're taking a couple of hours off and, line out the door be damned, you're getting you some Nic's. To paraphrase Commander Cody, "If you want to know where paradise lies, it's in Nic's cheeseburger combo, side order of fries!"
-
Louis Fowler's Top 5 OKC Burger Joints in Order: 1) Nic's 2) The Red Dog 3) Geronimo's 4) Big Ed's 5) Cock O' the Walk. Satisfied? Follow him on Twitter at @LouisFowler.
Stay in touch
Sign up for our free newsletter