Everything Else
TLO Restaurant Review: Ingrid's Kitchen
12:45 PM EDT on March 19, 2015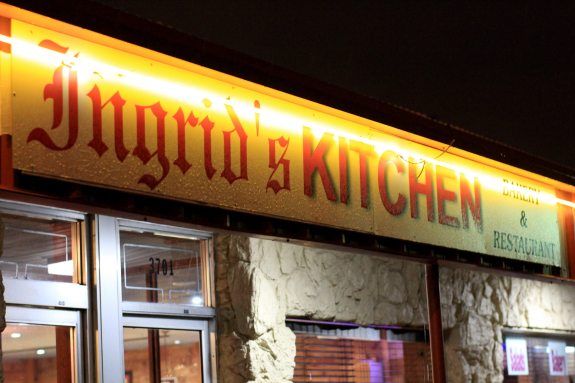 Since moving to Oklahoma City in 1990, I have driven by Ingrid's Kitchen at least once a day for my entire residency, but have never once stopped in to try the food. (I have stopped a few times at the hippie shoe store around the corner from it to stock-up on Birks, Danskos and Keens, however, but that's another story.)
Now is the point where I tell you why, and at the risk of ruining all the positive societal relations that Starbucks has managed to accrue in the past few days (#RaceTogether), I've just never been the biggest fan of Germans. Sure, I love Klaus Kinski, Goo Girls and Einstürzende Neubauten as much as the next beefy Chicano, but, still, one of those basterds shot my father in World War II and, well, that really wasn't too cool of you, Germany.
Ingrid's was also probably one of the last local eateries I'd had even considered reviewing until esteemed TLO editor Patrick mentioned that it had been on an episode of Food Network's Diners, Drive-Ins and Dives, which totally perplexed me. Oddly situated in a residential neighborhood on the corner of NW 36th and Youngs, Ingrid's is in no way a diner, a drive-in or a dive, but for some reason, Smashmouth frontman Guy Fieri still shot a segment there focusing on their Reuben sandwich, declaring it an "all-star," adding that it should get its "game on" and "go play."
Still feeling a slight bit of prejudicial apprehension, I went to Ingrid's website to do a little research about the menu and the history of the place. After reading proprietor Ingrid Quitz' bio on the website—one line in which reads "In 1950, at the age of 15, Ingrid Quitz escaped Berlin by crawling across the border to freedom..."—I realized that we weren't so different. Much of my family escaped from the crushing poverty of Mexico to come to this land to open up neighborhood taquerias that use every single pig and cow entrail possible, looking for our own slice of the American dream in the greatest Goddamn country in the world, just like you guys.
Also, we (Mexicans) kinda sorta stole polka music from you (Germans) to make Tejano. Thanks for being cool about that. Here's one of my favorites…
Taking along my pal Dustin, a Creek Muskogee who spent whole years of his life bumming around various Teutonic and Scandinavian countries in his youth, as an expert on the "authenticness" of the food, we were immediately greeted by a menu that was overwhelming. But, after asking the lovely fräulein behind the counter for some recommendations, we placed our orders and sat back, enjoying tall steins of Bitburger beer as continuous rotations of Diners, Drive-Ins and Dives played on the TV overhead, not that the crowded establishment was paying much attention.
When our orders came to the table, the sheer embarrassment of riches were so grand that, for a split second, I was afraid OU would steal them and not give them back. Sampling a little bit of everything on the menu, I ordered a Braunsweiger Liverwurst sandwich ($6.50), a Knackwurst Bratwurst specialty plate ($9.95) and for dessert, a shortbread treat called Nuessecken ($3.00), while Dustin had the full order of Wiener Schnitzel ($12.95).
Achtung, baby! This was truly an operatic feast worthy of a Wagner composition! The Braunsweiger Liverwurst, made from pork liver, was like a flavorful variation of potted meat, with each thick bite more filling than the last, a new sensation coming through each time, dipping it whole occasionally in spicy German mustard for an extra kick to the schwanz.
The Knackwurst Bratwurst was an experience all its own, tasting nothing like what I've expected from those Bar-S bratwursts I usually get on clearance at Buy For Less. These smoked pork and veal wieners were packed tight and taut in their casings, every bite from tip to tail exploding with flavorful spurts of natural juices and tastebud-searing meat that had everyone at the table exclaiming "God, I miss Jack!" I could've easily stuffed another one or two of those down my throat and probably will, next time.
The sides were highly provocative as well, consisting of wonderfully tart sauerkraut, an unexpectedly sweet red cabbage selection (was that cinnamon I tasted?) and a unique German potato salad that you won't find at any church potluck anytime soon. Both in taste and portion size, Ingrid's outdid themselves.
But we haven't even gotten to the Übergrößen Wiener Schnitzel: like a Teutonic Del Rancho, that tender breaded pork loin cutlet was as big as the plate and, like a big middle finger to any fascistic totalitarian governments that would ever dare to take our freedoms, covered in copious amounts of brown gravy that practically scream "gunter glieben glauten globen!"
Dustin said that it was not only just as authentic as the Wiener Schnitzel he actually had in Deutschland, but possibly even better. And with that, I was sold. As we tried to make room for the insanely rich Nuessecken, I was already planning my next outing to Ingrid's, hopefully for brunch, lamenting that it's taken me over twenty years and at least five screenings of Volker Schlöndorff's The Tin Drum to finally try this true Oklahoma City landmark out.
Even better, as we were paying our bill, I noticed the kitchen was pretty heavily staffed with Latinos. That made me smile, fully doing away with any remaining prejudices I had towards my German brethren, filling my heart with a cold, reptilian beat that I'd happily remix as a Kraftwerk seven-inch. And while there are a few things that I'll never be able to forgive Germany for—ahem, David Hasselhoff, anyone?—thank you, Ingrid's for creating a glorious bridge towards culinary solidarity, tearing down the Berlin Wall that was my jaded heart.
Photos by Dustin Harjo. / Follow Louis Fowler on Twitter, you dummkopf.
Stay in touch
Sign up for our free newsletter