ICYMI
The Satanic Black Mass dude accidentally shut down the Oklahoma State Capitol….
9:25 AM EST on February 5, 2015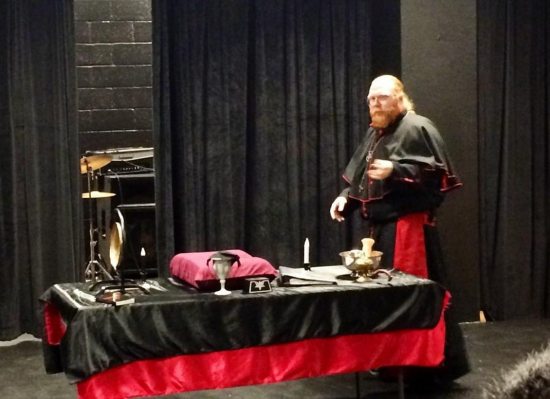 I don't know about you, but I'm starting to like Satanic Black Mass organizer dude Adam Daniels. It's not that I agree with his beliefs or anything. I take them about as seriously as I do any other religion. I guess I just admire and respect that he's Public Enemy Number One of the religious establishment in our state. He's an underdog, and underdogs are fun to cheer for. The guy is loathed and despised by Catholics, Baptists, Nazarenes and all the non-denominational folks listening to rock and roll at Life Church. In fact, I think Adam is the first person in Oklahoma history to unite all the different Christian faiths under one cause. That's impressive.
Also, he resembles Comic Book Guy from the Simpsons. How can you not admire a dude who looks like a Simpsons character?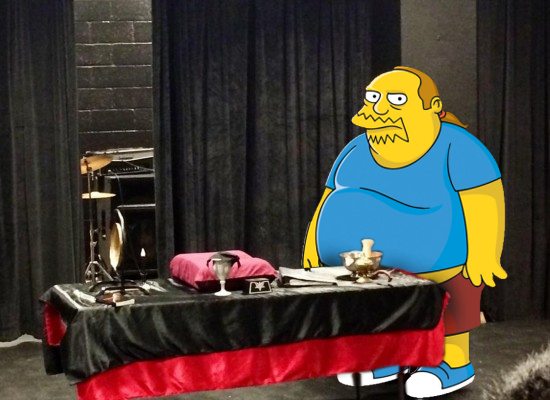 See what I mean? The resemblance is scary. He should send Matt Groening a letter and ask for royalties.
Actually, maybe sending a letter would be the worst idea ever. We don't want Gracie Films to have to shut down production.
Yesterday, Adam put on his black robe and goat skull hat or whatever and stopped by the Oklahoma State Capitol to hand deliver letters to lawmakers. He was protesting House Bill 1125, which would eliminate marriage licenses in Oklahoma. Yada Yada Yada, Blah Blah Blah, the capitol was soon on lockdown because some paranoid staffer discovered a mysterious powder inside one of Adam's letters.
NewsOK.com has all the details...
The Satanist who held a "black mass" at the Civic Center Music Hall touched off an hourlong lockdown at the state Capitol on Wednesday when fear arose he was delivering letters containing dangerous powder.Oklahoma Highway Patrol Lt. John Vincent said hazardous materials experts failed to find anything of danger in the letters and the building was reopened at 3:30 p.m. No actual powder was found and no crime occurred, Vincent said.Contacted by telephone and informed of the lockdown, Adam Daniels, the Satanist, said he didn't realize he had caused a disturbance and his intention was merely to deliver letters complaining about a piece of legislation."Wow, no sir, we're just adamantly against that bill," he said.Daniels, 35, of Warr Acres, said he donned his black clerical robe and handed out 100 letters to legislative offices and the governor's office complaining about House Bill 1125. The bill, authored by Rep. Todd Russ, R-Cordell, would put an end to marriage licenses in Oklahoma.Daniels said he is used to negative attention, but didn't notice anything out of the ordinary while he delivered the letters."I pick up a vibe everywhere I go since the black mass," he said. "I'm very well-hated across this city."...Debby Morales, a legislative assistant to Russ, said that after she read the letter she noticed a granular substance on her hands. She said she discussed it with other legislative assistants and they called security. The nature of the substance she felt is not clear, but she's been assured she was in no danger.The bill from Russ seeks to do away with marriage licenses in the state. Russ has said he doesn't want court clerks put in the position of having to issue marriage licenses to same-sex couples. Instead of getting a marriage license, a couple could get a marriage certificate from a clergy member, or could get a certificate for a common-law marriage.Daniels is against the bill because clergy from Satanist groups were not included among religious officials who could provide marriage certificates.
Isn't that ridiculous. If they found a mystery powder in a letter that was distributed by a Baptist minister asking lawmakers to send all gay people to prison, the staffers wouldn't think anything of it because the minister is a loving Christian. If anything, they'd just figure they were bread crumbs from communion wafers and move along with their day. But when Johnny Satanist hands out a letter simply questioning why he can't unite two lovebirds into holy matrimony, it's all of a sudden a coordinated terrorist attack.
Actually, I wonder what mystery substance was in the letter. My guesses are salt, beard dandruff, or Chad Alexander's lost cocaine. The last one would actually be kind of funny. Can you imagine if some prankster got the entire legislature loaded on blow? They'd probably accomplish more in one day than they have in the past 10 years. That's a scary thought, but it would be fun to watch everyone walking the halls and talking fast like they were in a Sorkin show.
Anyway, hopefully lawmakers actually read Adam's letter and realize that he has a point. If we want to do away with state issued marriage licenses in Oklahoma and leave that task to religious leaders, as the high priest of satan or whatever, Adam should be allowed to marry people. Image that. Satanic weddings at the Civic Center. Oklahoma lawmakers better watch what they wish for.
Stay in touch
Sign up for our free newsletter