Everything Else
New Year's Eve in the Big Town: Opening Night, the Mormon Book and a Big Olive
9:19 AM EST on December 31, 2014
There is less than one day before 2015, and do you know what that means? It's time to finish up those 2014 New Year's resolutions.
Obviously, time is of the essence so let's get started. To save minutes, I will hack into your computer and retrieve those 364 day-old promises. All right...got it. Here we go.
1. Run a Marathon.
Yeah, that didn't happen. Your Google Fit app says the most time you spent in motion was 80 minutes. This was in mid-September, meaning you were at the state fair eating fried mayonnaise and taking pictures of people who failed to make TLO's semi-final rounds.
MarathonGuide.com says the average amateur marathon time in 2011 was four hours and 37 minutes, but you need to run closer to the world record of two hours, two minutes and 57 seconds. Get out to Stars and Stripes now and get it done. Luckily the weather is perfect for a run. I'll be waiting here till you're done.
You're back. Six hours and 42 minutes. Really?
2. Lose 20 Pounds.
Ok, though we are short on time, due to the marathon you did drop a few pounds. That leaves 17 to go. Since losing that many pounds in seven hours is deemed unhealthy, let's just stop by Wal-Mart and pick up some over-sized clothes. At least you can look like you achieved this goal.
3. Drink Less Eat Healthier.
I see you changed your mind quickly on this one. Ok, looking at your "My Fitness Pal" app, the most popular food item in the last year was "SmashBurger - So much! OMG!" Great. Well, technically the resolution is "to eat better in 2014," so throw down on some asparagus and check that one off.
Good job, you squeezed it in. Feel proud, now you can reward yourself for the rest of the year.
Here's your New Year's in the Big Town.
 Opening Night 2015
Wed - 7pm, Bicentennial Park - Downtown OKC, $8-10, under 5 - Free
Possibly the largest of the metro celebrations, the 27th Opening Night features live entertainment on 16 stages with more than 20 acts. A wide array of entertainment will fill the air throughout the stages and venues, ranging from comedy from OKC Improv to R&B band Shortt Dogg.
If you want to get a head start on a New Year's resolution, a 5K run begins at 4pm at Bicentennial Park. The USATF certified course winds through downtown and across the Skydance Bridge. The entry fee is $35 dollars which includes an armband for the nighttime event.
Along with the entertainment, plenty of restaurants and businesses will be open for the festivities. Visit artscouncilokc.com for more info, schedules and maps.
-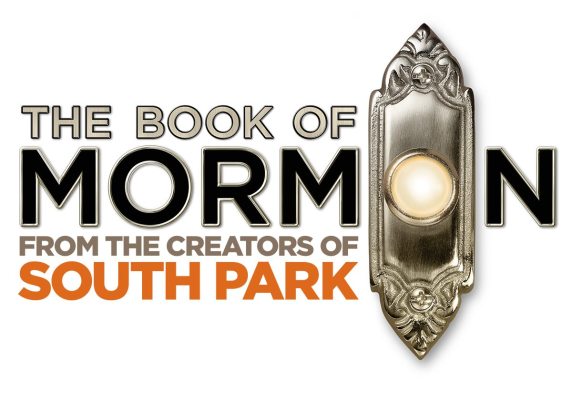 The Book of Mormon
Wed - 7:30pm, Civic Center Music Hall, 201 North Walker Avenue, $35-135
Trey Parker and Matt Stone, the creators of South Park, an animated series influenced by the avatars of contributors from this very blog, took the musical world by storm three years ago with "The Book of Mormon." The satirical look at the Church of Latter Day Saints won nine Tony Awards and high critical praise, two things I've never garnered.
The plot of the story revolves around two Mormon missionaries who are sent to Uganda to spread the Mormon word, and find themselves in multiple awkward situations because...they are Mormon. I have not seen the musical, which should not surprise the three of you who regularly read my posts, so if I expound further on the plot, I will be lying. So I will stop there.
If I were to see a musical, which most likely will not be anytime soon, it will would be this one. That's a ringing endorsement if I've ever read, or written one.
-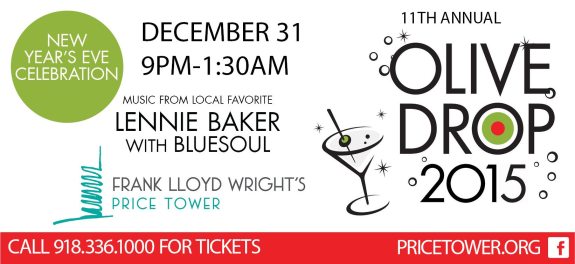 New Year's Eve "Olive Drop"
Wed - 9pm, Price Tower, 510 Dewey Ave - Bartlesville, $30
Now here is an event that is not quite in the Big Town, but for those up north. The 11th New Year's Eve "Olive Drop" commences at Price Tower in Bartlesville tonight at 9pm. One reason we are talking up a Bartlesville event is because they contacted us! Feel free to send us events that fellow Ogle-lites would enjoy!
The event is a tongue-in-cheek hat tip to the ball drop in New York City. In 2013, "Good Morning America" listed the Olive Drop as one of the nine most interesting New Year's Eve drops in the nation. Here's why: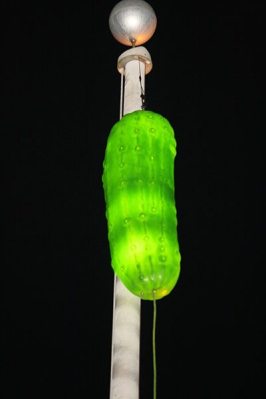 It's a big, damn olive! That's how you celebrate the New Year's! Who cares about watching a huge, lighted Christmas ornament slowly drifting downward. I'll take an olive any day, and I hate olives.
There is also a dance party inside Price Tower, as well as blues music and a complimentary glass of champagne. Go watch the olive! Be safe!
Adam Holt is a musician and freelance journalist. He's the one, natural one, make it easy. He can take it inside.
Send all compliments and complaints to @ArkansasFresh.
Stay in touch
Sign up for our free newsletter