Everything Else
2014 Year in Review: February
2:08 PM EST on December 22, 2014
Tulsa-bred alt superstar and all around great hair-haver St. Vincent's titular fourth album came out in February 2014. It finally gave Oklahoma a musician that we can be proud of before she starts hanging with Miley Cyrus. For too long, the only music coming out of this state has been shitty soft rock pop-country from people who are judges on singing competitions.
Here are the most popular TLO posts from the month of February:
5. Captain Bigot is alive and doing well in Enid
Published: 2/10/2014
What We Said: Wow, this guy is like the Dark Overlord of the Derplahomans. I'm surprised he isn't wearing a necklace made of gay bear teeth.
What We Learned: Yelp can be a powerful tool for fighting evil.
Best Comment: "What I find most funny about the story is that the name of the "American Patriot" bigot's bar is, in part, Spanish." - Hobo Joe
–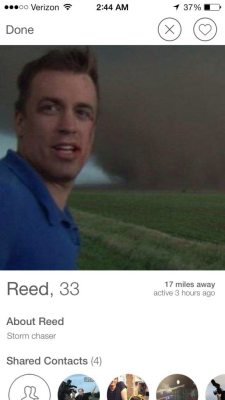 4. Reed Timmer is searching for babes on Tinder
Published: 2/19/2014
What We Said: I'm not an online dating savant or scientist like Reed Timmer, but if you want to meet hot babes on an online dating site, you should probably avoid using a profile pic where you have either mud, blood or cow shit splattered across your face.
What We Learned: Weathermen need love too.
Best Comment: "Hey ladies…check out my hook echo." - RJF
-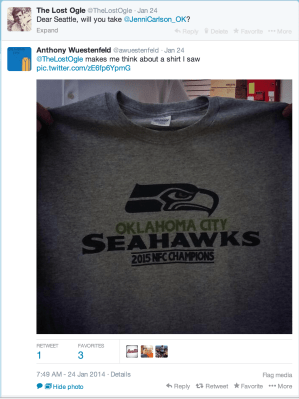 3. About the fake Oklahoma City Seahawks shirt that was NOT created by Mustang Brewery
Published: 2/5/2014
What We Said: "If Jenni Carlson is your muse, you might as well jump in the beer vat like that dude in Beerfest and literally drown away your sorrows."
What We Learned: This is the only thing we will EVER have on Seattle.
Best Comment: "The number one thing I took away from this is that apparently I can't actually buy this t-shirt anywhere–at least not yet." - Ryan
-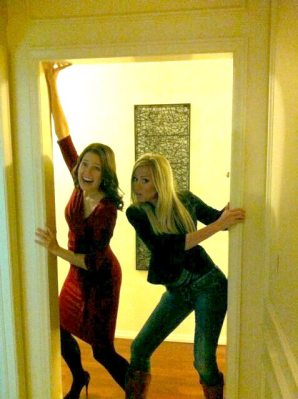 2. Channel 9 has discovered another "new" theory about Oklahoma's earthquakes
Published: 2/24/2014
What We Said: Okay, I'm sorry. I've tried drinking the new Kool-Aid flavor Frackelberry Passion. It does strange things to the logic and reason portion of your mind.
What We Learned: Gas prices below two dollars a gallon in OKC make it a lot easier for people to ignore fracking-induced earthquakes.
Best Comment: "Seismi-City: Someone at the Thunder organization should block off another set of cheap seats at the 'Peake and give it this clever and witty name…pronto!!" - Mack Tuck
-
1A. Channel 9 has taken this Emily Sutton—Lacey Swope thing to a new level
1B. Emily Sutton's serious boyfriend is not just rubbing it in
Published: 2/12/2014 & 2/14/2014, respectively
What We Said: "I'm all cool with each news station having an Emily Sutton clone, but this is starting to sound like the plot to 'Single White Female 3: The Severe Weather Chronicles.'"
"Not only does he bring Emily a dozen flowers from Wal-Mart, but he also gets to do the weather report. Maybe next year for Valentine's Day he can just rip our hearts out and eat them on live TV."
What We Learned: We're never getting over this.
Best Comment: "Sutton = Star Wars. Swope = The Empire Strikes Back" - Me
"Emily has officially jumped the shark. Team Lacey now." - MaryFallinsFutureLover
-
We'll be tomorrow with the top TLO highlights from March!
Stay in touch
Sign up for our free newsletter