Everything Else
Taking a look at some OKC Craigslist Missed Connections
2:33 PM EST on November 20, 2014
Every now and then, we like to take a look at some recent OKC Missed Connections posted to Craigslist. We do this to:
A) Feel better about ourselves
B) Live life vicariously through the minds of stalkers
C) Double check that we're not listed in any of them
Anyway, with all the local criminals, idiots, media personalities, politicians, and Hipster Boo Boo's apparently taking time off this week for an early Thanksgiving, I thought this would be a good time to see what sad, lonely, missed connections are out there.
Let's take a look...
-

I know we live in Oklahoma and anything is possible, but I question the legitimacy of this post. The only part I really believe is that the guy was drunk, peed in the flowers and called someone a derogatory racist name, as opposed to a complimentary one.
Also, instead of setting up DUI checkpoints on random roads and inconveniencing law-abiding citizens, shouldn't the Oklahoma County Sheriff  just set up outside a Taco Bell or Jack In The Box on a Saturday night? They'll catch so many intoxicated drivers that they'll run out of room in the jail.
-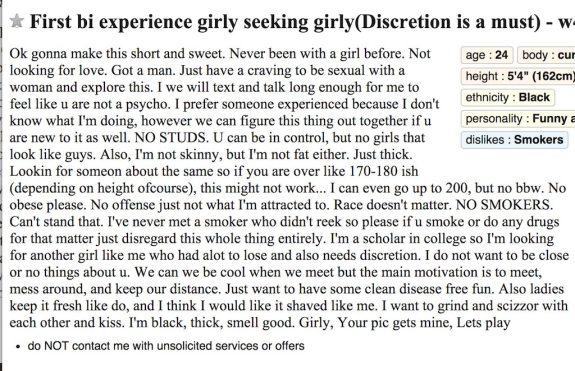 Isn't this woman a little too picky to be meeting people on Craigslist? I'm pretty sure that 90% of the people who respond to these ads have eyes that point in opposite directions. It makes the bottom of the barrel look like a clean, well-lit place.
Also, I like how this "scholar" wants to have her first lesbian encounter be with a total stranger from the Internet, but she's the one who wants to make sure the other person is not a psycho.
-

That's sweet. For what it's worth, I'm sure she also sees you whenever she watches an episode of Forensic Files.
-

You know what? Maybe Janet Barresi was right about flunking all those third graders who don't know how to read and write. "You was taking orders at the counter of taco bell?" That's like the "Call Me Ishmael" of Craiglslist Missed Connections. I may use it as the opening line of my next novel.
-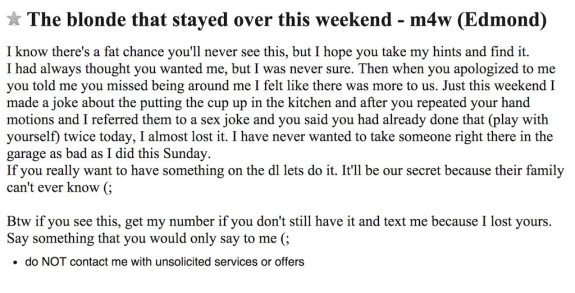 You've never wanted to take someone right there in the garage as bad as you did on Sunday? Uhm, does that mean you regularly fantasize about having sex in garages, or is that part of a sex joke involving cups?  -

Let me guess. You were wearing a tank top, left behind your sunglasses and were picking up you Valtrex prescription. I'm sure that pharmacist will call you back in a heartbeat.
-

You asked her what was in your pocket? Are you a hobbit or something? Is this a game of riddles? Or are you just a shy, lonely person who lacks confidence? Please advise.
-

Well, it's good to know that Bob Barry Jr. eats at the City Bites on N. Western.
Actually, I think that's going to be my next pick up line. "Hey, you're gorgeous and have big breasts! Want a drink?"
-

Wow, you actually wrote down the license plate number? I think we have a finalist for our annual "Zeke Campfield "Creeper of the Year" Award. The next time she sees you, I bet she just calls the police as opposed to ignoring you and turning up the radio.
-

Boy, I bet she was pretty upset when you deleted her from Facebook. That will show her.
-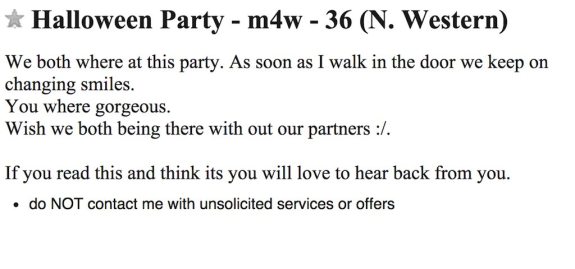 Here's a brilliant idea. If you're going to leave a Missed Connection about a Halloween party, maybe describe the girls costume. Something like:
"You were dressed as a sexy nurse. I was in the corner wearing a cape and picking ear wax."
-
These two Missed Connections were posted back to back. I'm pretty sure they were written by the same pathetic guy who apparently isn't sure about his age: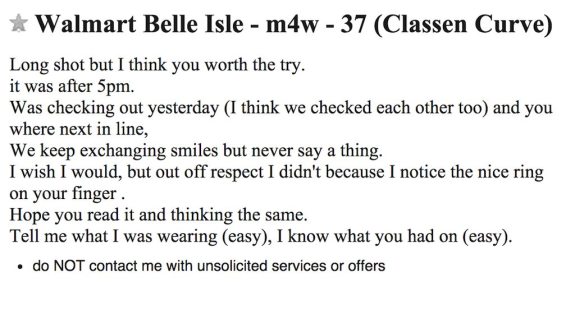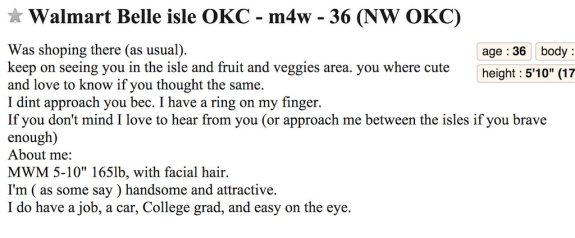 It's really nice that you have a job, car, and college degree. However, it still doesn't hide that fact that (as some say) you are a pathetic creeper.
-

Hmmn, I have no clue why the girl left after a total stranger tried to strike up a conversation with her in the gorilla exhibit at the zoo.
-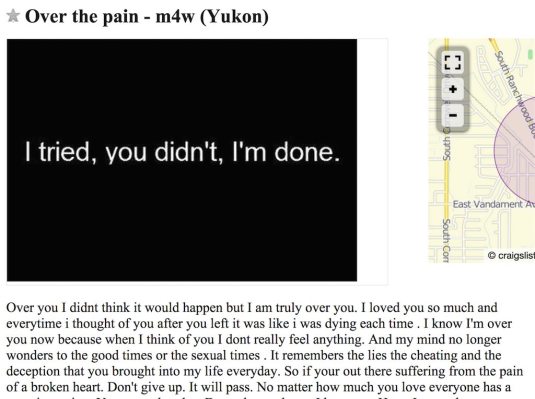 It could be the creepy black box or the depressing tone of the write-up, but something tells me you're not exactly over the pain.
-
Final one...

I think we know who left that one.
Stay in touch
Sign up for our free newsletter