Everything Else
Taste Taste: Reviewing Oklahoma's Beef Jerky…
1:33 PM EST on November 11, 2014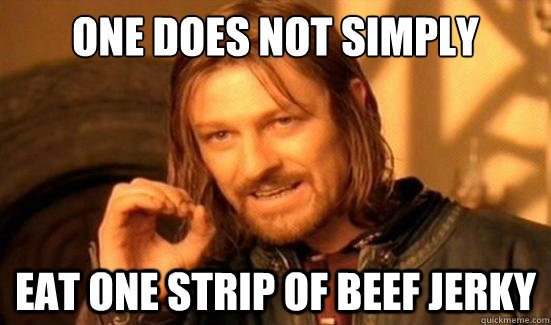 The state of Oklahoma is home to a variety of delicious jerkies, some of the are even made of beef. But which jerky is best? Which is the most flavorful? Which is the most authentic?
These are the red-hot questions that plague my mind, presumably because I'm a young white male and not oppressed in any way. And thus I've put aside time out of my apparent not-that-important daily schedule to seek out and taste the finest rawhide the Sooner state has to offer.
I admit I am an amateur as a jerky connoisseur. My primary interest in this endeavor motivated by the lack of authentic beef jerkies available in supermarkets and strange dreams about road trips. Thus, I decided to judge the various jerkies sampled according to the classical T.O.U.G.H. method, in which hard-cured meats are tasted and graded on a scale of one to five with consideration toward the following five categories:
Texture: Jerkies can range from tough, to hard, to tree bark, there are even tender, soft-textured jerkies—presumably for the elderly and small children.
Odor: The smell should be pleasing and overall complementary to flavor. Basically, it shouldn't smell like a Love's Bathroom.
Ubiety: Because I need a "U" for this acronym to work.
Grain: Indicates the amount of process the meat has been put through.
Heat: Achieving a balance in seasoning is key to a quality beef jerky.
With my grading and tasting system in place I went forth to carefully choose and sample some jerkies from the finest gas station and jerky emporium establishments in the metro area (seriously, thanks to The Beef Jerky Emporium). Between each tasting I cleansed my palate with a Miller High-Life, as the TOUGH method customarily dictates.
Out of all the jerkies I tried, this is the one with perhaps the most robust personality. The strong, gamey beef will put hair on the chest of anyone standing within a 10 foot radius of you, so don't eat it around your daughter, wife or girlfriend. Not for people who don't like their dead animal tasting like dead animal. Robertson's will likely punch you in the face for being a pussy if you don't eat it quickly enough. Spicing on one side adds a mild pepper hue to the proceedings for as authentic a beef jerky one can get in this wasteland of processed Jack Links and Slim Jim mystery meat sticks.
-
This "authentic saddlebag jerky" pleases the palate with a combination of spices that remind the taster of a misty Oklahoma spring afternoon. Hard Times covers the full scope of summer and Spring: Cool, lazy mornings, humid afternoons on the front porch, and riotous nights outside by the fire and a can of Jeremiah Weed. Overall a very pleasing combination that successfully strikes a balance between salty, spicy, and beefy. Great, tough texture and a broad grain which reflects it hand-carved preparation and limited processing.
-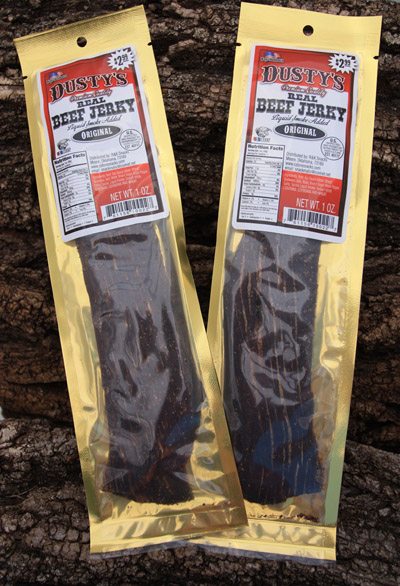 This jerky is made by former Sooner great Dusty Dvoracek. Well, not really, but that would be fun.
Wafer-thin and fine-grained with an impotent smoky aftertaste, Dusty's felt a lot like eating peppered papyrus. Upon reading the ingredients list, I found that Big Daddy's includes liquid smoke. I don't know what made me more nauseous—the liquid smoke itself, or just seeing the juxtaposition of the words "liquid" and "smoke."
-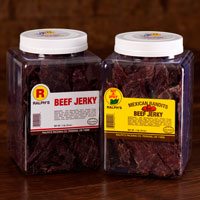 This jerky sports a fine smoky flavor which dances across the tongue and conjures up sweaty summer nights around the campfire cooking up s'mores and sharing ghost stories. Unfortunately this evocative quality is offset by over-seasoning that stings the back of the throat and causes heartburn. Altogether not an unpleasant cured meat experience if you have some Tums handy.
-
Another brand of beef jerky that utilizes liquid smoke, however, I found it to be an overall better experience than Dusty's. No Man's Land achieves a deep, strong smoky flavor contrasting heavily with Ralph's. Instead of conjuring summertime memories, No Man's Land is closer to eating a very chewy barbecue sandwich without the bun. Less bark-like than, say Robertson's, but still a very pleasing, chewy texture.
-
Overall, Oklahoma has a lot to offer in terms of beef jerky. There were many more varieties I didn't have the time or money to taste. It's a wild, wild, jerky wonderland out there, and whatever your preference may be, there's a high chance that there's a beef jerky from Oklahoma that can accommodate it.
Stay in touch
Sign up for our free newsletter