Everything Else
Halloween in the Big Town: Hudson Haunt, TapWerks, The Evil Dead and More
9:17 AM EDT on October 31, 2014
I suck in every way at Halloween.
I don't dress up, which means I don't go to parties because I won't be dressed up. Second, I'm not invited to parties. I'm even terrible at giving out candy. Since I'm horrific at speaking with kids, my speech when answering the door usually goes like this:
"Oh, hey. Yeah, you want candy right? Ok umm, just grab some out of this cardboard box. No, that isn't a dog pee stain on the box, whoa, wait nevermind."
By that time the parents and children are slowly backing away, and I somehow spill the pee box of candy all over myself like the little kids in the ice bucket challenge videos who weren't strong enough to carry the ice water.
I'm sure by next Saturday I will have tallied another Halloween failure for myself. Maybe I should watch a YouTube video on how it all works.
Here's your Halloween in the Big Town: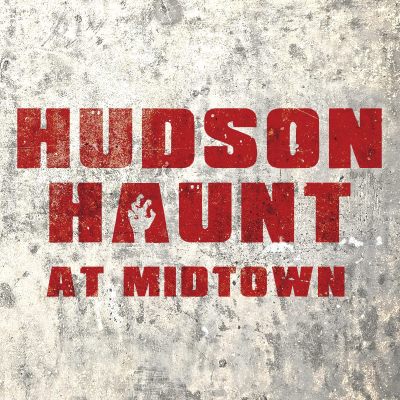 Hudson Haunt at Midtown
Fri & Sat – 7pm, NE Corner of 10th & Hudson, $10
Within the backdrop of H&8th, there is a haunted house with a cause. The Hudson Haunt at Midtown will scare you while raising money to help the health of one of their own.
Shelly Conrad, an employee of Bricktown Burgers and daughter of owner Dick Parr, is in need of a kidney transplant due to complications from lupus. She was first diagnosed at 17, and luckily the disease went into remission fairly quickly. Afterwards she raised a daughter and got her into college, all as a single parent working at the family restaurant.
Lupus has returned in a strong way with Conrad. She now pays for $3,000 monthly rejection medicines, and she and her daughter have moved back into the family home. She needs a kidney transplant, but the sad reality is that if she is not on the expensive rejection medicine, she cannot be placed on the transplant list.
Friends and family have come together to build the Hudson Haunt to help fund Conrad's needs. The house includes a 12,000 square foot maze with a dozen creepy scenes. Come on out to the Hudson Haunt, get scared and help Shelly.
NewsOK article about the Hudson Haunt Shelly Conrad: http://bit.ly/1DCTBMb
-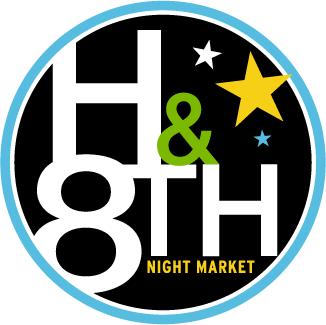 H&8th Truck-or-Treat
Fri – 6pm, Midtown – between NW 6th & NW 10th, Free to Attend
Speaking of the famous food truck extravaganza, the H&8th's season finale "Truck or Treat" begins at 6 pm in Midtown. Why 6 pm instead of the usual 7 pm? Well, from 6-7 pm, kids can go around to the food trucks and neighborhood businesses and "pre-game" for the rest of the night's festivities. I'm guessing candy will be involved and who knows what else, and it sounds fun.
I'm sure many of you know the drill for the rest of the night. Go out, eat plenty of food from the mobile restaurants, and take in the music and atmosphere of it all. Obviously, there will be a twist of Halloween this time, so feel free to dress up.
-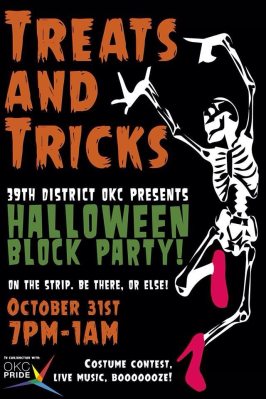 Treats & Tricks on 39th Block Party
Fri – 7pm, 39th Street District, Free to Attend
If Hudson and 8th isn't your style, head on down to the 39th Street District for a Halloween block party. OKC Pride and the 39th Street District host Treats & Tricks, and if their flyer is to be believed, there will be a costume contest, live music and booooooze. I'm not exactly sure what this is, but there were six "o"s, which is weird.
My best guest is it's ghost puke. See, you got the "boo" part, and also "ooze." I seriously doubt it has anything to do with alcohol. Also, expect a skeleton with pink high heels. You can't top that.
-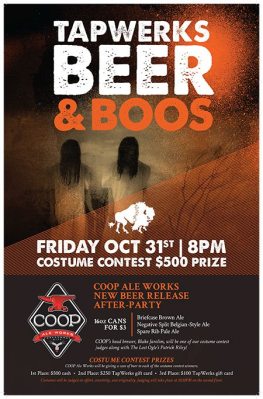 TapWerks Beers & Boos
Fri – 8pm, 121 E. Sheridan Ave.
Everyone's favorite pub with spelling issues is getting into the Halloween thing. TapWerks' "Beers & Boos" will be a fun night involving alcohol and a costume contest, but not just any costume contest, one with the guy who cuts shit out of my posts is one of the judges. Yes, that is Patrick, creator and owner of this website about Emily Sutton and state fair pictures, and someone actually gave him responsibility. I hope that works out.
You better bring you're A-game to this contest. First place wins $500 American. That's not quite 500 Euros, but you can buy a few songs off iTunes with that. Second place receives a $250 TapWerks gift card and third place gets a $100 TapWerks gift card. Your Jason mask isn't going to cut it. Get serious and put your back into it.
-

Evil Dead: The Musical
Fri – 8pm, Pollard Theatre -120 West Harrison Ave., Guthrie, $27.25
Continuing our trend of deadly musicals (the last two weeks have seen Carrie and Sweeney Todd), the Pollard Theatre in Guthrie presents "Evil Dead: The Musical." If you are not familiar with the cult classic, five Michigan State Students decided to go to a creepy-as-hell cabin in Tennessee.
Apparently MSU had low standards back then if this represents their student body. Also, how did these Michiganders find this cabin? This is set in 1981, there was no Yelp category named "bad ideas." Maybe they discuss this in the movie. I can't remember.
Anyways, demonic, weird crap happens. Then someone decided this needed to be a musical, and it has made its way to the Pollard Theatre. It will be funny and campy, and you should go.
-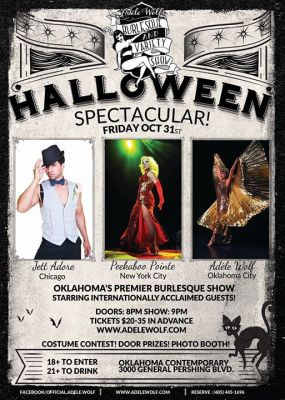 Adèle Wolf's Burlesque & Variety Show – 3rd Annual Halloween Spectacular
Fri – 9pm, Oklahoma Contemporary Arts Center - 3000 General Pershing Blvd, $20 and up, add $5 if bought at the door
Oklahoma City's burlesque queen, Adele Wolf, is throwing another party and guess who's invited? Of course I am, but so are you! Wow, I know, I don't know if I'm going now. Still, you will have fun.
The 18 and up show features burlesque performances from Wolf, as well as her friends Peekaboo Pointe from New York City and Jett Adore from Chicago. Yep, she's bringing in the big guns. There will also be a belly dance performance by Ayperi Al Jawahir and singing by Renee Anderson, both of OKC.
The night includes a photo booth, door prizes, costume contest and audience participation games. Get out there and get burlesqued!
Adam Holt is a musician and freelance journalist. He's heart and soul. He's hot and cold. He's got it all, hot lovin' every night. 
Send all complaints and compliments to @ArkansasFresh.
Stay in touch
Sign up for our free newsletter