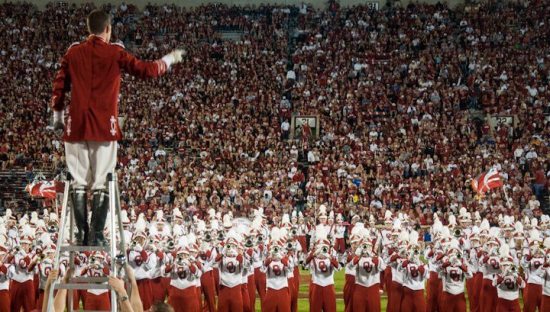 Now that OU sucks at football again, I guess it's time to turn our attention to another depressing thing at the University of Oklahoma: The state of the marching band.
Around this time last year, members of The Pride of Oklahoma grumbled and complained about the direction and leadership of the program under new band director Justin Stolarik. Things got so heated and awful that the band released a set of demands to David Boren and the tuba players threatened to strike (and / or switch to mellophone). Hell, I even compared Stolarik to Howard Schnellenberger and suggested he resign. That's how bad things were.
Much like the Pride's halftime marching performances, all the drama and demands apparently fell on deaf ears. David Boren wasn't going to let a bunch of virgins, Doctor Who fans and every good boy who does fine tell him how to lead his university. Stolarik was his guy and he was sticking with him.
Well, the controversy is now heating up again like a flute at band camp. Last week, alumni band leaders pooled together some cash they earned through teaching private lessons and advertised an open letter to David Boren in The Oklahoman, Tulsa World and Norman Transcript. I guess they forgot to email us for ad rates. Silly band nerds. They were probably too busy wetting their reeds or something.
Anyway, the alumni band complained about the direction of the program and the University's totalitarian way of keeping things quiet.
Via the Tulsa World:
Advertisements that appeared Friday in metropolitan newspapers in Oklahoma and Texas targeted University of Oklahoma President David Boren, saying he has stifled student and alumni concerns over the direction of the university's marching band.

"We've been forced to lie through our teeth about what's happening out of fear," The Pride of Oklahoma students wrote in an open letter to Boren.

"Our student voices have been quelled with threats — and this is perhaps the most dangerous part of all."

The letter says band students must sign a document stating they will not say anything negative about the organization or its leadership, or risk being booted off the squad. That is confirmed in the band handbook's code of conduct, which states that "negative or degrading online or print posts against the organization," including "re-sharing of negative/inappropriate posts," may result in immediate dismissal from the band.

The full-page ad that ran in the Tulsa World included no student names but listed more than a dozen anonymous "student" quotes, some that criticized second-year band director Justin Stolarik, who came to OU after serving as assistant marching band director at the University of Wisconsin.

"There would be very few people who would be upset with your decision to hire a more competent, qualified director of whom we all could approve," the open letter states. "We vehemently disagree with the direction the Pride is headed because we fear it will continue to create an environment of mediocrity and complacency."

Some of the funds for the ads were collected through an online fundraising campaign onGofundme.com.

Boren issued a statement Friday through the university's public affairs office.

"I've long had a policy of not responding to anonymous personal attacks," he wrote in an email response. "It's a shame that people would waste their money on such ads instead of supporting scholarships for our students."
Come on, David Boren. Do what's right! Give that stolen Nazi artwork back to its rightful owners! It was stolen... by the Nazis! Do the right thing!
Wait, I accidentally picked the other ridiculous issue that David Boren has mishandled during in his twilight years as president. My bad. Let's try this again:
Come on, David Boren. Do what's right. Get rid of the band director nobody wants, form a committee, and then hire a new band director that everyone likes so the band can get back to playing Boomer Sooner thousands of times a day and we can get back to worrying about the day Bob Stoops leaves and you hand-pick your daughter-in-law's brother to be head coach. That's what really matters.
Actually, David Boren has done one thing right through this ordeal. Earlier today, he removed the silly totalitarian provision that prevented students from speaking out against the band director.
From NewsOK.com:
Members of the University of Oklahoma's marching band are free to speak their minds about the Pride of Oklahoma by order of OU President David Boren...

The students did not use their names, the ad states, because they had to sign an agreement to "not say anything negative about the organization or its leadership, or else we will be kicked out immediately."

Boren struck down that requirement Friday in an email sent to the leadership of the College of Fine Arts.

"President Boren was incensed when he learned of the band participation agreement and was disturbed that he had not been told of it by the School of Music," OU spokeswoman Catherine Bishop stated in an email Monday. "President Boren has a lifelong history of defending free speech, and upon learning of the agreement, he immediately issued a Presidential directive making it null and void."

In his email to the School of Music leadership, Boren stated he saw for the first time Friday a copy of the participation agreement that band students were expected to sign no later than Aug. 13.

"This is to inform you that the participation agreement is hereby made null and void retroactively to its time of issuance ...

"This university is firmly devoted to the right of free speech under the first amendment to the Constitution.... This is a direct order from me as President and should be implemented immediately. Members of the band should be informed that the particular section of the handbook cited and the agreement to abide by it are no longer in force," Boren wrote.
That's a relief. Now students can get back to openly complaining about the state of the program and being ignored. That feels so much better, right?
Anyway, if the Pride really wants to have their voices heard and get some changes made, I say they get medieval and let the people, especially football boosters, know how bad the band really is. Here's a simple plan...
You know those marching routines at halftime? Leave them alone and do what Stolarik wants. Nobody cares and nobody notices if the performance sucks. Most people at OU games go to the concourse at halftime, wait in line to get a soda, and then wait in another line in the bathroom just so they can hastily pour rum from a flask into the soda while shamefully standing alone in a bathroom stall. The other half stay in the stadium, but they don't really care or pay attention to the marching band (unless it's Texas A&M), and even if they do watch, they don't really know enough to spot a major mistake or whatever.
If the band wants to get real changes made, they need to mess up one of the two things OU football fans (and boosters) care about when it comes to the band:
1. Boomer Sooner
2. The drum major doing that weird march down the field
For example, wouldn't it be crazy if the band suddenly forgot how to play Boomer Sooner during the Baylor game, or even worse, played Texas fight instead? I bet that would get attention. Or, what if the drum major skipped down the field holding priceless artwork that was stolen by Nazis instead of doing that weird march and blamed Stolarik. Actually, President Boren would probably get a kick out of that, so ignore it, but you get my point.
Stay in touch
Sign up for our free newsletter