Everything Else
2014 Oklahoma State Fair Photo Contest: Finals
10:43 AM EDT on October 16, 2014
If our Oklahoma State Fair Photo Contest ever has a soundtrack, I think it should be written and performed by the local band Chronik Kondition. Here they are performing at this year's fair.
If they turn us down, we could always go with MC Shit Stainz. Remember him? He was a semi-finalist in this year's contest. We were wrong, and I guess that was not a poo or chili or an Indian taco stain on his shorts. It apparently was a poo or chili or Indian taco pattern. Here's a clip of his performance:
Enough with all that stuff. Today we have the final round of our final Oklahoma State Fair Photo Contest. View the photos and vote for your favorite after the jump.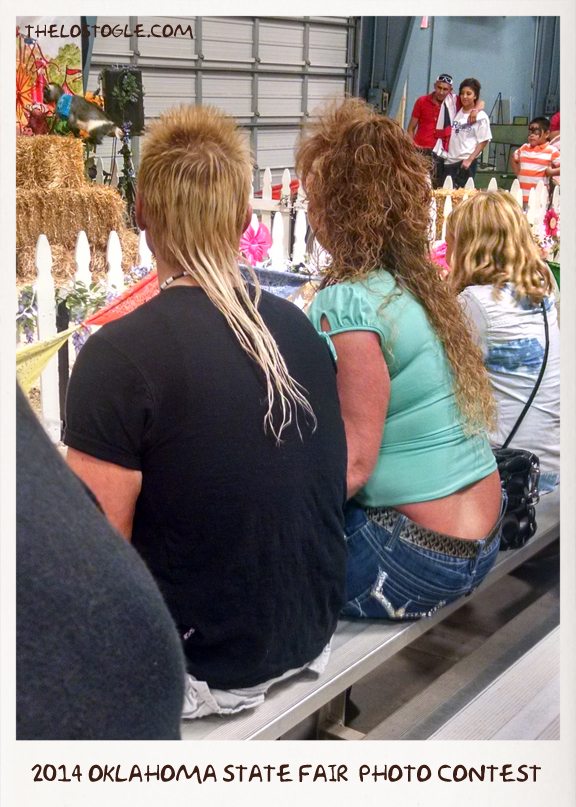 Time Machine Mullets
When you first look at this photo, the obvious and easy assumption to make is that this couple owns a time machine and just came back from 1989, but if that's the case, why are they not wearing stone washed jeans??? Did they also stop by a 2004 TJ Maxx and buy new clothes?
Regardless, that's some miraculous hair. It makes me want to watch Joe Dirt and kiss my cousin. I bet it even makes Mike Gundy jealous. If a Poison or Warrant song isn't playing right now in your head, there's something wrong with you.
-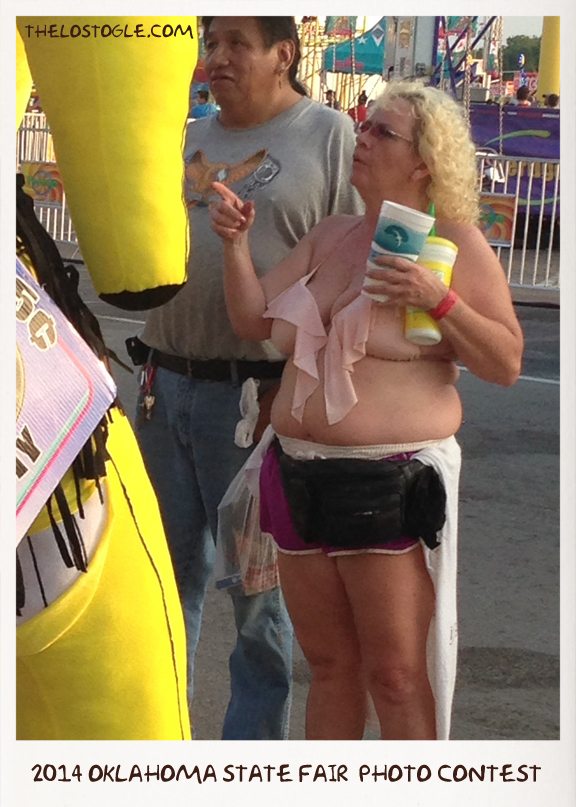 Miss State Fair
There's always money in the banana stand...
We received a dozen or so entries of Miss State Fair. Apparently she was roaming the grounds of the fair threatening to flash innocent bystanders or show them what needles were inside her fanny pack. Also, this is what the back of her shirt looked like: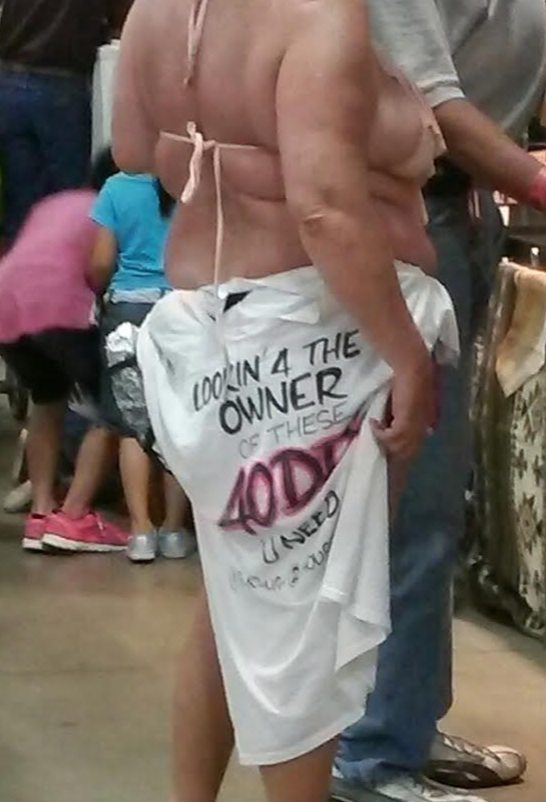 I don't know what the bottom line of the shirt actually says, but hopefully it's either "a barf bag" or "intense therapy."
-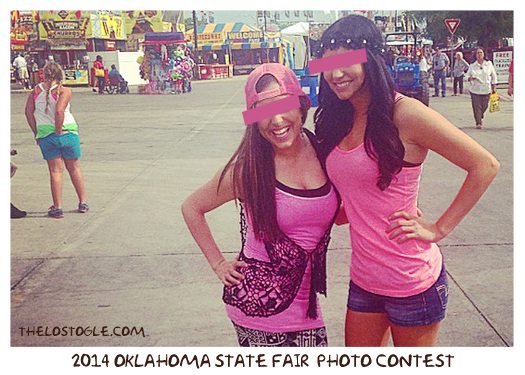 The Digger
Although it's hard not to, please don't check out the attractive girls in the photo who probably like to go party rockin' in Bricktown on the weekends. They didn't want their faces in the photo so they don't deserve the attention. Instead, pay attention to the person in the background. I think she's looking for her car keys or the Indian Taco she had for dinner.
-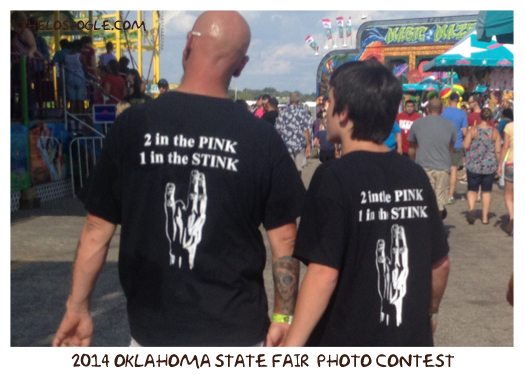 The Shockers
Boy, that brings back some memories. What man can't forget that awkward time when your dad sat you down, told you about the shocker, gave you a matching shocker t-shirt, and then took you to the state fair?
In all honesty, I doubt that's a father and son. It's probably just a pair of grown men walking through the state fair... holding hands... wearing ride bracelets... and sporting matching shocker t-shirts. Now I kind of wish it was a father and son.
p.s. - Kudos to the guy on the left for having the world's scariest arm tattoo. I think it eats your soul.
-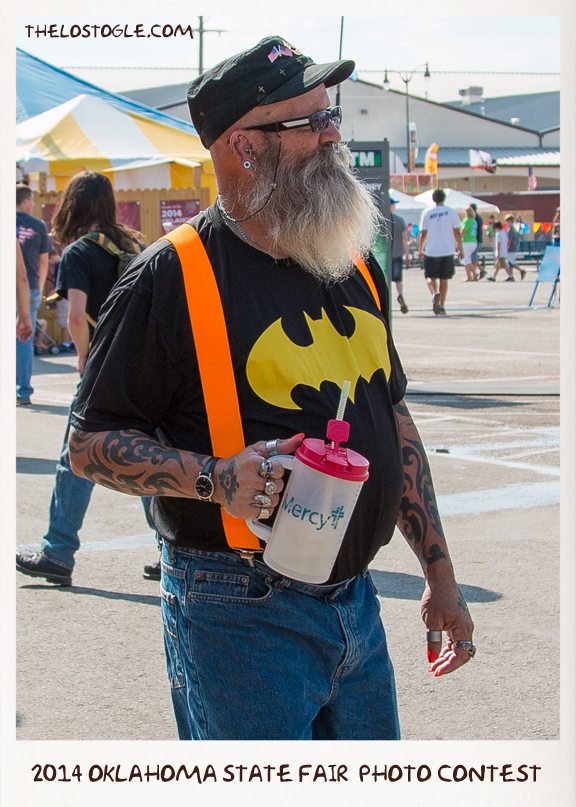 Breaking Batman
I'm pretty sure I remember seeing this guy in an episode of Breaking Bad, Sons of Anarchy or COPS. I'm not sure which one. It doesn't matter. Even with the pink nails, skull rings, orange suspenders, and tribal tattoos, he would still make a better Batman than Ben Affleck.
-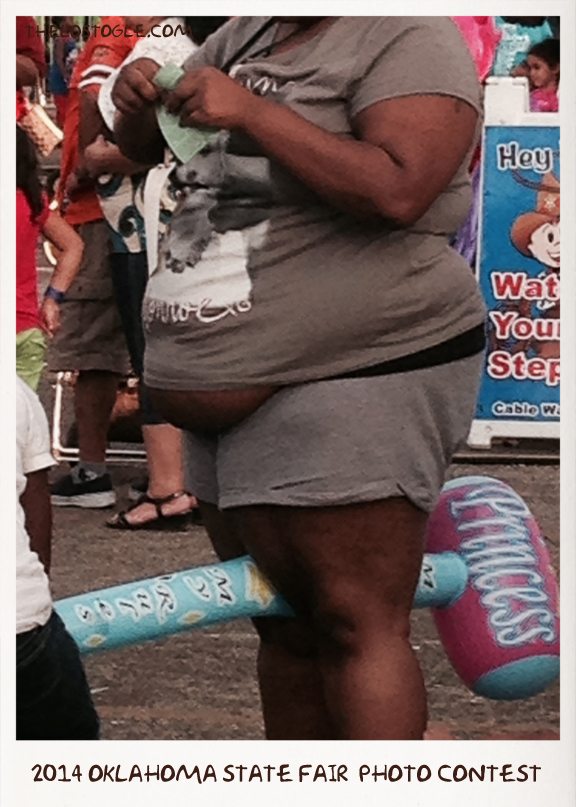 Princess The Hutt
I don't like to make fun of obese people. However, I do enjoy making fun of morbidly obese people who wear sweatshorts from their youth. That's just disgusting. Does the lady think she's at Walmart where dressing like that is acceptable? Someone needs to take that princess hammer from between her legs and whack that stomach or bean bag or whatever it is back inside her pants.
-
Those are the photos, now vote for your favorite. One vote only, please. Multiple votes and ballot rigging will be removed.
Stay in touch
Sign up for our free newsletter