Food
TLO Restaurant Review: Pancho's Mexican Buffet
9:05 AM EDT on September 23, 2014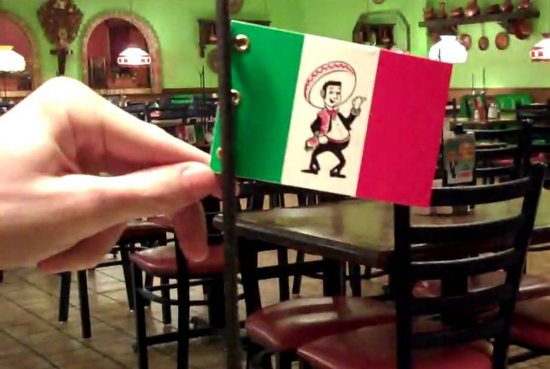 I've always found it funny how whenever I bring up the long-lost Tex-Mex buffet chain Pancho's, there's always that one gabacho who is ever so quick to inform me that "That's not real Mexican food!!!" as he greedily gorges on leftovers from Ted's Café Escondido.
Sorry Chad, but Pancho's was about as Tex-Mex as it got, especially for a chain. Founded in El Paso by Jesse Arrambide, Jr. in 1957, growing up in Texas, just about every city I lived in from Brownsville to Houston to Waco and so on had a franchise in their city, one that my parents would gleefully take us kids to after Saturday mass almost every weekend. It was cost-effective, delicious and there was even a collector's glass that came with your jello parfait dessert.
Pancho's was always something special that the entire familia, extended and otherwise, Mexican and beyond, always enjoyed, eating all that we cared to, raising the flag for more of those tender flautas or wonderfully cheesy enchiladas. It was a love affair that continued up until my family moved to Oklahoma City in 1989, wherein the former location on Northwest Expressway (across from where the notorious Gattitown currently resides) became a regular dining spot for family get-togethers.
From the time that my brother and I had an enchilada eating contest—I won by devouring 24 of those suckers—to the time my dad had a psychotic episode and punched me in the stomach in the parking lot—barfing 24 enchiladas all over on the side of the Delta 88—there are few restaurants I nostalgically hold close to my enlarged heart and systematically identify with like I do Pancho's.
Even though, around that time, various rumors were spread that they served dog-food and that someone found worms in their tacos that didn't stop me from taking my first real date—you know, the one where you drive and everything—to Pancho's and then on to Brixton Square for a screening of Rumble in the Bronx.
That relationship lasted a good two weeks.
But as I grew up and studied and examined and discovered different tastes from the wide palette of Latin cuisine, from the rudimentary basics—enchiritos, please!—to the outright exotic—cuy, anyone?—Pancho's just kind of, well, went by the wayside and became nothing more than another vaunted culinary memory left to the refried beans of time…
…until I moved back to Oklahoma City last year.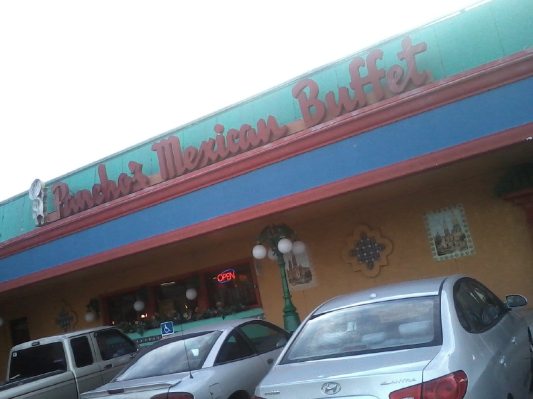 I typically do most of my grocery shopping on the Southside, hitting up the carnicerias and panaderias once a week to load up on my highly Latino dietary needs. I had heard that there was one FYE left in the city at 240 and Penn that had great deals on Vicente Fernandez movies and South Park Mexican albums, so I took a spin that way, but accidentally passed it and ended up crossing under the interstate. Making a u-turn in the parking lot, that's when I stopped dead in my tracks...hijole chingada…it was a Pancho's.
Sure, it looked decrepit, unkempt and closed for business, but so was I.
I put off going back there for a while. What if it was nothing like I remembered? What if the food is terrible now? What if this one meal destroys one of the very few happy and precious childhood memories that I actually hold dear? What if…what if…what if…
I am more than happy to report that Pancho's not only keeps those memories alive, but that if anything, the food is actually better than I remember.
Maybe having to be on the Southside among discerning Latinos—who positively packed the place the Saturday evening that I dined there, by the way—had them up their game and, since the restaurants are now a total rarity with less than 20 left in the United States, they recognized a need for a bit more authenticness to their Tex-Mex recipes, but whatever it is, it was working for me like a day-laborer on a hot tin roof.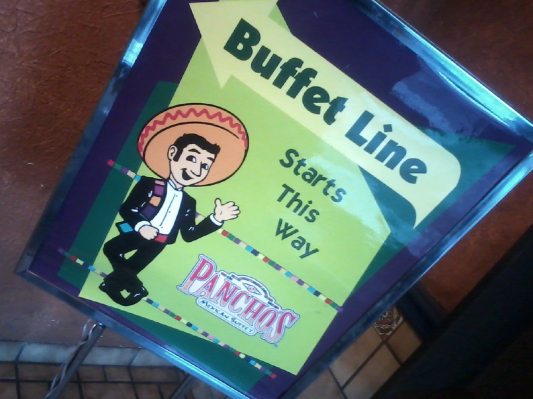 The set-up was still the same: you enter single-file and grab a steam-cleaned tray, loading up those hot metal plates with various specialties, cafeteria-style. Flautas, chile rellenos, tamales, cheese enchiladas, sour cream enchiladas, chile verde, tacos…aye mi Dios. It's an embarrassment of riches, like the Lost City of El Dorado covered in cheese sauce.
As I walked my tray to my table, I noticed how many happy families there were, all enjoying the massive quantities of Tex-Mex as the Texas Tornado's "Who Were You Thinkin' Of" rhapsodized from the overhead sound-system. It was a bout of sudden nostalgia that truly sucker-punched me in a way I didn't count on.
That first bite of the flauta, always my Pancho's favorite, was pure heaven, spicier than I remember, but still as crispy and crunchy as ever. The chile rellenos must've been a new thing because they weren't around back in the day. It don't matter—it was total TexMex goodness. As were the cheese enchiladas which, if I still had the gumption and/or lack of self-awareness, could've downed another 22 or 23 of them.
I maturely just settled for four.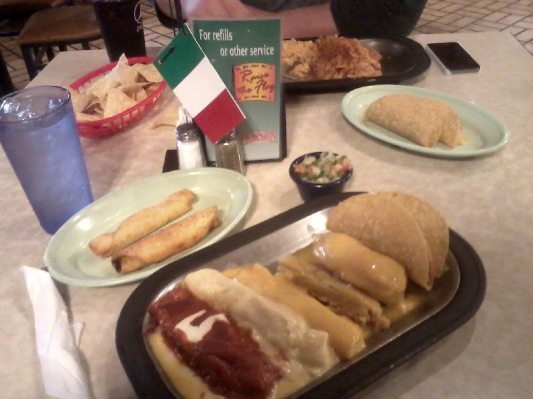 The great thing about Pancho's that always kept it above other buffets, in my book, a least, was the truly Latino idea of having servers bring you more food by raising a flag and telling them what you want. It's siesta-dining at its finest. And raise it I did, doubling-down on more flautas. And a couple more cheese enchiladas.
As I finished my meal, one memory that I had long-forgotten that came rushing back as soon as the waiter asked if I had "room for a sopapilla" was that Pancho's didn't put sugar or honey on their 'pillas—they brought them out steaming hot and as plain as a tall girl named Sarah. My brother and I always used to request them with a bowl of cheese sauce to fill the flaky inner-cavern with.
You better believe that I poured that zesty cheese all up in that sopapilla, using a fork and knife to cut apart every amazing mouthful of that long-forgotten goodness, my pants just as engorged as my full stomach.
(Sadly, apparently they discontinued the jello parfait in a collector's glass so many years ago that the owner had no idea what I was even talking about when I asked him.)
Maybe you don't have the same memories of Pancho's that I do, and that's fine. But for me, it was one of the few last remnants of my childhood that hasn't been destroyed and replaced with a Chipotle. Sure, it ain't hipster-class dining worthy of a local alt-weekly entry, but this Tex-Mex legend deserves, if not a chance, than at least your Goddamned respect.
Pancho's por vida. No jodas.
-
Follow Louis on Twitter at @LouisFowler.
-
Pancho's Mexican Buffet
2166 Southwest 74th St
Oklahoma City OK 73159
- Urban Spoon
- Yelp
Stay in touch
Sign up for our free newsletter