ICYMI
OU is way too excited about accepting new students…
4:17 PM EDT on August 25, 2014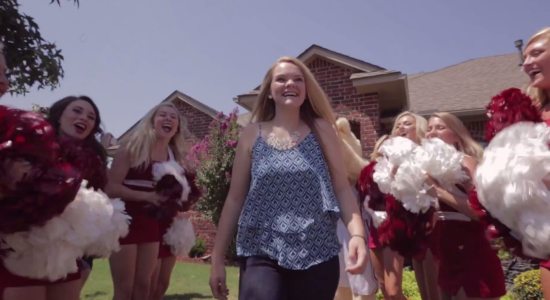 I guess college is back in session. This is good news for people who enjoy college football, drunk sorority girls and feeling really old and depressed.
To help get us in the "back to school" spirit, OU released an over-the-top video today welcoming their first student from the graduating class of... 2019. Yep, that's not a patented TLO typo. OU is already hyping next year's enrollment. Isn't that a bit premature? At least wait until 25% of this year's freshmen drop out and accrue student loan debt before going after the next batch.
You can watch the video after the jump. In it, the university brings the Sooner Schooner, cheerleaders, marching band and who knows what else to some random high school girl's house in Edmond to deliver the first acceptance letter of the year. Basically, it's a social media bandit's viral wet dream. The only thing it's missing is a football player holding a ballerina, David Boren talking about national merit scholars and the crying sorority girl.
Check it out:
Come one, you didn't think I was going to post the real video first? Here it is:
Once again, the class of 2019?! Fuck me, that's just insulting. By the time this girl graduates, OU will have gone 19 years without winning a national championship. Isn't that ridiculous? To put it in even a more terrifying perspective, if they filmed a re-boot of the Wonder Years in 2019, it would be set in the year 1999. If you feel like crying right now I don't blame you.
That being said, I guess that's a cool video. It's a little too cheesy for my taste, but I have a hard time criticizing anything that has cheerleaders in it. I heard OSU planned on doing something similar, but all the students were too busy square dancing. I kid, I kid. They were actually learning how to read.
In all honesty, I wish my alma maters that are a notch below OSU would do things like that.
For Oklahoma City Community College, I could see something where all the students from the math lab pile into a couple of mini-vans, drive to some dude's apartment in Moore and then surprise him with his GED test results. That would be fun. After a couple of minutes, they could go inside and use his phone to call a wrecker because one of their vans broke down.
UCO, my alma mater that has not yet inducted me into their alumni hall of fame, could run a cool web series where they call their best and brightest applicants just to make sure they didn't inadvertently apply to the university. When the applicants admit that it was intentional, but that UCO is their third choice, the school employee can then tell the student about UCO's new labyrinth and some line about their education being "central." Maybe they could get one of the guy's from Hinder to help?
Anyway, I guess good luck to Lexie when / if she graduates from OU in five years. Hopefully, OU will do a follow-up in 2019 to see how she's doing, and then have her surprise a student from the graduating class of whatever.
Stay in touch
Sign up for our free newsletter