ICYMI
Spiderman robbed an auto parts store in Pauls Valley…
2:41 PM EDT on August 4, 2014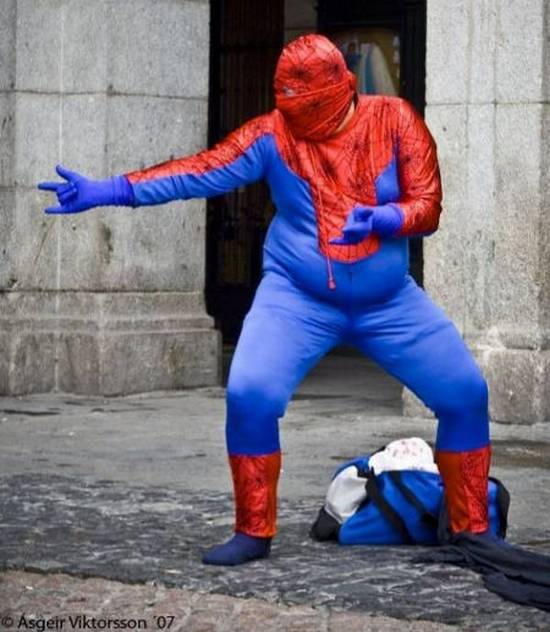 I think the best part of being a robber would be getting to wear a fun disguise or costume. If it were up to me, I'd probably dress up like a dinosaur. You know, something cool like a Velociraptor – not a T-Rex where I couldn't use my hands.
I'd choose a dinosaur because:
A) Let's be honest, dinosaurs are a bad ass.
B) Dinosaurs are terrifying.
C) The crime victims wouldn't be too upset because at least they would be able to tell their friends they got robbed by a dinosaur. That would be pretty awesome.
Anyway, I bring all that up because Spiderman robbed an O'Reilly's in Pauls Valley, so I guess me and the robber dressed like Spiderman have something in common.
Via News 9:
Police are searching for two men who robbed an auto parts store Saturday evening in Pauls Valley. One of the suspects wasn't wearing the typical "robber" disguise; instead, he wore a superhero costume.

According to Pauls Valley police, two men robbed the O'Reilly Auto Parts store, located at 702 W. Grant Avenue, just after 8 p.m. Saturday.

Police say the men entered the store through a side door and bound the employee's wrists with zip ties before leaving with money and the employee's cell phones.

One of the suspects was described as wearing a Spider-Man costume, while the second suspect wore all black clothing and a paintball-style mask, according to police.

If you have any information on this case, contact the Pauls Valley Police Department at 405-238-5531
Really, you want us to call the Paul's Valley Police Department? I'm not a Hardy Boy or anything, but don't you think you should first talk with Kevin Stark, the guy who owns the town's Action Figure Museum and planned a Spiderman Weekend in 2012? That would be a good place to start. I'm not saying he did it, but you would think he'd have some pretty detailed information about everyone in town who owns a freaking Spider Man costume.
Actually, screw calling the police. Call Hanna-Barbera instead, because this case would be a great "ripped from the headlines" episode of Scooby Doo. Here's the general treatment.
While on a trip to investigate the ghost at the Skirvin, the gang's van breaks down at the Love's just outside of Pauls Valley. They walk into town to get a new timing belt, only to learn that the local O'Reilly Auto Parts store was robbed by an evil Spiderman. They then split up into groups to solve the crime: Scooby and Shaggy go search for clues in the Paul's Valley Braum's, Wilma loses her glasses while noodling in the creek, and Fred and Daphne have sex in one of the city's many convenient motels.
Scooby and Shaggy's Braum's search doesn't turn up anything important. They just wait in line with some locals. They then go off in search of Fred and Daphne and end up at the train station. That's where they spot evil Spiderman trying to rob the Heartland Flyer. Scooby and Shaggy try to run away and get help, but Spiderman chases after them into the wilderness.
During the chase, Spiderman accidentally trips over Wilma who is crawling on the ground looking for her glasses. As a result, he flies high into the air and lands perfectly inside a fish net used to haul in massive catfish. Surprise, surprise, the net is located next to Wilma's glasses.
At that point, Fred and Daphne stumble onto the scene along with the Harlem Globetrotters. They pull off bad Spiderman's mask and we learn the villain is actually Kevin Stark, the eccentric owner of the town's Action Figure Museum, and the man we met earlier in the episode when he stood in front of Shaggy and Scooby in line at Braum's. And he would have gotten away with it, too, if it wasn't for those darn kids.
Stay in touch
Sign up for our free newsletter