ICYMI
Bricktown is not getting a weird amusement park ride…
9:00 AM EDT on July 10, 2014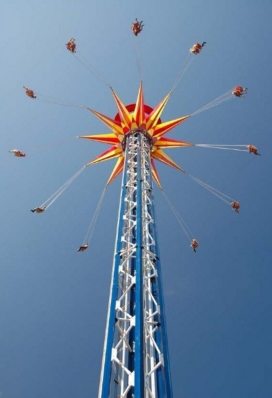 Earlier this week, The Oklahoman's Steve Lackmeyer climbed down from the Devon Tower to report that some goofy landman wanted to build a 220-ft-tall Star Flyer in Bricktown. Based on a Google image search, a Star Flyer is either a futuristic amusement park ride or a really big ship. Since I'm guessing a 220-foot-tall boat probably wouldn't fit in the Bricktown Canal, I'll assume it's the ride.
Here's the description from the Australian ride manufacturer Fun Time:
The StarFlyer is the newest sensation in the world of Tower rides. It is a unique attraction that appeals to both young and old, the adventurous and not so adventurous. While most tower attractions seem to fizzle out after time the StarFlyer keeps the excitement going.

No other family attraction combines safety and thrills like the StarFlyer.

The StarFlyer can operate in high winds unlike many other Tower rides as it has been TUV certified to operate in a wind speed of force 8 (74Km/h)1. We are also increasing the height of the SkyFlyer every year and a sales representative will be able advise you of our current maximum height.

To ride, guests are seated in a double seat next to their friend or partner, the seat is deep walled and fitted with double seat belts that include an 'in between the leg harness' that can only be unlocked by the operator.

The motion of the StarFlyer is similar to the ChairFlyer type of ride that has been around for decades, except with one difference - Altitude.

The StarFlyer spins like a normal Chainflyer but also races up to a top as it is spinning! Then the customers are treated to a series of ups and downs as they spin backwards and forwards. A truly exhilarating experience.
Exhilarating? How about fucking terrifying! I'll ignore that eyesore and stick with catching a ride on the Bricktown Water Taxi or rolling around on a Segway.
What an awful idea. Let's get people to visit Bricktown, eat a meal at Spaghetti Warehouse or Chelino's, and then spin around in circles at 220-feet while feeling an occasional free fall. What could go wrong with that?
Fortunately, the Bricktown Urban Design Committee feels the same way, only they are much nicer about it. Via NewsOK.com:
Petroleum landman Brandon Arthur may end up looking for a new site for his proposed 220-foot "Star Flyer" after being told by the Bricktown Urban Design Committee the amusement ride is a bad fit for the historic warehouse district.

Arthur has yet to apply to the city for permission to build the amusement ride, but did share his plans with the committee Wednesday at their meeting. The $2.5 million tower would include a dozen two-passenger cars and potentially an observation deck and would be twice the height of any structure in the district.

Arthur said he sought to complement amusements already in the area, including the Chickasaw Bricktown Ballpark, Kingpin Bowling Lanes, Harkins Theaters and the Brickopolis entertainment complex currently under construction.

"I wanted to cater to family entertainment," Arthur said. "When I was down there, I saw families, I saw children. I just want to add to what is already there."...

"I believe this would draw more people to Bricktown," Arthur said. "It would draw peopleoff of I-40. I could see T-shirt sales where a kid from Toledo buys a shirt saying 'I rode the Bricktown Flyer.'"
Attention children of Toledo, Ohio. If you ever see any kids in your town wearing an "I rode the Bricktown Flyer" shirt, please bully them. You have our permission.
A majority of the committee complimented Arthur's effort, but advised they will vote "no" if he seeks approval to build it along the Bricktown Canal just west of the Chickasaw Bricktown Ballpark.

"I do think the idea is novel," said Committee Member Sandino Thompson. "Seeing energy behind things like this, I'm encouraged. But this site seems pretty tight. Thinking about the precedent on why we might vary from what the design criteria is, you'd have to make a strong case for what would be a steel structure in the middle of Bricktown."

Committee members Phil Miller and Tom Wilson also advised they believe Bricktown is a wrong location, and Wilson advised Arthur to attend this week's open planning sessions in Capitol Hill for a proposed redevelopment of the former Downtown Airpark along the Oklahoma River. The development, Wilson noted, is already set to include a Ferris wheel that was purchased and moved from the Santa Monica Pier in California.

Arthur said he was unfamiliar with the development and agreed to attend the meetings
Yeah, instead of Bricktown, why don't you go ahead and put your little fun ride at the abandoned airpark with the gigantic ferris wheel that no one wants either. It will work out great there. Who knows, perhaps Shane Jett will get someone to build his 1,100 ft-tall stainless steel ensconced oil derrick, too. We'll call it the Amusement Park of Bad Ideas.
Actually, that would be kind of cool. Just take all the bad ideas Oklahoma City folks come up with and put them in one spot. Hell, it would be a great location for the new Convention Center. Maybe we could even get Edmond to donate the giant heads from Enterprise Square USA, and for the sake of irony, have the Devon River Cruise be the only source of transportation. Who wouldn't want to visit that?
Stay in touch
Sign up for our free newsletter