Everything Else
This writer for the Tulsa World doesn't like Oklahoma City…
10:57 AM EDT on June 3, 2014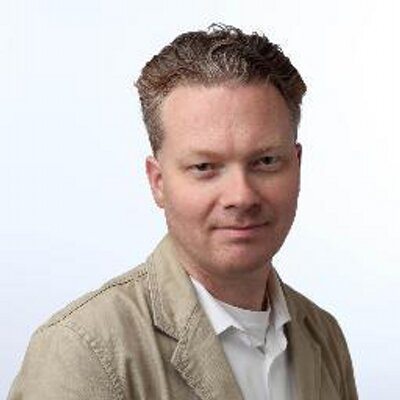 The guy pictured above is Tulsa World reporter Michael Overall. When he's not modeling for credit counseling brochures or bringing his own pool stick into Magoo's, he apparently likes to troll cities that are superior to Tulsa.
Yesterday, Michael wrote a snarky column about a weekend visit he and his family took to OKC over the Memorial Day weekend. Yep, the guy forced his family to go on a vacation to Oklahoma City. What a mean, awful father.
The column wasn't very nice or flattering and mocked a few of the same things we like to make fun of on a regular basis. You know, classics like the Bricktown Canal, oversized Devon Tower, and Amazing Technicolor Scissortail Bridge.
Here's the column via the Tulsa World. The first part isn't so bad. He's pokes a little self-deprecating fun at Tulsa for being a sad, boring place to live. Considering I live and work in Oklahoma City, I know exactly what that feels like. Check it out:
While we never liked to admit it, Tulsa used to be a little jealous of Oklahoma City and the way it actually had a downtown.Technically, of course, we had one, too. But it was just kind of sitting here collecting dust. And Tulsans who didn't have to work downtown weren't entirely sure where it was.Meanwhile, downtown Oklahoma City had Bricktown, a ballpark, the Myriad Gardens and real live human beings walking around, even after dark.
Like any good rivalry, one team's success pushed the other side to get better. And downtown Tulsa probably wouldn't be what it is now if downtown Oklahoma City hadn't been what it was 10 or 15 years ago.
Now, however, I think we can stop taking our inspiration from the other end of the Turner Turnpike.
This is where shit gets real:
In recent years, while we've been reinvigorating and beautifying our downtown with the BOK Center, the Guthrie Green and ONEOK Field, Oklahoma City has been making a few changes to its downtown, too.
First came that glorified ditch in Bricktown, where tourists are supposed to be impressed by a boat ride that takes them a block and a half.
Dear Michael,
First of all, the glorified ditch in Bricktown is actually Coyote Ugly. Get it right.
Second, what exactly do you count as "in recent years?" The canal opened in 1999 and was finished in 2002. It was one of the first projects completed in the Bricktown that you previously praised. Those three Tulsa things you named (BOK Center, the Guthrie Green and ONEOK Field) have all opened within the last five years or so. Calling the Bricktown Canal recent would be like saying your haircut is modern.
And yeah, the canal sucks. I'd be irritated and bitter too if I wasted money taking a ride on that thing. Looking at people eat on the Chelino's patio isn't exactly what I'd call fireworks. However, we have to milk aloof tourists who bring their families to OKC with something. If Tulsa had tourists, I'm sure you'd understand what I'm mean.
The article continues:
[The canal] was the most ridiculous thing in town until a giant, metal chicken claw showed up near a pedestrian bridge, dangling precariously over the eastbound lanes of Interstate 40.

I'm not sure exactly what it is, but one theory is that a tornado blew over a cellphone tower. And instead of cleaning it up, officials decided to call it "public art."
I'll admit that bridge is kind of silly. If Tulsa ever finishes any of its damn highway construction projects, maybe you all will get a weird shiny beacon to distract motorists, too.
But that's not even the ugliest part of downtown Oklahoma City anymore. The skyline is dominated — no, not just dominated; overwhelmed — by the 844-foot Devon Tower.
An eyesore for miles around, it's the prairie's most conspicuous display of overcompensation, making every other building look like it came from a toy train set.

Some people in Tulsa would like to see a new skyscraper replace the vast parking lots that stretch across the south side of downtown. But honestly, if the new structure is going to look like Mordor, I'd rather keep the parking crater.
At least you can't see it from the suburbs.
Actually, you can see the damn Devon Tower from the suburbs. You can see it everywhere. Hell, you can probably see it from Oklahoma City's largest suburb – Tulsa – if you really tried. Also, not to nerd out here, but this is Mordor: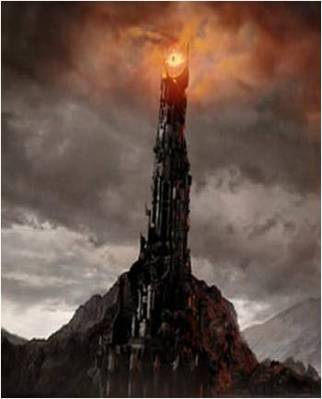 This is Isengard:
If you're going to compare Oklahoma City's obscenely phallic skyscraper to a tower from the Lord of the Rings universe, pick the right one. You work for the Tulsa World. At least act like you kind of know what you're doing.
This is how the article ends.
My family spent Memorial Day weekend in Oklahoma City, where we took advantage of the fine dining, world-class museums and, most importantly, the outlet mall.
WTF, you're hating on the outlet mall? How many times were you dropped on your head as a child? I know it's not Utica Square, but God forbid we have a place to get low-quality name brand apparel. Want to make fun of Gordmans or Steinmart next?
-
As we know, this isn't the first time some lonely newspaper columnist has ripped Oklahoma City for being a boring town. It happens more than we'd like to admit. Usually, though, those writers live in towns that, in all fairness, have a right to make fun of OKC. Having some hack from Tulsa rip you is like having a fat friend tell you to lose some weight. Seriously, it's Tulsa. The towns so boring that its boringness became a subplot on Friends.
Anyway, Michael's one of those Greg Doyle wannabe's who likes to write "hate mail" columns. If you want to tell him how much he sucks (or get all passive aggressive and invite him to town for something really boring like a Devon River Cruise and dinner at Cattleman's), you can email him at michael.overall@tulsaworld.com, call him at  918-581-8383, or just wait for him outside any Tulsa SuperCuts.
Stay in touch
Sign up for our free newsletter