Everything Else
The ducks at the Myriad Gardens are swimming in a green pond…
3:25 PM EDT on March 17, 2014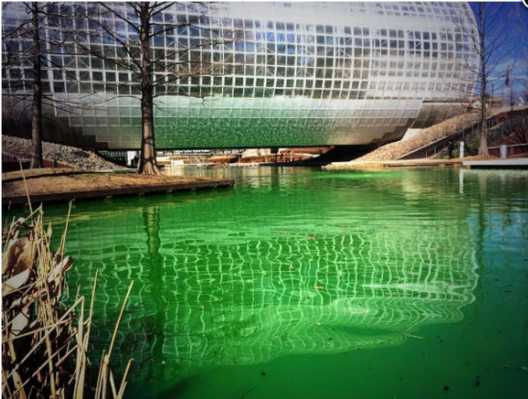 The picture above (courtesy KOKH 25) was taken this morning at The Myriad Botanical Gardens. Apparently some hooligans decided to dye the water at the gardens green for St. Patrick's Day. Pretty cool, huh?!
Well, apparently not.
From a press release issued this morning by the Myriad Botanical Gardens:
Myriad Botanical Gardens needs the public's help in learning who vandalized the Lake and Boulder Fountain overnight by dyeing the waters green with an unknown substance that may be harmful to the wildlife that call them home.

"At first this seems like a harmless prank, but the ramifications are serious and costly," said Myriad Gardens Executive Director Maureen Heffernan. "The concrete around the water is stained, our ducks' feathers are stained, and we don't know what this dye is or whether it's toxic to our animals."
Come on, like a little bit of green water is going to upset some ducks. Have you ever seen the Bricktown Canal? Ducks swim in that leprechaun piss all the time and seem to do okay. In fact, ducks love green. When I was a kid we'd feed them that cheap bread from 7-11 that would turn green after setting in the cabinet for a couple of days. My dad called it "Irish bread." It tasted strange and had a repugnant odor, but if you put enough peanut butter on it you (and the ducks) didn't really notice.
In all seriousness, though, I hope the ducks are okay. Have authorities caught the bandits who committed this extremely festive crime???
Here's your answer:
Gardens Director of Facilities Matt Maly said the police have been called and that he estimates a $5,000 to $10,000 cleanup bill. The Gardens is operated by a non-profit foundation with a tight budget, so cleanup will be a significant financial undertaking.

Vandals may not have realized that most of the water features at the Gardens are connected. What may have started in the Boulder Fountain has now spread to the Lake and other water features.

The chemical composition of the dye, and how harmful it could potentially be to wildlife, is at this point unknown.
Here's an idea. They should just take an egg, put it in one of those nameless wire egg holder things, drop the egg in the water, and then see if it turns green. If it does, the dye is probably safe and everything is fine. Case closed.
Actually, they should really do that. If it turns out to be Easter egg dye, they can kill two birds – as long as they're not ducks – with one (heh) blarney stone.
1) "The Myriad Gardens Green Easter Egg Hunt sponsored by Devon" could become a thing.  I bet they could raise enough cash to cover the clean-up costs.
2) They could comb the city to see who bought a bunch of green Easter egg dye. When they figure that out, case closed. St. Patrick's Day Green Pond Bandits caught. As punishment, I suggest they die them green and feed them to ducks.
Anyway, if you have any details on who committed this kind of cool, but very inappropriate and costly crime, call 911 and prepare to be hung up on. Then call the police. They'll point you in the right direction.
Also, if you know the name of the wire egg holder things, let us know. Marisa has a large collection of them.
Stay in touch
Sign up for our free newsletter