Everything Else
Lost Ogle Q&A: Mayor Mick Cornett
9:30 AM EST on February 27, 2014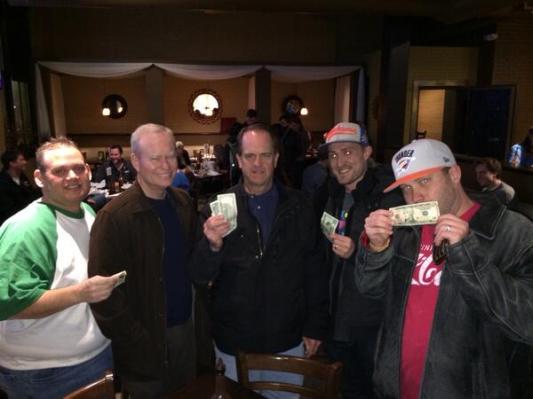 Today on TLO, we're featuring Q&A's with the two electable candidates in the 2014 Oklahoma City Mayoral Election: Mayor Mick and Councilman Ed. We sent the same 19 questions about local issues and culture to each candidate. The questions are all over the map – some are serious, some are absurd, and one I forgot to ask, hence the 19 questions. It's also the closest thing this city will probably have to an actual debate.
I first met Mayor Cornett back in 2005. I had just started the website, HornetsCentral.com, with a co-worker who just happened to best friends with one of Mick's sons. One night, a couple of friends and I met up with that co-worker (and Mick's son) to catch a Hornets game at Buffalo Wild Wings on Expressway. My friends and I were getting hammered and knocking back some of those tall 60-oz towers of Bud Light when all of a sudden the mayor appeared at our table to start the second half. We were kind of star struck, and drunk, and suddenly felt the need to try and act sober. That's always a pain in the ass.
Anyway, fast forward 9 years and Mick is still the mayor and I'm still getting drunk around him. The only difference is that I no longer try to act sober and now ask him trivia questions. It's funny how life works.
The Mayor's Q&A is after the jump. Click here to read the one with Ed Shadid.
1. What will be your number one priority if reelected mayor of Oklahoma City?
A: Of course, public safety and streets. But, reading The Lost Ogle every day is up there.
-
2. Oklahoma City has a weak mayor system, right? Does that hurt your ego at all? How many push-ups can you do in one minute?
A: Hold on, let me check…………….. 35. But now I am too tired to do the rest of the interview.
-
3. As you know, there's a movement to end the Maps III tax early and scrap plans for the Convention Center. Should it be built as planned? Also, what's up with the hotel everyone talks about?
A: I expect the Convention Center to be built as was promised to the voters. And, as you said, many are expecting a hotel to be built next door. I imagine we will have plenty of options to look at.
-
4. Now that Gary England has retired, who's your favorite TV meteorologist? Actually, now that Gary England is retired, who's your favorite meteorologist not named Emily Sutton.
A: TV sports guys (current or former) do not have favorite meteorologists because they always take time away from the sports.
-
5. When's the last time you've taken either a bus or bike to work?
A: I bike occasionally. But, it's been a while.
-
6. Where's the best hamburger in Oklahoma City? If you "list" Little Mike's, please jump to Question 9.
A: Close call between Nic's and Grill on the Hill.
-
7. What are your thoughts on the marijuana legalization movement hitting the country? Would you be in favor of medicinal marijuana, decriminalization or even legalization? Also, have you or would you ever smoke pot with Wayne Coyne?
A: That's not one question, that's six questions! I have never used illegal drugs. The rest of those questions are going to be answered at the state and federal levels, not at City Hall.
-
8. Should the Oklahoma City Thunder amnesty Kendrick Perkins?
A: Probably not. They would have to re-do all those car commercials.
-
9. If you could say one thing to Sally Kern and / or Jenni Carlson, what would it be?
A: Same thing I say to everyone: Election day is March 4.
-
10. What will you do to stop all the earthquakes?
A: Ask Kendrick Perkins to stop jumping up and down.
-
11. Are you in favor of the demolition of Stage Center and putting a generic skyscraper for a regulated electric utility that will sometimes cut off your power if you forget to pay your bill because the online bill pay didn't go through in its place?
A: Sounds like a certain someone isn't paying their bills.
-
12. If you could drink any type of cold pop with Sweet Brown, what would it be? You know, considering you got time for that.
A: Of course I have time for that. At Sonic, I get a Route 44 Coke Zero with diet cherry.
-
13. According to the Pew Research Center, 42,000 Hispanic people in Oklahoma City do not speak English well. Anything you'd like to say to them in Spanish?
A: No pierda su tiempo leyendo The Lost Ogle.
-
14. Can you get the Oklahoma City Zoo to bring back those Mold-A-Rama plastic figuring machines? The really added to the experience.
A: How about the Monkey Ship? I want the Monkey Ship back!
-
15. What the hell is going on along May Ave? Can we please hurry it up? I think it took me 20 minutes to get from Zorba's to Cousin's the other day.
A: I think it was a traffic jam created by people trying to get to Hawaiian Don's.
-
16. Any advice for people coming out to play one TLO Trivia Night for the first time?
A: Put away your cell phone.
-
17. How would you grade the job of Jim Couch as Oklahoma City City Manager?
A: He's probably the smartest guy in the city that doesn't work at The Lost Ogle.
-
18. How will you keep Oklahoma City in the national spotlight?
A: Am working on moving Mount Rushmore to the Oklahoma River (but don't tell anyone).
-
19. Finally, can you say something nice about you opponent? When this campaign is done, are you going to meet at Braum's for ice cream?
A: He dresses well. Would need to be a low-fat frozen yogurt for me.
-
We'd like to thank Mayor Cornett for taking the time to for our little Q&A.
Stay in touch
Sign up for our free newsletter